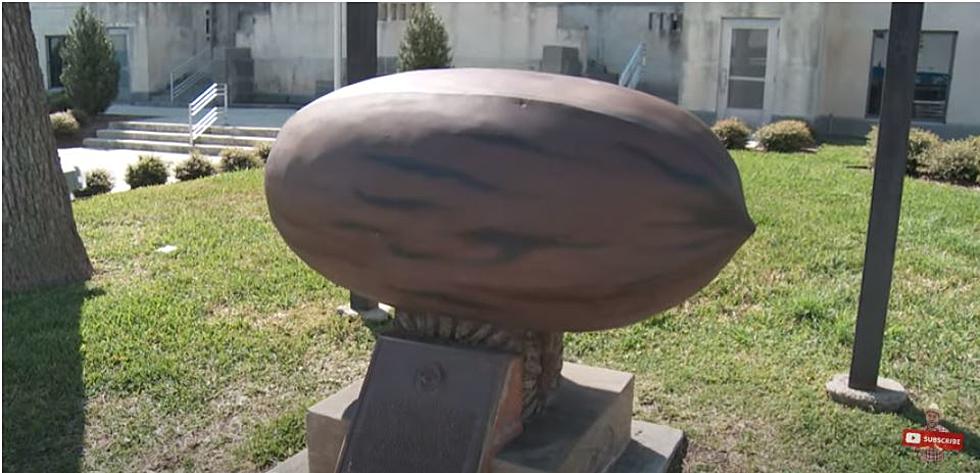 Texas Has Two Of The World's Largest Pecans – One Rolls
Photo, The Daytripper/YouTube
Things are bigger in Texas, as the saying goes, and so, apparently, are the nuts.
There is a "this is the largest" category for pretty much anything and everything.
Not surprisingly, Texas holds a lot of these "we have the biggest ____" claims and the proof is scattered all over the lone star state.
For example, among other "big" things, Texas has the:
The list goes on and on ...
Does Texas Have The World's Largest Pecan?
Texas can also claim a few "world's largest" items, including the world's largest pecan.
Yep, there's a monster pecan in Texas ... Seguin, Texas to be exact ... and it wasn't created by a pecan tree.
A dentist did it.
Who Created The World's Largest Pecan? And, Why?
The giant pecan that sits in front of the Seguin, TX, city hall was the brainchild of a dentist, who wanted to put his plastering skills to civic use. Erected in 1962, the pecan is five feet long and 2 1/2 feet wide, and weighs approximately 1000 pounds. It was dedicated to Cabeza de Vaca, a Spanish explorer who was held captive on the Guadalupe, known then as the 'River of Nuts,' for ten years. - roadsideamerica.com
The record stood for about 20 years until some town in Missouri decided they wanted to build a bigger one. Copycats.
Didn't Someone Build A New "World's Largest Pecan"?
In 2005, a new world's largest pecan was built on a trailer in Seguin to use in parades and stuff. Ours moves so, take that Missouri.
Creator John Pape, sadly, was unaware of the Missouri nut and didn't make his quite big enough to reclaim the "world's largest" bragging rights.
Given all the pecan orchards around El Paso, maybe we can take back the title here in the 915?
We have plenty of amazing artists and customization shops around EP ... just sayin'.
Next, Check Out The Biggest Swimming Pool In Texas...
Check Out The Lagoon At Windsong Ranch In Texas
"The Lagoon" At Windsong Ranch
The World's Biggest Boots Are In Texas