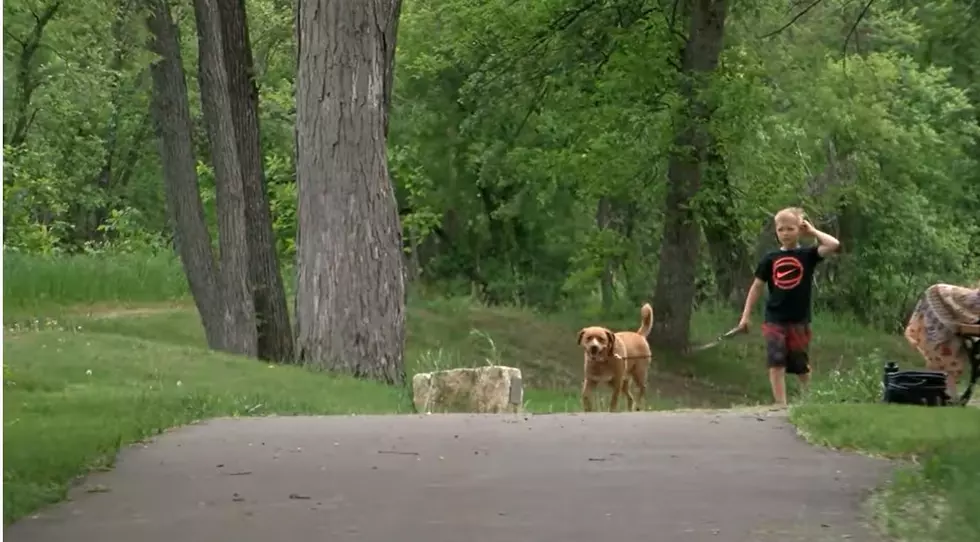 Shocking Video Shows Gym Teacher Throw a Hockey Stick at Child
Photo: WCCO-CBSLOCAL Via YouTube
An incident between a gym teacher Kim Neubauer and her student in Princeton Minnesota that happened back in March has just come to light and the child's mother feels that the school district did not do enough after this happened. Neither the school district nor the school nurse filed a police report so as of right now nobody can be held accountable since no investigation is being done.
The student Easton Johnson had just turned 8 years old the day before and was participating in gym class when he went up to the teacher to return his hockey stick onto a pile on the floor. As you can see by the surveillance camera video below that is exactly what he did. All of a sudden the teacher picked up his hockey stick and threw it at him hitting him in the mouth.
The poor kid is obviously terrified as he has his hand over his mouth and gently steps forward putting the stick in the pile again before running off. Now Easton is scared to return back to school next year for third grade, and honestly, you can't blame him.
The force of the stick hitting him in the mouth caused him to lose his baby tooth and he has some damage to his gums and his lip was busted open. It took two weeks after the incident for the school district to take some disciplinary action which was to put the teacher on unpaid administrative leave until the end of the school year which ended last week. The school district said that teacher has now been fired.
For now, Easton is enjoying his summer vacation with his friends and family but his mom said to WCCO-CBSLOCAL " He's very nervous about gym class, who teaches gym class, what do they do in that gym glass. It's going to take quite a bit I think to get him to feel comfortable again."
What a terrible situation for this poor little boy and for the kids in the class that witnessed this adult acting in such an outrageous manner. Hopefully, he will be able to recover from this over the summer and be able to start fresh next year in his new class.
10 Life Skills A High School Graduate Should Know How To Do
Supplies and Tips To Help Your Child Adjust To Attending School From Home