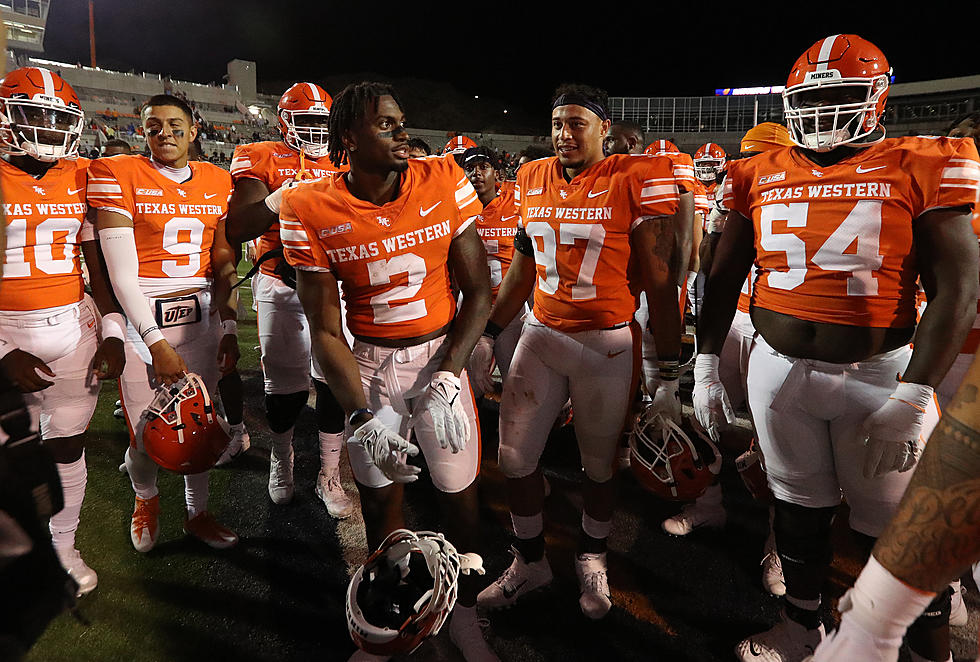 UTEP Pinned Against Ranked UTSA on Saturday Following FAU Loss
Ruben Ramirez/UTEP Athletics
Following a road loss to Florida Atlantic (28-25), the UTEP football team (6-2, 3-1 C-USA) will regroup ahead of its biggest matchup of the year when they host No. 16 UTSA (8-0, 4-0) on Saturday at the Sun Bowl.
The Miners are coming off a loss that snapped a four-game win streak, and also extended UTEP's all-time program record to 0-26-1 when they play in eastern time zone games. They fought back with 15 fourth quarter points against FAU, but it was too tough for the Miners to overcome early mistakes and ultimately fell to the Owls. Since FAU competes in the Eastern Division, the Miners still have a puncher's chance to steal the Western Division of C-USA. UAB is tied with them at 3-1 in the division, but the Blazers still have to face UTSA later on in the year.
There's only one team ahead of UTEP in the west standings—the ranked Roadrunners.
UTEP-UTSA, which has been moved to 8:15 p.m. for an ESPN 2 late kickoff, will be one of the most anticipated home games in a long time for the Miners. Their home game against Army (2016) drew 36K, but the fans were let down in the 66-14 killing by the Black Knights. Plus, that was a great local push on the military side when the program brought Army in.
The UTEP-UTSA matchup almost has a similar feeling as the UTEP-Houston game in 2009. The No. 12 Cougars, who were led by current NFL quarterback Case Keenum, were upset by UTEP, 58-41. The fans stormed the field and celebrated with the Miner team that finished the year 4-8.
This year's squad actually has a lot of hope moving forward into the rest of their season compared to the 2009 squad that upset Houston. They became bowl eligible seven games into the season. UTEP has posted their best start to a season in years. It's the best season under Dana Dimel by a mile and the season still has a ways to go.
"The loss [at FAU] doesn't make this game less important. It makes it more important," said Dana Dimel in his weekly press conference. "If we want a chance to contend for a conference championship, this game becomes really important for us. The challenge is there. They've been playing extremely well all season."
Look back to last week
Against FAU, the Miners outgained the Owls 438-280 in total offense. Quarterback Gavin Hardison threw for 321 yards (career-best), with two touchdowns and two interceptions. Wide receivers Tyrin Smith (114) and Justin Garrett (100) led the way among the receivers for UTEP. Linebacker Breon Hayward led the defense with 14 tackles.
Despite leading 10-7 late in the first half, the Miners allowed a late second quarter touchdown by FAU. The Owls capitalized on a turnover in the third quarter and scored to extend their lead, 21-10. An early fourth quarter score had FAU with their biggest lead in the game, 28-10. The Miners were able to score 15 points in the fourth, but it wasn't enough to rally back and win on the road.
"The thing that stood out to me is we lost the turnover margin," Dimel said. "When you're minus two, it's not going to help your football team. It was the first game without a turnover. Defensively, we have to create turnovers. I didn't think we were as disruptive defensively as we can be.
UTEP-UTSA betting line
The Roadrunners open up as 11-point road favorites over the Miners on Saturday. The total for the matchup is set at 52.5 points. UTEP is 6-1-0 against the spread this year.
The Miners have won six consecutive games in the Sun Bowl dating back to the 2020 season. The last time a ranked opponent came to the Sun Bowl, UTEP lost 24-7 to No. 4 Oklahoma in 2012. The last time UTEP beat a ranked opponent was against No. 12 Houston in 2009.
UTSA leads the all-time series against UTEP, 6-2. They beat the Miners 52-21 last year in San Antonio under head coach Jeff Traylor. The Roadrunners are also unbeaten against the Miners in the Sun Bowl (4-0). The last time UTEP beat UTSA was in the 2016 four-overtime thriller, 52-49.
The Miner defense is now ranked No. 1 in C-USA, 6th in FBS for total defense (294.9 yards per game). They are also atop the league in 3rd down defense (28.4 percent), third in C-USA in scoring defense (20.4 ppg) and second for run defense in C-USA (97.4 ypg).
RB Wadley is back; Eldrige to redshirt
In his weekly presser, Dimel revealed that senior running back Quardraiz Wadley should be back to play against UTSA this week. That is a huge addition for a running back group that has been struggling lately.
Wadley has been out since the New Mexico game, but played sparingly since the NM State game. After he rushed for 51 yards at NMSU, Wadley had 11 yards against Bethune Cookman, a DNP against Boise State and only 14 yards against New Mexico. He missed four consecutive games and was seen around practice in a walking boot. Wadley brings experience to the running back group and he could be an excellent complementary back to Deion Hankins and Ronald Awatt.
Freshman WillieEldridge is also set to redshirt this year, per Dimel. Eldridge, who played in three games this year for the Miners and rushed for 123 yards on the year, can play in one game this year and still be allowed to redshirt, per NCAA rules. The young runner proved he can be explosive, like in his 118-yard performance against Bethune-Cookman. He appeared to be dinged up against Boise State and hasn't seen action since. Eldridge is the future back of this team and he will be a great offseason player to watch at UTEP.
WWE Returns to El Paso for SuperShow
World Wrestling Entertainment was back at the Don Haskins Center in El Paso with a loaded house card as part of their WWE SuperShow tour.