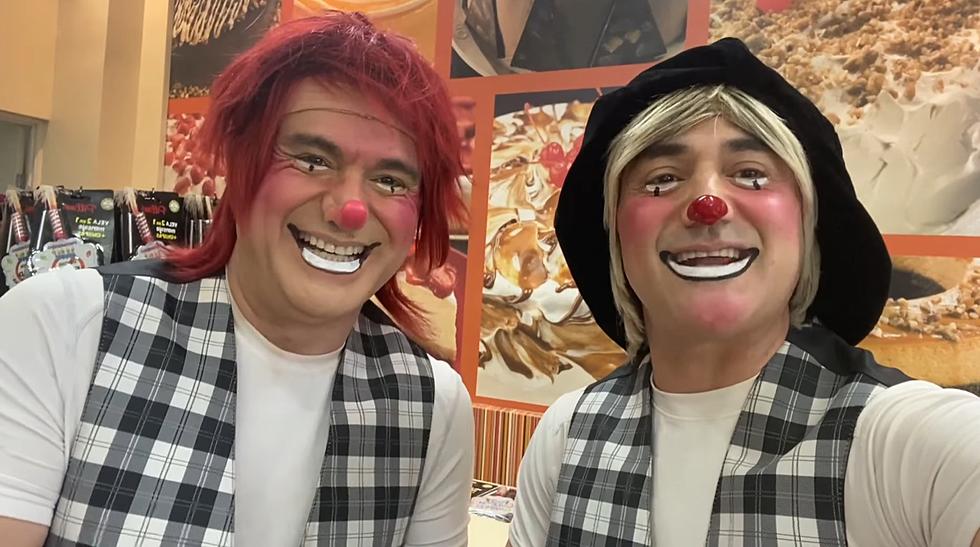 Saturday Mornings in the Borderland Were Saved for Los Chicharrines
Los Chicharrines Facebook
Today we found out that actor David Arquette bought the rights to Bozo the Clown. Then, I found out that there were several Bozo the Clowns across the country- and even El Paso had their own Bozo the Clown. Buzz ruined that, though, by telling us that the local Bozo the Clown killed himself! I need someone to confirm that for me because it got dark!
While I'm sure that Bozo the Clown was very beloved across the nation, I know that in the Borderland, the kings of Saturday mornings were Los Chicharrines!
Los Chicharrines had their Saturday morning show called "El Circo de los Chicharrines". The Chicharrines were brothers aptly named Chicharrin and Chicharin. It was a huge hit back in the day. Although clowns kind of creeped me out, I could not stop watching it! They were hilarious and super entertaining!
Enter your number to get our free mobile app
It was such a big deal if you could get these guys to perform at your birthday party, and one year in 1996, my cousin got them at his birthday party. As creeped out as I was, I was still laughing and enjoying myself until those dreaded words came out: "We need a volunteer." My mother volunteered me and said I needed to show that El Pasoans could party with everyone in Juarez. At seven years old I was the El Paso representative. I don't really remember the trick, just that involved a handkerchief and Chicharrin's hair.
I never heard a bad thing about these guys, some say they used a lot of bad words when not working, but other than that they were great people. I eventually outgrew watching "El Circo de Los Chicharrines." Throughout the years I noticed they were broadcast on bigger stations. After a bit of research, I'm glad to find that these guys are still out there, performing and putting a smile on children's (and even adults) faces. They're very active on Twitter, Instagram and Facebook, where they take the chance to go live. Their videos and posts are filled with comments that express just how near and dear they are to the hearts of many.
Most recently, Los Chicharrines returned to the Borderland and are touring again. It's great to see that they're still working on making people of all ages laugh.
SPOOKY GOOD: 2019 KLAQ Halloween Parade
For 2019, KLAQ's Halloween parade brought out Tony the Tiger to be the Grand Marshal. As for the Buzz Adams Morning Show, they dressed up and drove around as The Wizard of Oz but zombie style. Thank you to everyone who came out to the parade and make it a spooky good time.