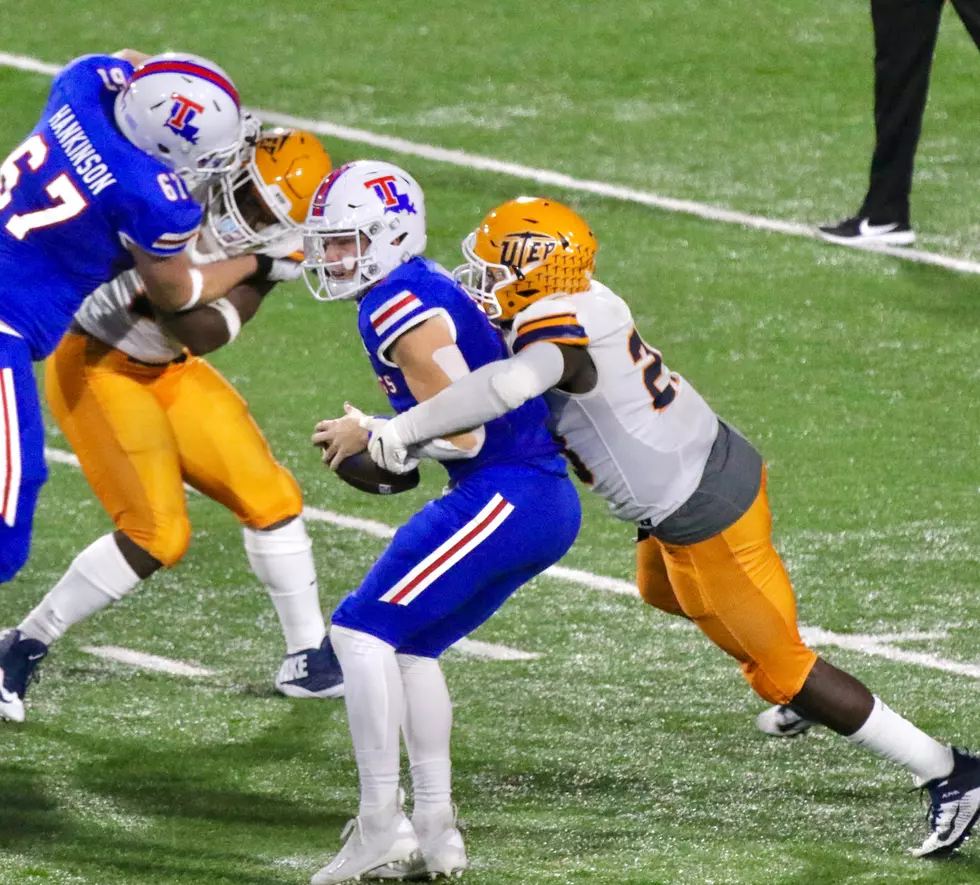 LA Tech 21 – UTEP 17: Miners Show Fight, Can't Hold On in the End
Tom Morris
The Miners were the better team for four quarters in Ruston, La. but couldn't edge out a victory against LA Tech on Saturday night, falling 21-17.
UTEP out-gained LA Tech 266-210 in total offense, sacked the Bulldogs four times along with 13 tackles for loss but they couldn't escape their 12 penalties for 128 yards, nor score in the final 18 minutes to pull off a come-from-behind win.
The Miner defense put the clamps on for a second game and put together their season-high in sacks (four) and tackles for losses (13). They were led by redshirt sophomore pass rusher Praise Amaewhule, who had a career-night—five tackles, 3.5 sacks and four pass breakups.
To start things off, LA Tech marched down the field for an easy, 10-play, 75-yard touchdown drive capped off by a 15-yard rushing touchdown by tailback Justin Henderson. The Miners weren't able to respond with a touchdown until the second quarter when sophomore quarterback Gavin Hardison hit senior Devaughn Cooper on a 33-yard passing touchdown.
The two teams went back and forth to close out the first half, but it was LA Tech who squeezed out a touchdown before the half. The Bulldogs closed out the opening half with a nine-play, 72-yard drive ending in a 14-yard rushing touchdown by Henderson.
In the second half, the Miners got on the scoreboard first with a 33-yard drive ending in a 29-yard field goal by Gavin Baechle. Things looked like they could've gotten out of hand when LA Tech scored on an impressive 13-play drive ending in a one-yard rushing score by Israel Tucker. LA Tech led 21-10 after converting on a third-and-16 and a fourth-and-1 on the drive.
But then, UTEP kick returner Duron Lowe took his second career kickoff return for a touchdown to the house to cut the lead to only four points, 21-17.
The Miners had three more opportunities offensively but the LA Tech defense held strong and UTEP was unable to score to come back in the game.
Hardison completed 18-of-38 passes for 206 yards on the night. As a team, UTEP couldn't run the ball and had just 60 yards rushing led by Deion Hankins (35) and Josh Fields (33).
LA Tech flashed a pair of quarterbacks in starter Luke Anthony and Aaron Allen, who combined to complete 14-of-28 passes for 119 yards. Defensively, Keenan Stewart (12 tackles) and Stephen Forester (10) each put together a strong outing for the Miners.
Next up: The Miners will return back to the Sun Bowl for their C-USA home opener as they get set to host Southern Miss (1-3, 1-1 C-USA) for UTEP's homecoming game. The Golden Eagles saw their game against Florida Atlantic postponed due to COVID-19. Southern Miss defeated North Texas (31-21) last week for their first league win of the season.