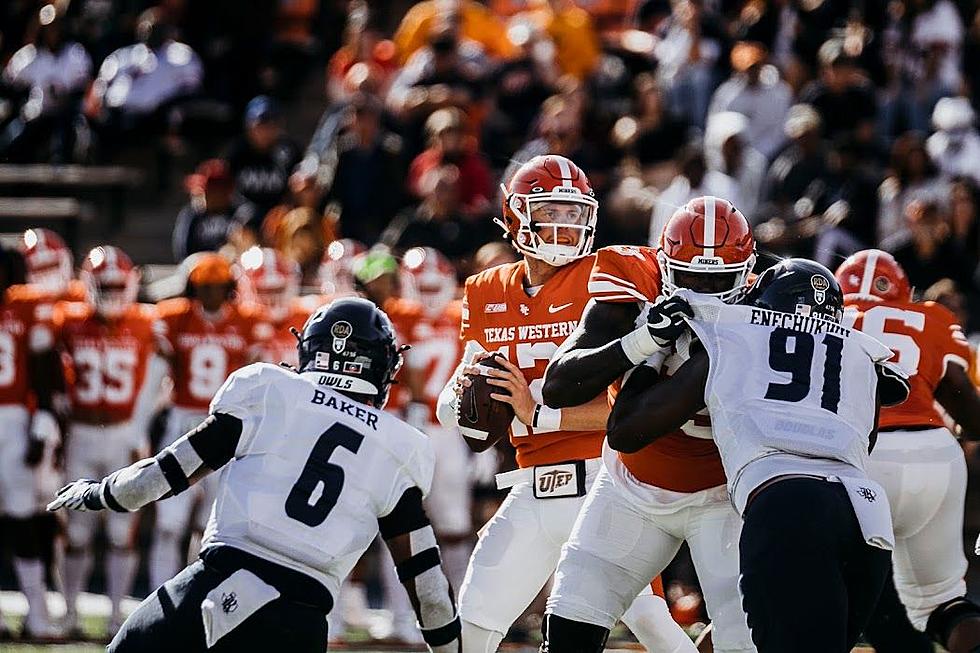 Could UTEP QB Gavin Hardison Have a Breakout Year in 2023?
Jorge Salgado
It's quite possible that Gavin Hardison could return to UTEP for his fifth season as a Miner, and possibly his fourth year as the starting quarterback.
It's been a roller coaster of a ride for Miner fans with Hardison for the past 3 years. Whether it was the odd 3-5 2020 campaign or the electric 6-1 start in 2021, Hardison is viewed as both a loved and disliked quarterback in the UTEP community. Some fans believe he has potential and will break out soon, while others believe he just isn't fit to be the starter on an FBS football team. Regardless of your opinion, if Hardison is the starter for the Miners next year, the Hobbs native will need to prove some fans wrong.
Here are some reasons why I believe that if  Hardison is the starting quarterback of the Miners next year, he will shock fans and become the gunslinger I knew he could be:
Continuity
Assuming most of the receiving core from this past year is back, which is something that we do not know for sure, chemistry will be on point for Hardison and his receivers. Along with that, UTEP may only lose 1 offensive lineman, and return 4 starters from an already stacked offensive line. What Dana Dimel and his staff have done when it comes to keeping their teams together is borderline amazing, especially in this day of age. A down year from Hardison last year can be somewhat attributed to losing his two top receivers from 2021, Justin Garrett (graduation) and Jacob Cowing (transfer to UA). Those two combined for over 2,000 yards and 10 touchdowns receiving. UTEP will lose one guy no matter what, and that is Ysleta product Rey Flores who graduated this year. The senior had 49 receptions 534 yards and a receiving touchdown, so that will be a big loss, but aside from that, barring any transfer portal entries, UTEP will return leading receiver Tyrin Smith and late breakout receiver Kelly Akaharaiyi for the 2023 season. Along with them, UTEP could return the highly touted Jeremiah Ballard along with Marcus Bellon. Each of them scored touchdowns last year and flashed loads of potential. With the amount of talent UTEP can possibly return, along with the talent UTEP can bring in, Hardison can be comfortable with his offense for the first time in a while and doesn't face the hefty expectations he did last year.
The Underdog Mentality
There is something about UTEP football and being the underdog. Just earlier this season, following an ugly loss to a bad UNM team, UTEP dominated the heavily favored Boise State 27-10. I think UTEP loves to embrace the underdog mentality, and in my opinion, Gavin Hardison is no different. There are not many people who are optimistic about Gavin Hardison possibly being the starter for the 2023 season. Many fans want a new QB to at least try for the starting job. Whether that happens is to be determined, but I think that last year, Hardison had a lot of expectations put on him, along with the rest of the UTEP team. Now, I am not trying to excuse the disappointing season we saw from Hardison and company, but these guys have never faced expectations this lofty. We were talking about a possible 8-win team here. Next year, however, both UTEP and Hardison don't have expectations near as high as they were last year. Fans are losing hope and some just don't believe in this team, and that is when UTEP is most successful. The roster is full of guys that have a chip on their shoulder. They have always been doubted, they're tough, JUCO players that want an opportunity, and this is it right here.
4-year starter
It's hard to believe that Hardison may be going into his 4th year as a starter, but it's more than a possibility. As a head coach himself, Dana Dimel has never actually had a 4-year starter in his hands. However, looking at some other QBs who are 4-year starters, you see a certain trend. Max Duggan, entering his 4th year starting, had never thrown for over 16 TD passes or 2,050 yards in his career, but in his 4th year starting, he threw for 3,321 yards and 30 touchdowns while also leading TCU to the CFP. Or maybe look at UCLA QB Dorian Thompson-Robinson, who saw his best season statistically, and had an increase in passing yards, touchdowns, and completion percentage. Thompson-Robinson also became a better rusher, having an increase in yards and touchdowns on the ground. Clayton Tune entered his 4th year starting for Houston this year, and he saw a 300-yard increase in passing yards but had 10 more total touchdowns. The fact of the matter is, usually, QBs take a statistical jump in their 4th year starting, and that can be especially true for Hardison. It would be his 4th year in this Dimel system, meaning he would be able to fully and efficiently run the offense if given the chance.
Gavin Hardison has had a very weird career arc at UTEP. He didn't play much his first year here, started the 2020 pandemic season, in which he didn't look too bad, then, had a career year in his second season at the helm. He led UTEP to a bowl game and threw for over 3,000 yards. However, with expectations mounting and losing over half of the total receiving yard production from the previous year, Hardison slumped in his junior year. Will he be able to recover from that this year? Will a sense of continuity on the offensive line and receiving core help him, along with an underdog mentality? Or will Gavin not even be the guy next year for the Miners? Only time will tell. I believe that if Gavin Hardison is the starting QB of the UTEP Miners next year, he will shock a lot of people.
NFL Franchises With One Super Bowl Championship
A dozen NFL teams have never won a Super Bowl, while fifteen teams have won multiple Super Bowls. Five franchises have only won 1.