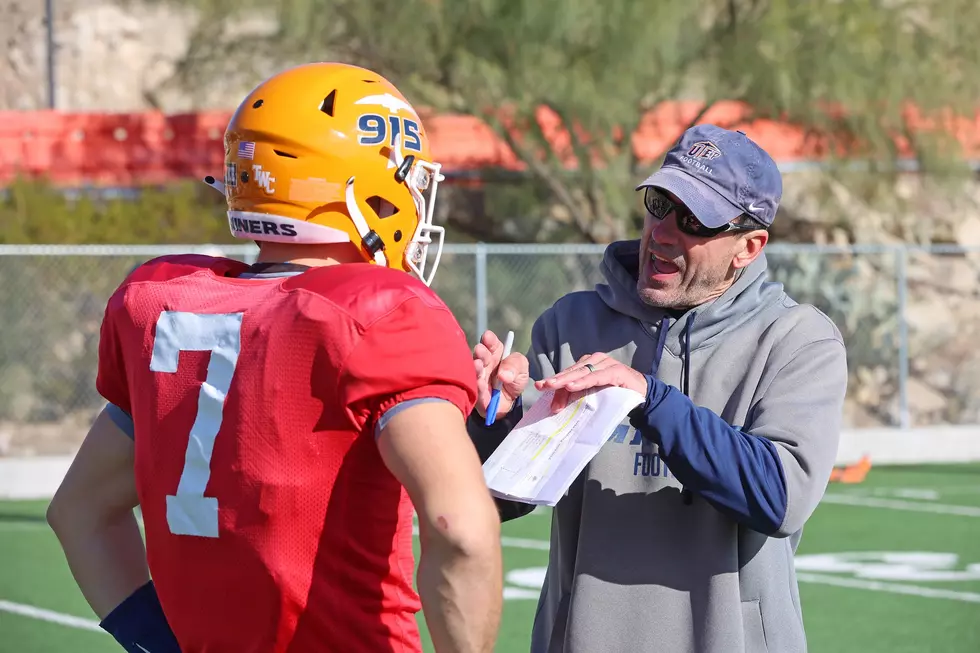 UTEP Football Needs its 3rd Offensive Coordinator in 6 Years Under Dimel. What's Next?
Photo credit Ruben R Ramirez
News dropped Sunday afternoon that the UTEP football program will be without their offensive coordinator Dave Warner for the future, as fans will see the third job opening for the offensive coordinator position in six years under head coach Dana Dimel.
John Brice of FootballScoop first reported that Warner "resigned" from the program. Colin Deaver of KTSM later said he "retired" from UTEP. Multiple other media outlets reported about the change, while some used "retired" and others used "resigned."
This isn't a matter of which report is right. This is a matter of timeliness all around.
First and foremost, his retirement could make a lot of sense. Warner has spent 40 years of his life coaching football. He has stints at the Power-5 level with Kansas and Michigan State, Group of 5 level with Wyoming, Cincinnati and Southern Miss, and spent time at the FCS level.
He took over the offensive coordinator role at UTEP when Mike Canales was relieved of his duties following the pandemic-shortened 2020 season. Warner's first season as offensive coordinator saw much success across the board for the Miners, as the program reached its first bowl game in seven seasons. The offense amassed 392 yards of offense per game in 2021, ranking seventh out of 14 C-USA teams. This year, they were near the bottom of the conference as the team averaged 384 yards per game (8th out of 11 C-USA teams).
However, UTEP football hasn't put any comment on Warner's retirement as of Monday afternoon. Warner himself has already moved on, per his Twitter page.
UTEP Total Offense Year By Year Under Dana Dimel
2018 - 307 yards per game (13th of 14 in C-USA)
2019 - 329 yards per game (12th of 14 in C-USA)
2020 - 342 yards per game (8th of 13 in C-USA)
2021 - 392 yards per game (7th of 14 in C-USA)
2022 - 384 yards per game (8th of 11 in C-USA)
On the flip side, if this was really a "resignation," the decision would bring up more questions.
With senior quarterback Gavin Hardison expected to return for another season, the choice to retire or resign feels more mysterious. In addition, coach Warner made several in-person visits to meet with recruits this offseason. Not to mention, National Signing Day is set for this Wednesday, Feb. 1.
Hanging over all of this is the fact that Dimel is the team's primary play caller and hasn't deviated from playcalling duties since arriving in 2017. Dimel has leaned on his experience of almost four decades of coaching offenses in college football. And, even though Hardison will have his third offensive coordinator in four seasons, Dimel's playbook will likely remain consistent for the team.
Could it have been the coaching staff hoping for something different this year? Despite the strong season in 2021 offensively, UTEP took a step back in 2022. They were bottom-5 across C-USA in scoring offense (24.4 points per game), passing offense/passing efficiency (217 yards per game), 3rd down conversions (39.1%), and red zone offense. The only two categories UTEP's offense has success were in time of possession (1st in C-USA) and fourth down conversions (2nd in C-USA).
Could it be a philosophical disagreement? Play calling is a task that Dimel hasn't relinquished in the past at UTEP. Maybe Warner wanted to play more of a hands-on role with the playcalling. On the flip side, maybe Dimel wanted to go in a different direction for the team.
What's next for UTEP? Sources told KTSM and Colin Deaver that the offensive coordinator role could be an internal promotion for someone already on staff. Mike Craven of Dave Campbell's Texas Football reported that passing game coordinator/wide receiver coach Scotty Ohara is the "likely" choice. Ohara has been in El Paso since Dimel got here and has coached All C-USA players like Jacob Cowing, Justin Garrett, Tyrin Smith and Rey Flores. I'd expect both running backs coach Barrick Nealy and offensive line coach Mike Simmonds to get consideration for this role as well.
We'll hear more from the program this week as National Signing Day approaches.
UTEP men's basketball downs UTSA to snap a 4-game losing streak