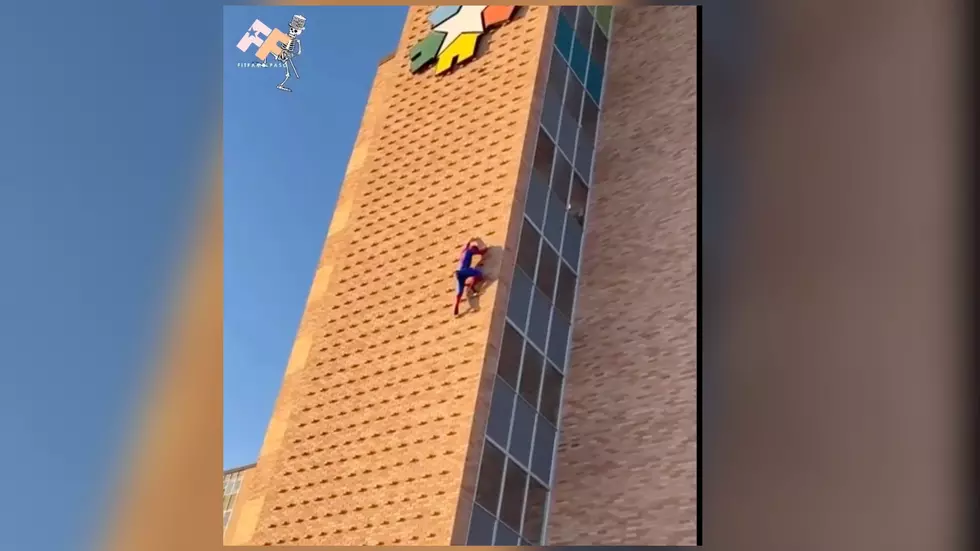 El Paso's HOME Residents Got A Free Rock-Climbing Lessons From The Climbing Spiderman
Courtesy: Fitfam El Paso
If your spidey senses are tingling right now, there's a reason why! And it's a good reason.
You might remember last month a video went viral on social media which showed a person dressed as Spider-man scaling the side of the Chelsea Tower without any safety measures, but most importantly without any authorization.
HOME, Housing Opportunity Management Enterprises, was not too happy to see that video because the building Spiderman, also known as Yancy Quiñonez, was climbing is a HOME property that houses hundreds of seniors and people with disabilities.
An investigation was done into the incident and instead of HOME officials pursuing legal actions against Mr. Quiñonez they agreed to have Mr. Quiñonez serve community service time to provide his expertise to help children living in HOME properties to learn the fundamentals and safety of rock climbing.
"After meeting Mr. Quiñonez and his attorney, we felt we could make this incident into a positive experience," said Gerald Cichon, CEO of HOME. "We do not condone this type of behavior as it is very dangerous and illegal. The video went viral in the El Paso community, so we thought this would be a great opportunity to show kids the dangers of doing a stunt like this and allow them to learn about and enjoy rock climbing."
HOME partnered with Sessions Climbing and Fitness to facilitate the event which took place on Thursday, December 29. Using the facility's equipment and instructors, Mr. Quiñonez gave a climbing demonstration and taught kids how to safely enjoy climbing as a hobby and exercise activity.
"Climbing should be for everyone," said Albert Alvarez, general manager of Sessions Climbing and Fitness. "We are happy to partner with HOME to help give the kids a great experience and show them the correct and safe way to rock climb."
It's always great to see bad situations turn into something good! Hopefully, Spider-man learned his lesson!
Sessions Climbing and Fitness is located at 1775 Cimarron Rialto Square.