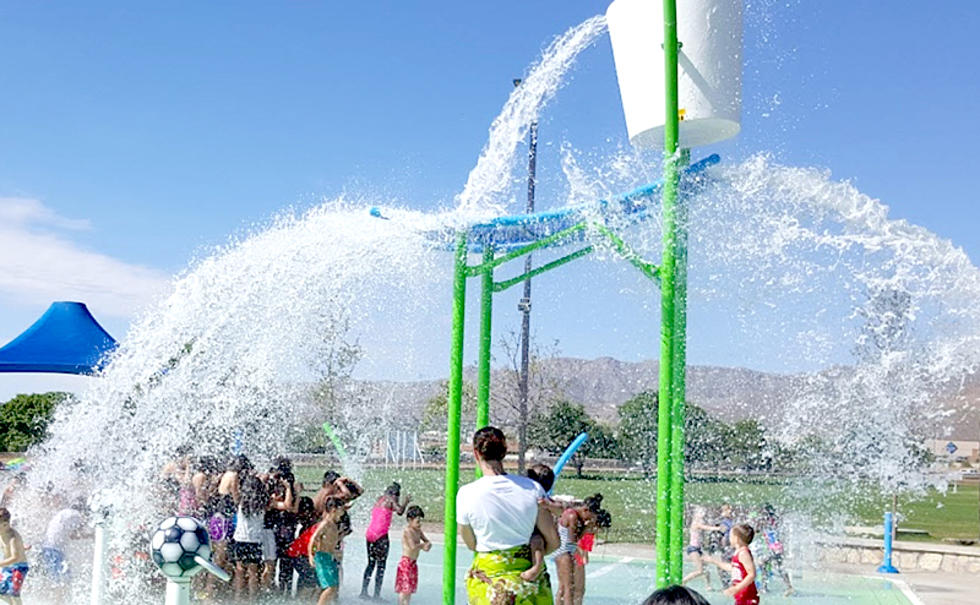 El Paso Spray Parks Are Opening Back Up and Are Better Than Ever
elpasotexas.gov
Anyone who has lived in El Paso for a minute knows how hot it can get in the summer, and also knows how a need for a way to cool down is essential.
Good news! The City of El Paso announced it is ready to open the spray parks for the season.
The nine spray parks and the splash pad at San Jacinto Plaza officially open for the season on Memorial Day Weekend which begins on Saturday, May 27. They will be open every day from 10 a.m. - 8 p.m.
They are a good option for a couple of reasons. If you have toddlers who don't know how to swim yet, the spray parks don't have any deep water. They are simply sprinklers that also have large buckets which are used to drop water and create a waterfall-like effect.
They are also … FREE (unlike the city's water parks).
And remember - there is now a hybrid splash pad at the Pavo Real location. Not only can humans enjoy a splash pad... but a dedicated splash pad is there just for dogs.
The spray parks are operated and maintained by the Parks and Recreation Department.
Here is a list of all the El Paso spray parks:
Chamizal Community Spray Park
2119 Cypress Ave.
El Paso, TX 79905
San Jacinto Plaza Splash Pad
114 W Mills Ave.
El Paso, TX 79901
Sue Young Spray Park
9730 Diana Dr.
El Paso, TX 79924
Hidden Valley Spray Park
200 Coconut Tree Ln.
El Paso, TX 79915
Grandview Spray Park
3100 Jefferson Ave.
El Paso, TX 79930
(Currently closed for maintenance)
Pavo Real Enhanced Spray Park
9301 Alameda Ave.
El Paso, TX 79907
(*Enhanced spray park with two separate spray parks - one for humans, one for dogs)
Westside Community Spray Park
7400 High Ridge Dr.
El Paso, TX 79912
Marty Robbins Spray Park
11600 Vista Del Sol Dr.
El Paso, TX 79936
Braden Aboud Memorial Spray Park
4325 River Bend Dr.
El Paso, TX 79922
Salvador Rivas Jr. Spray Park
12480 Pebble Hills Blvd.
El Paso, TX 79938
El Paso Zoo Hunt Family Desert Springs Splash Pad
4001 E Paisano Dr.
El Paso, TX 79905
22 Of El Pasoans Favorite Comfort Food Restaurants
When it comes to comfort food in the Borderland, El Pasoans know best!