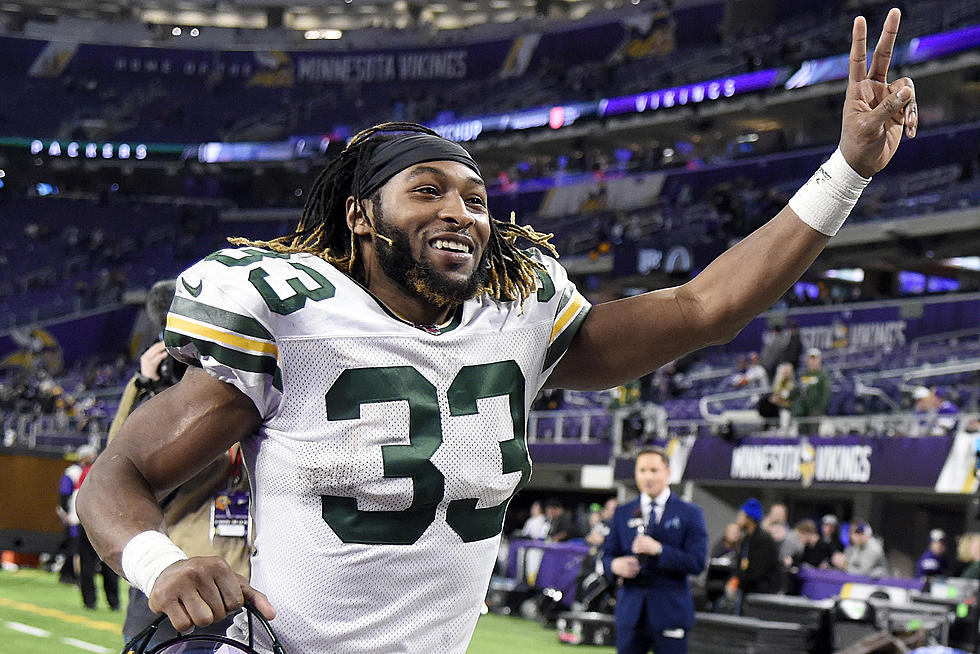 Aaron Jones Got Smoked in a Race with Tyreek Hill
Getty Images
Aaron Jones is arguably one of the best running backs in the NFL. Ask any fantasy owner over the past couple of seasons. Jones ended up being an absolute steal in the 2017 draft for the Green Bay Packers when they took him in the 5th round.
Tyreek Hill is arguably one of the best wide receivers in the NFL. Again, just ask any fantasy owners over the past few seasons. Hill slipped in the 2016 draft because of legal issues. Seriously, Hill is a dirt bag. CLICK HERE to go to his Wikipedia page and scroll to the bottom to see all the legal issues he's had.
Recently, Jones and Hill were at a camp together and had a quick race.
Clearly this race wasn't even close to 40 yards, which is generally the standard for a race in the NFL. That's why we're always so concerned about the 40 yard dash at the combine. If you look up the 40 yard dash times for each player, it's clear Hill is faster. This is, of course, if you have never even seen a Kansas City Chiefs' game in the past few years, including the last two Super Bowls, because you can see that Tyreek Hill's speed puts him in a class all by himself.
But here are the actual 40 times for each player.
Tyreek Hill - 4.29 seconds
Hill's time is one of the fastest recorded, but here are the top times through the years:
2017 - John Ross III - 4.22 seconds
2008 - Chris Johnson - 4.24 seconds
1999 - Rondel Menedez - 4.24 seconds
2014 - Dri Archer - 4.26 seconds
2005 - Jerome Mathis - 4.26 seconds
2013 - Marquise Goodwin - 4.27 seconds
2005 - Stanford Routt - 4.27 seconds
2020 - Henry Ruggs III - 4.27 seconds
Of course, there are also rumors that Bo Jackson once ran an unofficial 4.12.
KEEP READING: Here are 50 of the most famous sports goofs