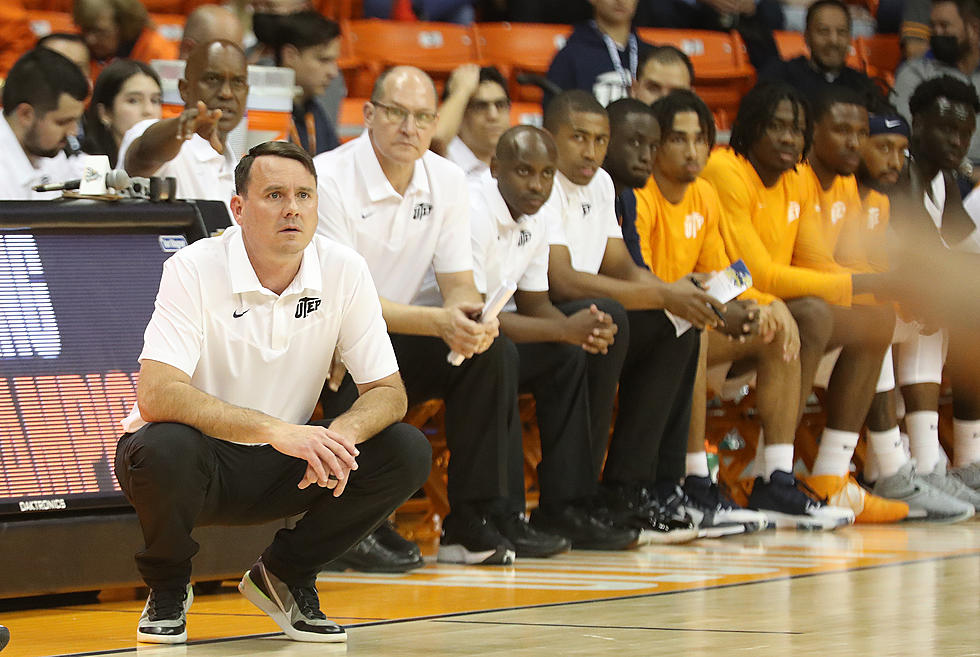 UTEP Basketball Dips Into Recruiting Waters for 2022-23 Season
Ruben R Ramirez
To no surprise, the UTEP men's basketball squad is already starting to be active on the recruiting circuit in anticipation for the 2022-23 season. Meanwhile, the squad is still participating in The Basketball Classic postseason tournament, with the transfer portal looming over the team once the season is officially over.
From a recruiting standpoint, last week was busy for the program.
In fact, in the middle of UTEP's swift 80-54 beatdown against Western Illinois on Saturday, a JUCO player committed to signing with the Miners. Freshman forward Derick Hamilton, a 6-foot-10, 280-pound center at Bossier Parish Community College, announced he would be joining the Miners. The big man averaged 11 points on nearly 70% shooting from the field across 30 games played, along with 5.6 rebounds per game.
The Miners are targeting a handful of players from the JUCO ranks, including combo guard/forward Justin Thomas (Navarro College), center Jimmy Bell Jr. (Moberly Area Community College), point guard Braxton Jones (Iowa Western Community College) and guard Benjamin Bayela (South Plains College).
Benjamin Bayela reportedly has three years to play at the Division I level. The 6-foot-6 guard sat out a season to recover from a torn ACL, but is known to be a strong two-way player. As an international hooper from France, Bayela has another Division I offer from Pacific.
According to JucoRecruiting.com, Justin Thomas is ranked No. 56 in their most recent top-100 JUCO prospect list. He is a 6-foot-6 wing that transferred to Navarro Community College from Queens University, and he has an offer from Texas A&M. He will have three years to play at the Division I level. He is known to be a "Swiss army knife" and he can play multiple positions.
Braxton Jones is a former four-star prospect out of high school. The point guard played for IMG Academy, Iowa Western Community College and most recently, plays for Prolific Prep. He holds offers from Syracuse, Weber State, Wake Forest, TCU, Minnesota, Stanford, Miami, Liberty, Providence, Fresno State and Arizona.
Center Jimmy Bell Jr. is someone that the Miners offered back in December. Bell Jr. has offers from West Virginia, NC A&T, Northern Arizona, Sam Houston State, Bryant and East Tennessee State. He measures in at 6-foot-10, 270-pounds.
Besides the JUCO players, the Miners are putting themselves in the running for several Division I transfers.
UTEP has reportedly spoken with Division I transfers like Jordan Jones (Cornell), Keondre Kennedy (UMBC), Demari Williams (Arizona State), and Pat Robinson (West Liberty).
UTEP already has a pair of official signees for next year's squad—Jonathan dos Anjos and Che Evans Jr. Dos Anjos is coming to UTEP after playing a major role for Florida SouthWestern State (JUCO), where he averaged 12.1 points in 30 games played during the 2021-22 season. As a San Diego State transfer, Evans Jr. will be a solid wing prospect for the Miners. He has been practicing with the team since January as a mid-year transfer and he will be eligible in the fall.
It remains unclear as to how many scholarships UTEP will be looking at for the 2022-23 season. That number will be directly impacted on which players enter the transfer portal and leave the current UTEP roster.
Nonetheless, this year's recruiting is huge for this program. First-year head coach Joe Golding was able to secure 20 wins with a squad that included a mix of Rodney Terry's recruits and his recruits.
From what we've seen so far, the program will tap into the relationships that assistant coach Butch Pierre made in the JUCO ranks. Pierre was the head coach at Northwest Florida State College from 2019-to 2021 before joining Golding's staff. However, the Miners have shown that they aren't afraid of getting into some recruiting battles against Power-5 schools for Division I transfers.
South Dakota Born NFL Players of this Century
While not a traditional powerhouse Nation Football League feeder, South Dakota has produces a fair number of football players that went on to the big time in the NFL.
Here are some that have played on various teams over the last couple of decades.