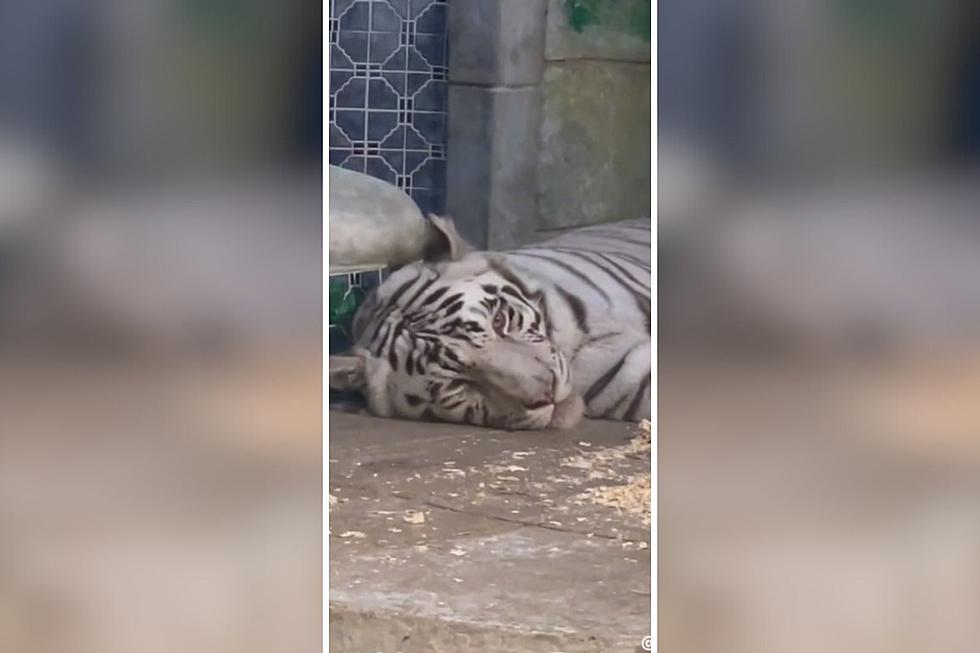 Heartbreaking TikTok of White Tiger at Texas Zoo Sparks Concern
@stefangarcia98 via TikTok/Canva
When you go to a zoo, it's an amazing experience seeing the wild animals up close with your own eyes. But as humans, we never know what an animal is truly feeling. According to a recent TikTok video, one user's video has been going viral; not because of the wild animals in their natural habitat. It's clear that one of the tigers is feeling very sad in Texas.
Who uploaded the TikTok of the sad tiger
A user name Stefan Garcia, aka stefangarcia98, posted this video back in April on a trip to the Houston Downtown Aquarium in his home in Houston, Texas. The Aquarium is known for having 4 white tigers, Nero, Marina, Reef & a new tiger cub. However on his visit, it was clear that at least one of the tigers was not enjoying its stay in captivity.
Some other commenters have stated that the same lion has done this for years.
heidis_highlights: "Just went last week & my heart broke. He's miserable :/"
Jazz: "I went in 2022 & that white tiger does the EXACT same thing just lays there"
Juliane: "Went there 3 years ago & and it just sad I hated it."
One of the most popular comments with over 14k likes comes from a user named Stefanie Evans: "Why is there even a tiger at the "aquarium" I never understood that"
And apparently 2019 is not when this has started
One user, c.aguire19, even said "I went 7 years ago & same spot". (Around 2016)
Another user, rayray, says "He always looks so sad & bored. I'm 21 & remember seeing him when I was itty bity"
However this was an improvement from before
In 2019, the Houston Aquarium actually spent $4million on a newer, BIGGER yard for the 4 tigers to live in (since 2004). The Aquarium also states on their website that the tigers are well trained with staff to make sure the tigers are healthy & get plenty of exercise.
But with videos with Stefan's & the comments left on the video... it's certainly raised some questions on whether or not the new area is much better than the old one.
People have shared the video in hopes that people will release the white tigers in a more open space; but until then, the tigers will be staying inside their home at the Houston Aquarium.
Vista Hills Animal Hospital Pet Costume Contest 2022