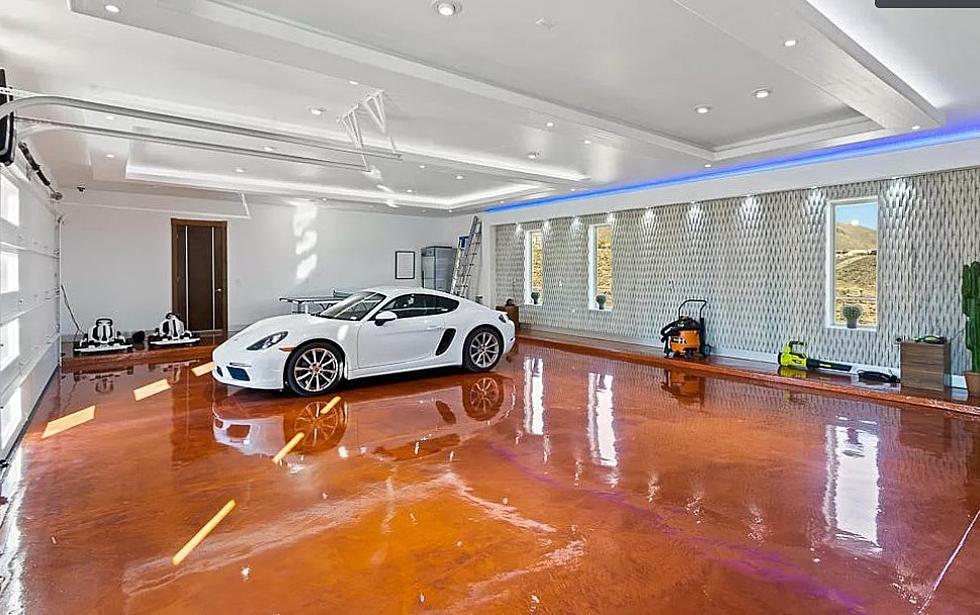 Photos Of The 5 Most Expensive Homes In El Paso
Zillow
Do you have a couple million dollars laying around that you don't know what to do with? Maybe you're getting a jump on Christmas shopping for that hard-to-buy-for friend? Or if you've ever wondered what the most expensive homes in El Paso look like, sit back, relax, and let's take a look at the top 5 most expensive homes in El Paso.
The PowerBall and MegaMillions jackpots are almost to $400 million so these homes should be in your price range if you happen to get the right numbers and become a lotto millionaire. It's always best to do your shopping early so you don't have to waste time living next to the riffraff in your neighborhood once you hit it big. Here we go...
1. 4790 Sol De Alma - This home in the Upper Valley is an amazing 6 bedroom, 6 bathroom, with 6,766 sq. ft. of space to stretch out in. It will only set you back $2,300,000, so if you don't win the lottery you'll probably need to take an extra shift or two at work to afford it.
You'll probably need a lot of tools and a riding lawn mower to take care of this front yard, but it does have a lot of room for Christmas lawn decorations.
The front entryway looks small but it has the very tastefully designed Upper Valley look about it. You know what part of town you're in when you see a front door area like this.
If you buy this house it will definitely be the place all your buddies will want to be when they watch the Super Bowl so you better be ready to be out of town on game day unless you want to clean up after them.
If I'm living in this house, I'd be spending all my time in this kitchen. And no, I wouldn't be doing the dishes after dinner.
I'm guessing this is one of the guest bedrooms because it has a luggage rack at the end of the bed, but who am I to judge? It might be the master bedroom.
If you're going to live in El Paso in a 2 million dollar home you better have a pool, that's all I'm saying.
2. 276 Amelia Dr - This 4 bedroom,5 bathroom home is a little bigger than the previous home and comes in at 7,369 sq.ft. It's on El Paso's westside, of course. Compared to the number one home on the list, this is a steal at $2,250,000. Let's take a look, shall we?
This is a very modern looking house. Very sleek and stylish so if you're looking for something more traditional, this isn't for you.
I'm not sure why multi-million dollar homes don't have bigger front doors, but they seem to only like a single door.
The view from the back of the house is spectacular, though. You could probably spot this from an airplane.
This is just the place to unwind after a tough day at the checkout counter at Walmart.
Yes, this is the garage, not the full court basketball arena. That's out back behind the guest house.
There's a lot of room in this master suite. I'm guessing it's so the husband won't have to go far to sleep on the couch when he's in trouble.
3. 407 and 370 Lombardy Ave - For some reason these houses only have the overview photos of them available to see online. I'm guessing that they are listed at $1,500,000 because you are buying two of them. There is only one photo that you really need to see because all the others are just different angles. Look, if I'm going to spend a million and a half dollars I want to see the inside. Oh well, here we go.
Yeah, well, here are the houses. You're getting a lot of land for this listing.
4. 750 Via Mirada Lane - This Upper Valley home is way, way traditional. Actually, it looks like the house that doesn't get picked in House Hunters. It is big, though, and expensive for what I can see in the photos. It comes in at $1,400,000. It has 6 bedrooms, 5 bathrooms, and 5,318 sq.ft. But that just means you've got a lot of square footage to redo to bring it up to date.
Very traditional front yard look to this house. This is probably the only appealing thing about this property.
What did I tell you? This is the front door.
This is supposed to be a great room but I'm not so sure the name applies.
The Property Brothers would already be pulling out the sledge hammer for this master bath.
Um. I'm thinking that were going to need a complete redo here, Joanna. Gaines. You know from tv.
5. 252 Everest Dr - This westside home has what appears to be two master suites and two kitchens. It's $1,299,9004 and has 4 bedrooms and 5 bathrooms in the 4,000 sq.ft. listed. It's very modern looking and seems to be two houses in one. Let's jump in.
The house is very modern and sleek which seems to be a hallmark of new construction on the westside.
This front door at least has a little pizazz to it. Modern isn't my style but it is pretty.
Not gonna lie. I'm totally jealous of this pool and the view.
Ok, here's where it gets weird. Here is a kitchen, not much to look at but check out the next photo.
Here's another kitchen in the same listing. I'm guessing this is where the caterers work? I would love two kitchens in a house, one for show and one where the minions do all the work. Of course, then I would need minions but look at this kitchen.
And here is one master bathroom, gorgeous, although I could do without the bathtub and do with more closet space. But look...
..Here's a whole nuther master bathroom. What is going on in this house? Do the husband and wife life separately under the same roof? Is this designed so the nanny has her own kitchen and suite? I have to know!
See Inside: Aaron Lewis' Luxurious $3.5 Million Rural Castle