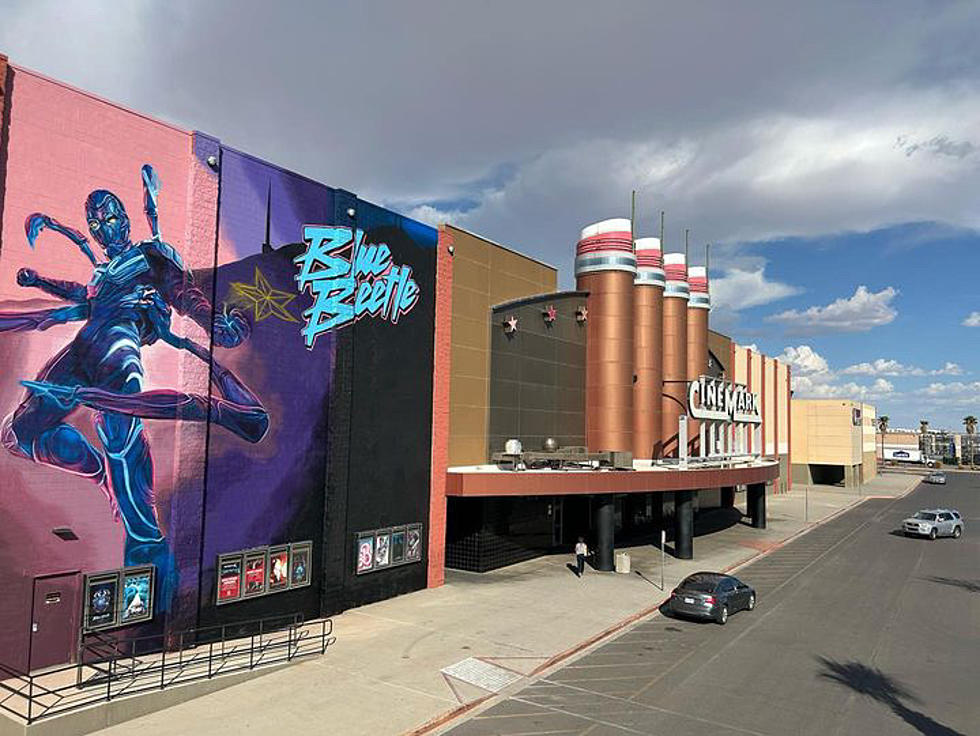 Local Muralist Creates Jaw-Dropping 50-Foot Blue Beetle Mural at Tinseltown
Jesus "Cimi" Alvarado
DC Comics has its first Chicano super hero! Blue Beetle hit theaters this past week and locals made their way to the movie theaters to watch the film that had a few El Paso ties to it.
If you made your way to El Paso's east side of town to watch the movie at Tinsletown then you were greeted by a 50-foot mural of the Blue Beetle that was created by local Chicano artist, Jesus "Cimi" Alvarado.
Cimi is known for his breathtaking murals that he paints across the borderland and his art work has been featured in other movies as well.
The opportunity to create this beautiful mural came about thanks to Warner Brothers who reached out to Cimi to ask if he could create the mural to help them promote the movie.
Since the Actors strike is still ongoing in Hollywood, studios are having to find other creative ways to promote their movies and this was one way.
Cimi had a week to create this mural which features The Blue Beetle character standing in front of El Paso's iconic star on the mountain.
Creating this 50-foot mural in a short amount of time was a huge task for Cimi, but it was a task that he was able to handle. Cimi worked in the triple digit heat to create the mural and he was able to have it completed in a little over a week.
Cimi also had another one of his murals featured in the actual Blue Beetle movie. After being asked by Blue Beetle director, Angel Manual Soto, to create a mural for the film, Cimi agreed and spent some time in Santurce Puerto Rico to create a mural that would be featured in the first few minutes of the film. 
Blue Beetle first burst onto the scene in 2005 during the Infinite Crisis event, captivating comic enthusiasts with his charm and crime-fighting prowess. But that's not all - this hero has made appearances in the world of animation before leaping into the world of live action. 
Now, El Pasoans have the opportunity to stand shoulder-to-shoulder with this legendary character against the backdrop that inspired it all.
The mural is definitely picture worthy, but go and get your pictures quick because the mural will be painted over by the end of September as it was only meant to be painted for promotional purposes.
While you're at Tinseltown you can also check out the authentic Blue Beetle suit that will be available for public viewing from August 14 to 28 at Cinemark Tinseltown Las Palmas XD, located at 11855 Gateway West Blvd.
Court Del Norte Motel