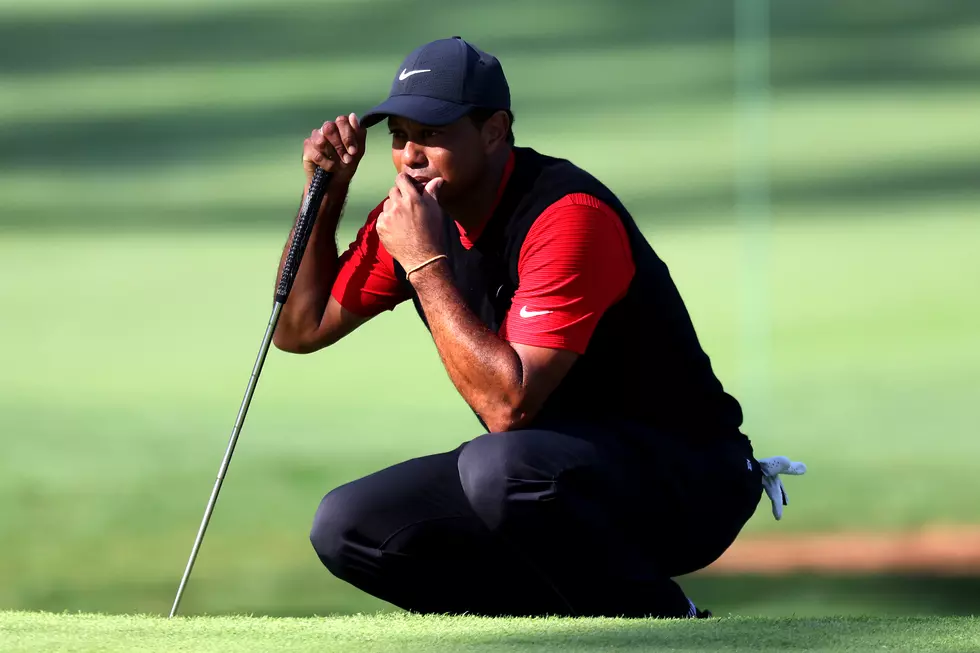 How Tiger Woods Got a 10 on a Par 3
Getty Images
I want to get this out of the way before we go to the tape: all of you guys who are saying, "Hell, I would never shoot a 10 on a par 3" are full of it. For starters, your course conditions are SO much more forgiving that Augusta during the Masters, they shouldn't even really be considered the same sport. Your public courses and country clubs are maintained to keep chumps like us from giving up the game. The goal at Augusta (really, ANY course on tour) is the exact opposite. Those lightning-fast greens and unforgiving rough would have you and I breaking every club in the bag. So, even if you're a scratch club member, you're still playing on a course that's doing everything it can to HELP you.
I had trouble finding a video that showed EVERY shot on Tiger's 12th hole 10 at the Masters. I finally did, though, and that's posted below. Here's a rundown of every shot:
1.) It's a 155 par 3 over water. Most of us duffers would be hitting a 6 or 7 iron. Tiger probably hit a 9 or a wedge. He catches it a little heavy and it lands on the front fringe and backs up into the water. This is a great example of what I mean about that level of golf being so different. If this had been at El Paso Country Club or Painted Dunes, that ball probably would have nestled in some of the grass or checked up on the slope before getting to the water. At 12 on Augusta, that shot zips back into the hazard 100 times out of 100.
2.) Tiger takes a drop (shot #2) onto the drop zone, which looks to be 90-100 yards from the pin.
3.) Tiger hits some kind of wedge and he strikes it really well. Where it hits on the green, for us mere mortals, it would have been safe. These PGA guys hit it so pure and it has so much action on it, the ball draws back into the hazard. If you're a regular weekend golfer, you won't hit an iron that good in four or five rounds. It's like in Tin Cup when Kevin Costner's character keeps hitting onto the green. He hits perfect shots but, due to challenging conditions and the amount of spin, it keeps zipping back into the water. This is what Tigers 3rd shot does.
4.) Dropping four from the drop zone again.
5.) Hitting shot 5 from around a hundred. After leaving two approaches short enough that they ended up in the drink, he hits his 5th with just a tiny bit too much power. Again, any of us chumps would have been tickled pink that we struck the ball as well as that. He's in the back sand bunker with a super-awkward lie.
6.) Tiger hits shot 6 out of the sand. His stance is impossible and it sounded to me like his contact was TOO flush. The ball shoots out, over the green and back in the water.
7.) The rules say you can take a drop out of the water OR you can replay it from the same bunker. Tiger chooses to play out of the sand. Shot 7 goes back in the sand and Tiger his a very safe shot (number 8) that trickles on to the green.
8.) Tiger takes a long putt to save a 9. It comes up a couple inches outside the cup.
9.) Tiger taps in (shot #10).
Here's the only video I could find that shows EVERY shot.
Enter your number to get our free mobile app
See Striking Photos of the Tourism Industry During COVID-19