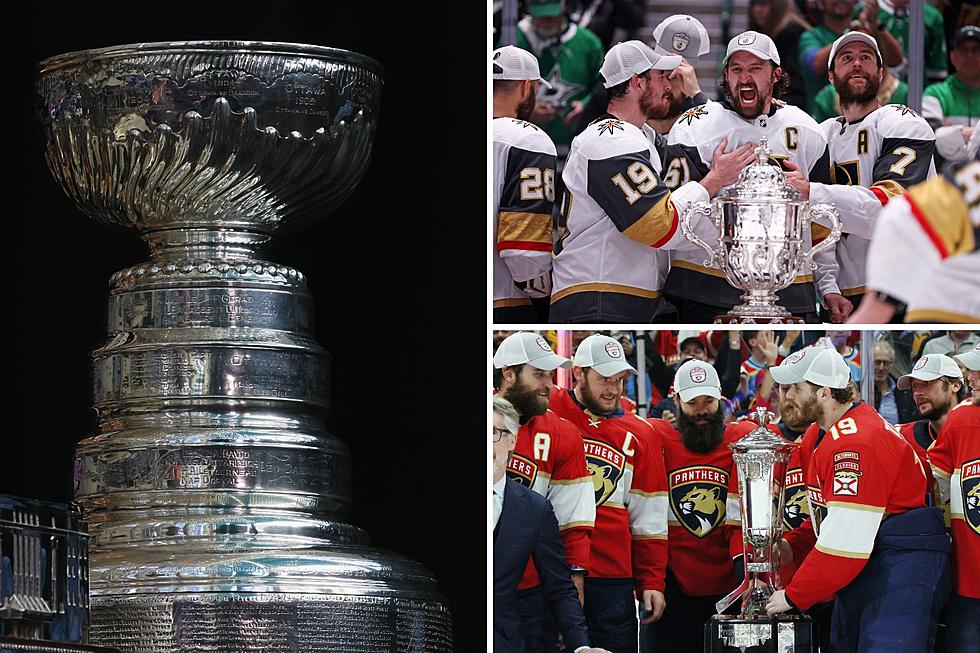 El Paso Picks Who Will Win their Stanley Cup First in 2023
Getty Images/ Getty Images/ Getty Images/Canva
Since 1914, there have been over 100 different winners of the coveted Stanley Cup. The last time we saw a first time Stanley Cup winner was back in 2019, when the St Louis Blues won their first Cup in 52 years. This year we will see TWO teams fight for their very first Stanley Cup: the Vegas Golden Knights & the Florida Panthers. And we decided to ask El Paso on who will finally get their first Cup in 2023.
When was the last time Vegas was in the Stanley Cup finals?
The last time we saw the Golden Knights in the Stanley Cup finals was not too long ago; back in 2018 when they faced off against the Washington Capitals. It was their very first season in the NHL; where they lost 4-1 against the Capitals. That year would mark the Caps very first Stanley Cup victory.
When was the last time the Florida Panthers were in the Stanley Cup finals?
Their first & last appearance for the Florida Panthers in the Stanley Cup finals was ALSO against a team who hadn't won a Stanley Cup yet; in 1996 they would be swept in the finals 4-0.
So who does El Paso think will finally claim their first Stanley Cup?
Both teams have come so close & yet so far but only one team will FINALLY end the heartbreak in 2023. So which one will it be? Here are the results asked on Facebook:
Annette Gonzales picked Vegas
Roam Onterom picked the Panthers
Arely Rodriguez Salas picked the Panthers
Richard Lee Philpott Jr picked Vegas
Jesus Jimenez: "I'm not sold on Hill. He is just in a very good team so I am going with the Panthers"
Sandra Saucedo: "My sis is a Knights fan, but then again they knocked out my Stars. Still hurts! Panthers."
Interestingly the results were different on Instagram:
Over 2/3 of the votes picked Vegas to win. So it seems like El Paso is favoring the Golden Knights to finally get their first Stanley Cup. Will it happen? We'll see when the Finals start on Saturday.
Amazing Rock Art Pieces by El Paso Artist Karmann "Sketchy Goat" Sloane
Karman Sloane, aka Sketchy Goat, has made some amazing art used by big names in the rock world. Here's a look at some of her favorite art designs that you might have seen.