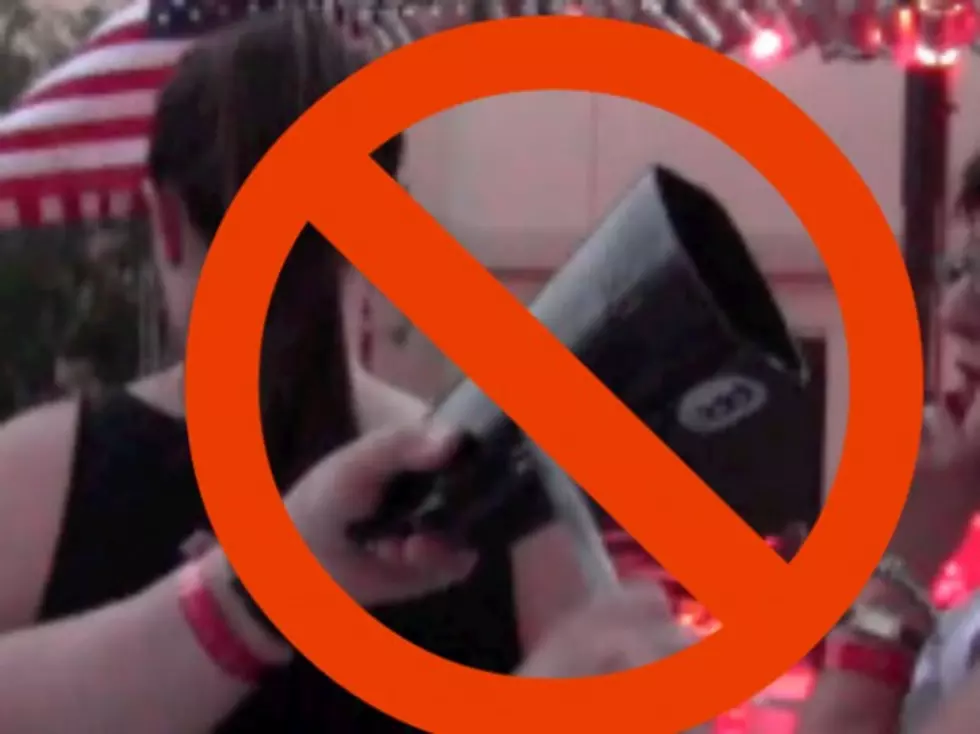 Blue Oyster Cult: "No More Cowbell!" Buzz Almost Kicked Out of Streetfest
I was almost kicked out of the back stage are at Streetfest 2012 on Saturday for (and I'm not making this up at all) "playing a cowbell within earshot of Blue Oyster Cult." How did this come about? I'm glad you asked, because it's a very funny story.  It all started earlier in the evening ...
If you are unfamiliar with Blue Oyster Cult (henceforth BOC) then I should begin by telling you that they were a popular hard rock band of the 1970s.  Their hits include "Godzilla," "Burnin' For You" and "Veteran of the Psychic Wars."  Their biggest hit by far, though, was "Don't Fear the Reaper."  This song has been used in countless movie soundtracks and TV shows and you've heard it even if you don't think you've heard it.
About 10 or 12 years ago, "Don't Fear the Reaper" made a huge comeback when it was parodied on Saturday Night Live.  Will Ferrell played the cow-bell player in BOC and Christopher Walken played the record producer.  Here it is for anybody who hasn't seen it. Oh, and welcome back from your coma you've obviously been in since 1999! I'm glad you pulled through!
Funny, right? Yeah, maybe BOC thought it was the first 47,000 times they heard it.
Flash-forward to this Saturday night at the KLAQ Streetfest. Somebody from our staff had a great idea to get a cowbell and have the members of BOC autograph it! We could auction it off later and give the money to charity or something!
BOC, however, declined. They'd be happy to sign anything else, a guitar perhaps or how about a drum head? They were a little bit over the whole cowbell thing.  Actually, I can kind of understand. I guess asking BOC to sign a cowbell is similar to guys who still think they can get a laugh my saying something in the Borat voice.
Anyway, later that night, I'm back in the hallway of the Abraham Chavez Theatre where I run into Chris, Stephanie' the Corporate Computer Babe's assistant, who is still holding the cowbell. "Hey, give me that thing," I say. I take it from Chris and begin playing the cowbell intro from "Honky Tonk Women."
After 10 seconds, I hear a voice yelling from the distance. "WHOEVER IS PLAYING THAT COWBELL, STOP IT RIGHT NOW!!"  I go down the hallway and look down a darkened stairwell. Standing there and looking angry enough to chew lead paint is one of the women who works for Rave Marketing. She has just run up from the actual backstage where the bands go. I am amused and begin playing the intro to "Mississippi Queen."
"I AM NOT JOKING! STOP PLAYING THAT COWBELL OR I'M GOING TO CALL SECURITY AND HAVE YOU TAKEN OUT OF HERE!"
"What? You can't be serious."
"I AM SERIOUS! I HAVE VERY SPECIFIC INSTRUCTIONS THAT THERE IS TO BE NO COWBELL WHATSOEVER WHILE BLUE OYSTER CULT IS STILL IN THE BUILDING!"
If someone had been recording this, and God how I wish they had been, I would have been morally compelled to keep playing cowbell, just to see if I would be kicked out. Maybe I should have continued just to try and have an even better story to tell.
The best I could muster, though, was to put on my most serious, somber expression and say, "OK. But just so I'm clear ... you're telling me we don't need MORE cowbell?"