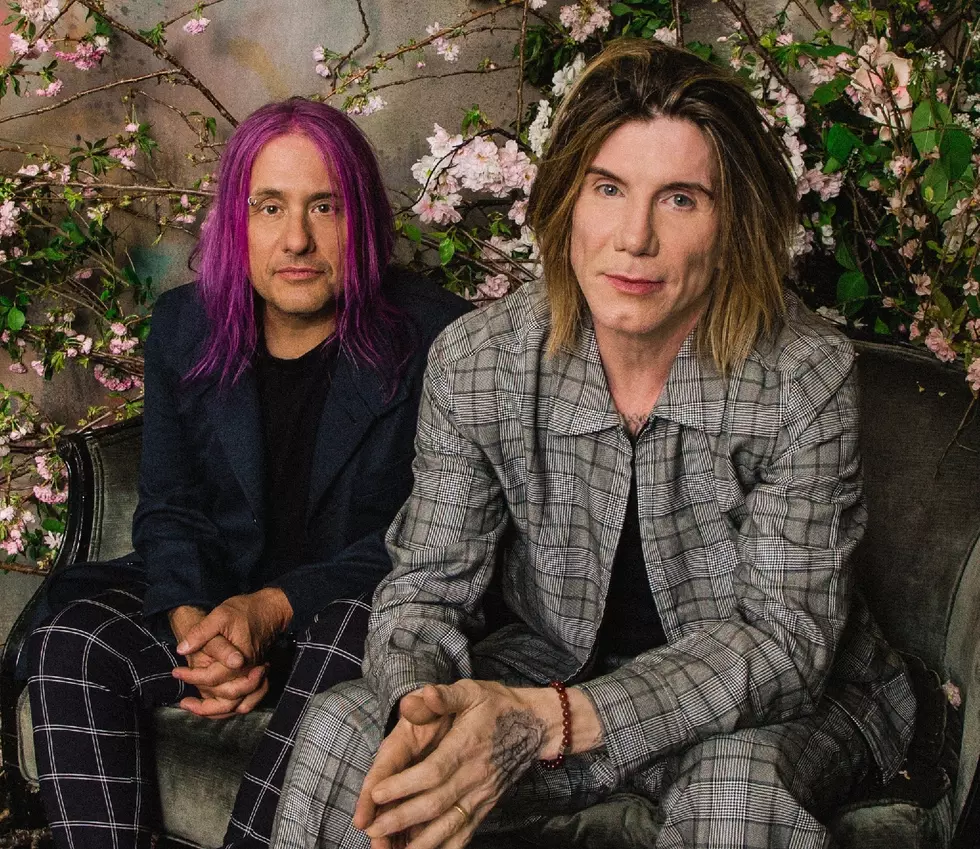 AUDIO: Johnny Rzeznik of Goo Goo Dolls Chats With Buzz & The Crew
Goo Goo Dolls Facebook
Four decades into their storied career, alt-rock legends Goo Goo Dolls are still discovering new and invigorating ways to make the most exciting music they've ever recorded. With more accolades than can fit an industrial size trophy case and global No.1s celebrated across the globe, it'd make sense for a band of such proportions to phone things in, take a step back, or merely retreat from the spotlight. Almost paradoxically, though, Goo Goo Dolls have remained at the top of their game and increasingly daring over the years precisely because the music has always been put on a pedestal that remains untainted by all of the outside laurels the band has earned. On their new album, Chaos in Bloom, Goo Goo Dolls sound like a band more confident than ever in their sound, yet constantly looking for fresh ways to get their story across. Marking their first record ever to be produced by lead singer John Rzeznik, it's an album of biting sarcasm, stadium-ready choruses, and spear-sharp songwriting. In short, it's a quintessential Goo Goo Dolls album.
Lead single "Yeah, I Like You" kicks the record off with a rousing acoustic guitar line that hits like a gut punch, before Rzeznik comes roaring in with searing wit: "I met the queen of generation fame/ I said 'I'm sorry, I don't know your name/ And she stared at me/ And she said/ 'Hey man, could you tell me your name'/ I said, 'You wouldn't know it anyway.'" The song effortlessly and effectively critiques our celebrity culture, the people who work so hard to look so disaffected and mask insecurities with obnoxious self-assuredness. "In a world that is just drowning in social media and internet stars, many of whom are certainly talented, but many confirm that in 2022 you can be famous for doing nothing," explains Rzeznik. "Celebrity in the TikTok age has a very quick burn. It was hard not to be consumed by it during the pandemic."
Bassist Robby Takac handles the vocals and songwriting duties on "Loving Life," which searches for optimism in the landscape the group is often so disenchanted with. "I've been trying to have a relationship with the bigger picture," Takac explains, before adding, "and refining happiness and what it means from that perspective." It's a sliver of insularity sandwiched between opuses for the working class, a call to arms for a better, more empathetic world.
Four decades in, it's impossible not to marvel at the sheer determination of the Goo Goo Dolls to remain a constantly evolving band. Stasis is human nature, but the band has defied these odds to create a work that is both unique and could only be made by this band at this time. "I just want to keep making music that's interesting to me," says Rzeznik. "I'm a different person now than I was when "Iris" came out, but you hope that the music can grow with you and change with you, and you hope your audience grows with you, too."
With Chaos In Bloom, the Goo Goo Dolls have tapped into a sort of magic that only comes with time, practice, and respect. The album is an instant addition to the band's classic canon, but one that will grow the scope of their POV. " It's just such a gift to have songs that everyone loves," says Takac, before Rzeznik adds the perfect caveat for this new era: "Chaos in Bloom reminded us how special this whole thing is and to cherish the relationships that we have together…where we've been, and where we're going."
Formed by Rzeznik and Takac in Buffalo, NY during 1986, Goo Goo Dolls have quietly broken records, contributed a string of staples to the American songbook, connected to millions of fans, and indelibly impacted popular music for three-plus decades. Beyond selling 15 million records worldwide, the group has garnered four GRAMMY® Award nominations and nearly a dozen platinum & gold singles combined, and seized a page in the history books by achieving 16 number one and Top 10 hits. As a result, they hold the all-time radio record for "Most Top 10 Singles."
Thus far, A Boy Named Goo [1995] has gone double-platinum, Dizzy Up The Girl five-times-platinum, and Gutterflower [2002] and Let Love In [2006] both went gold as Something for the Rest of Us [2010] and Magnetic [2013] bowed in the Top 10 of the Billboard Top 200. Their music continues to reach new audiences around the world and rack up platinum & gold certifications – including the recently-platinum "Slide", "Black Balloon" and "Better Days" – and has been covered by everyone from Taylor Swift to Phoebe Bridgers and Maggie Rogers.
Among a string of hits, "Iris" clutched #1 on the Hot 100 for 18 straight weeks and would be named "#1 Top 40 Song of the Last 20 Years." On the heels of going viral on TikTok, the track recently achieved seven-times-platinum status and re-entered the Billboard charts, yet again proving the timelessness of Goo Goo Dolls' illustrious catalog.
The Goo Goo Dolls close out their tour on Sunday, November 20th in El Paso at The Plaza Theater. Click here for tickets.
El Paso's Blue Moon Theater