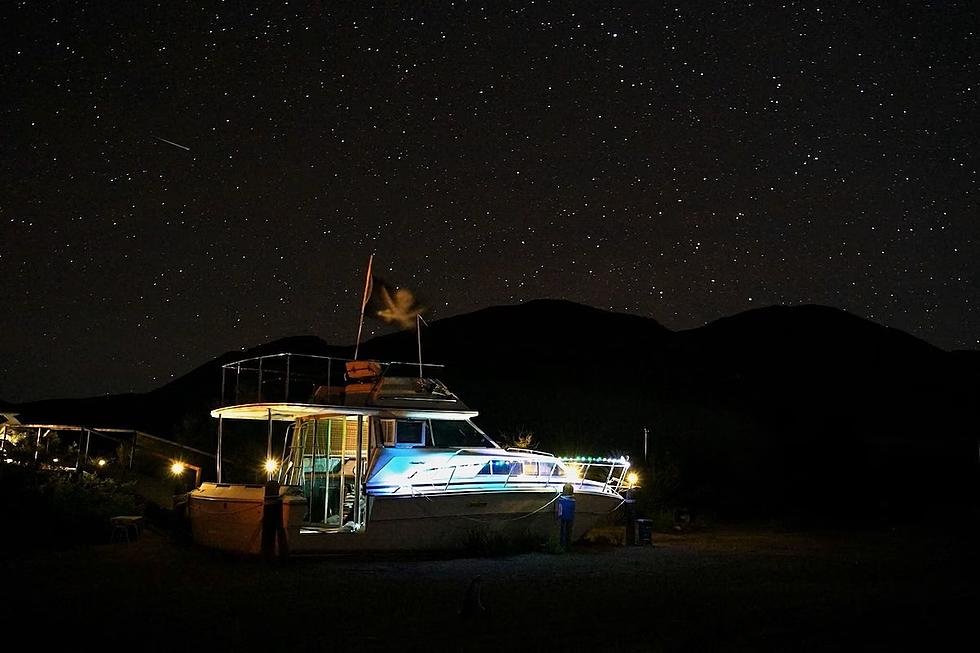 A Clothing Optional Airbnb In The TX Desert? I've Got Questions.
Rondavous Land Yacht - Tin Valley Retro Rentals via Airbnb
I get the allure of clothing optional places. It's about comfort. It's about freedom. If I could, I would probably go back to the way they had it in the garden before Adam and Eve got a hankering for apples. That being said, I recently came across a clothing optional Airbnb in Texas that...well...has me scratching my cranium a bit.
There's a clothing optional Airbnb in the TX desert, and I've got questions.
Rondavous Land Yacht In Terlingua, Texas
I love Terlingua. There's a lot of culture and history surrounding what is probably the most famous "ghost" town in Texas. It's become a haven for glamping enthusiasts, those who yearn for the off-grid way of life, and those among us with an extreme affinity for nature.
After all, you're not that far from Big Bend National Park.
I've written several times about Terlingua, but this is the first time any of the...accommodations... have caught my eye.
Say hello to the Rondavous Land Yacht.
Rondavous Land Yacht, Clothing Optional Glamping Airbnb In Terlingua
Technically, you're not in Terlingua. The Land Yacht is actually part of 90 acres of glamping about 35 miles from Terlingua. The property as a whole is Tin Valley Retro Rentals, and they've got a lot to offer for being out in the middle of the desert.
The most attractive amenity to me would be the pool. It's nice, and being in the desert probably means it feels real nice during those hot days.
The Rondavous Land Yacht is a "clothing optional" choice for your stay. It's far enough away from the other camp sites that you don't have to worry about being seen.
At least that's what they say on the Airbnb listing.
For The Love Of God, Bring Some Sunscreen
That was my first thought. As appealing as it is to be "au naturale" out in nature, you're in the desert. The hot, sun beating down on you relentlessly, desert. You're going to need sunscreen.
You'll also want to keep in mind that not everything at Tin Valley Retro Rentals is clothing optional. Keep it to your campsite. The other guests will thank you, and you won't have to live out those embarrassing nightmares from your middle school years.
At night, back at the campsite, I imagine star gazing decked in your birthday suit is probably a very relaxing, and refreshing experience. You could do your best Burt Reynolds and lay like a magician beside the fire.
More Than Just You Reenacting The Book Of Genesis
To be fair, there's a lot to like about the campsite. While I imagine running around in the nude in the middle of the desert can be uncomfortable after a half-hour, the site does have its charms.
The yacht itself would be great fodder for stories to tell over a beer for years to come. There's also the interesting "guest book" out at the campsite. There are paint brushes there, and you're encouraged to paint a rock and leave it for others to find.
Just keep your art nice.
There's this somewhat bohemian charm to the Rondavous Land Yacht that makes me want to book a stay. I checked the rates for a weekend in August because I'm insane and temperatures don't scare me. There's a two night minimum, and it's $68 a night. All told, it would run you around $175 bucks for the trip (non-refundable. It's $190 for that option), staying Friday through Sunday morning.
I might have to check it out.
10 Cheapest Texas Getaways
June 18 was National Wanna Get Away Day, and it got us to thinking of where Texans can get away from it all this summer and have a great time without breaking the bank.
Visit These 16 Texas Cities And Towns At Least Once As A Texan
It's a fact that Texas is a huge state and because of its size, there are also a lot of things to see, visit and experience in The Lone Star State. Both Texas visitors and Texans alike should visit our awesome cities and attractions. By no means are these all the activities in these wonderful cities. They're just a few examples of things to do.