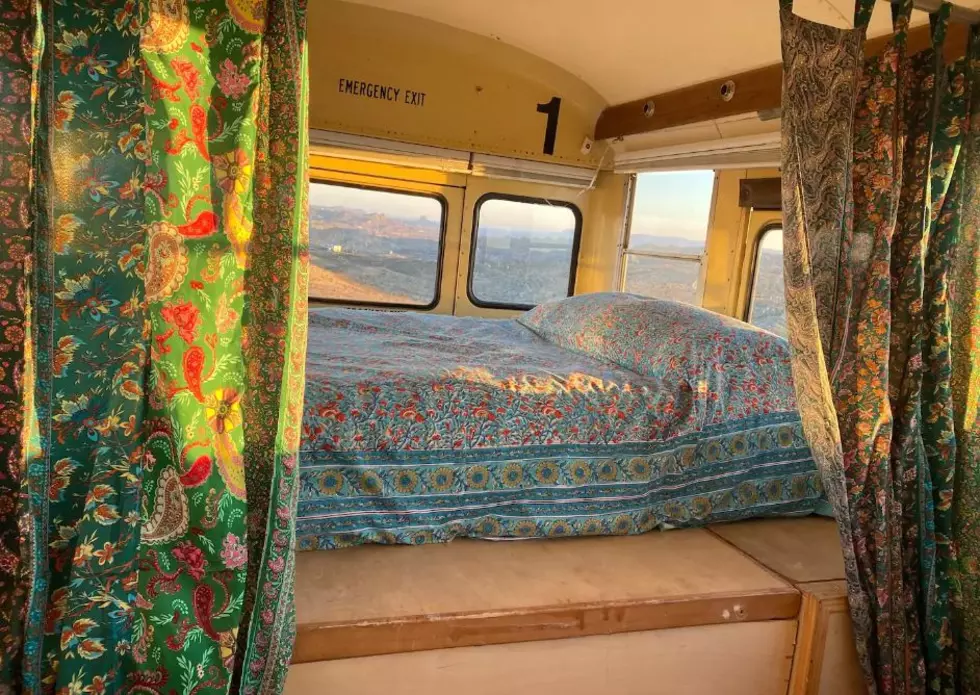 Enjoy Breathtaking Views at This Unique Airbnb Bus In Texas
via Marc airbnb Website
Over the years I have shared some places you can escape to for a peaceful getaway outside of El Paso. Now when you think of an Airbnb you picture either a house or an apartment, not a motorized vehicle.
But one unique Airbnb in Texas is stationed at one heck of a spot in the middle of nowhere. The reason why it is unique is that it is a school bus that you stay overnight in.
The hilltop Airbnb bus definitely gives off some Western vibes inside. But regardless this is definitely a new way of camping out in nature in the Texas desert.
Except for this kind of camping means you don't need to set up your own tent or feel a draft thanks to the metal surroundings. So if you're on the hunt for a unique and peaceful getaway in Texas head to Terlingua, Texas.
That is where you will find the hilltop bus with breathtaking views of the land. Plus, you will want to make sure you check out the sunrise and sunset during your overnight stay.
The best perk about this stay is the 360-degree view of Big Bend from the hilltop. Just check out the photos the super host Marc shared of the hilltop bus below.
You're a short distance away from the cafes and restaurants to do the cooking for you.
Should you choose to cook yourself then there is also a mini stove to prepare a meal as well. If you enjoy secluded areas to get away to and camp out with nature then head to Terlingua, Texas. The hilltop bus Airbnb is less than 5 hours away and worth every penny.
LOOK: Route 66's quirkiest and most wonderful attractions state by state
Stacker
compiled a list of 50 attractions--state by state--to see along the drive, drawing on information from historic sites, news stories,
Roadside America
, and the National Park Service. Keep reading to discover where travelers can get their kicks on Route 66.