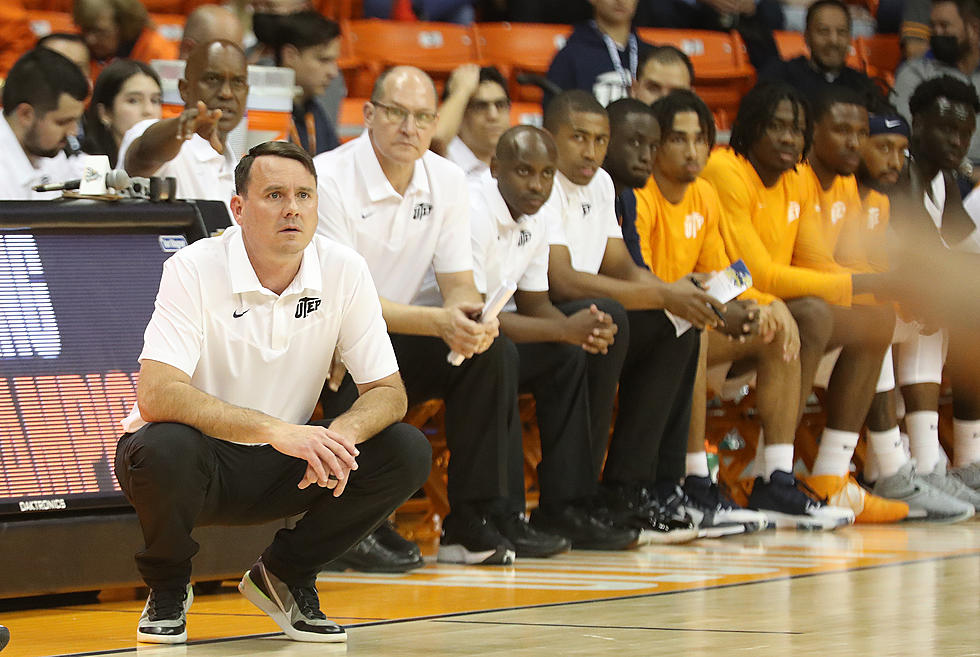 5 Questions for UTEP Men's Basketball Heading Into Week 2
Ruben R Ramirez
The UTEP men's basketball squad (1-1) will tip-off their second week of non-conference play, as they host Northern New Mexico College (2-2) on Tuesday before heading to Pacific (1-2) on Friday.
This comes on the heels of first-year head coach Joe Golding and his squad falling 77-71 to New Mexico State last Saturday. UTEP will aim to regroup this week before playing in the Golden Turkey Classic next week.
Here are five questions ahead of this week.
Where does UTEP get consistent interior scoring from big men? 
It's no secret that the Miners lack experience and versatility when it comes to their frontcourt. The forwards, led by senior Tydus Verhoeven, are mostly newcomers and still need to get a feel for the team's offensive strategies.
Against NM State on Saturday, the team had trouble getting key shots from their bigs when it mattered. Verhoeven ended with 10 points on 4-of-6 shooting. The short-term solution might be to feed him down low more and create plays for Verhoeven. Once teams adjust though, the Miners must have other answers with their frontcourt scoring.
Blinn transfer Bonke Maring started the first game and looked sharp, but didn't see more than three minutes in the NMSU loss. If he can play consistent minutes and help the Miners in the interior, maybe he can help.
Georgetown transfer Jamari Sibley (6) and Oregon State transfer Alfred Hollins (4) also combined for 10 points off the bench. As both of their respective roles expand moving forward, it will be interesting to see if they can help score inside the paint.
The newcomer that has been impressive to start has been true freshman Kevin Kalu, a 6-foot-9 forward out of Baltimore. Kalu needs to get more of a steady offensive game, but he could definitely help when it comes to second chance points.
Can Christian Agnew bring the sauce on offense? 
Through two games of starting effort, Christian Agnew has brought exactly what the Miners want on defense. He grabs steals, he gets rebounds and he's a pest against other guards.
But the team needs Saucy to be an x-factor when it comes to scoring on offense. At his previous school in North Alabama, Agnew was the leading scorer at 12 points per game. Over the first two games, Agnew is obviously being conservative in his approach offensively. He had a costly turnover against NM State and only played in 16 minutes, finishing with four points on 2-of-3 shooting.
In big games like NMSU, the Miners need multiple scoring options in their backcourt besides Jamal Bieniemy, Keonte Kennedy and Souley Boum. Agnew can be that fourth guy.
Will the Miners get consistency off the glass? 
We might be asking this question for weeks and even possibly months from now. The rebounding is an issue for the Miners. They are currently -11 on the rebound margin over two games, including a 39-29 rebound margin against NM State.
Luckily for UTEP, they are getting help from guards like Keonte Kennedy (6.5 rebounds per game), Christian Agnew and Jamal Bieniemy off rebounds. However, they need better help from their forwards off the glass.
Verhoeven is the team's best overall rebounder. They need Hollins and Sibley to rebound for them when they enter the game off the bench. UTEP gets a nice rebounding spark whenever Kalu comes in off the bench. Maring, who is 6-foot-10, needs to be a rebound machine when he plays as well.
I'm worried about this becoming a recurring issue and I'm also worried about the rebound margin against Pacific.
Is Souley Boum the best option to knock down 3's on the road? 
The Miners are currently shooting 36% from 3-point range and average 8.5 3-pointers made per game. UTEP hovered around a 30% 3-point shooting team in 2019-20 and 2020-21, with almost 11 attempts per game.
There is concern right now with this team being a little too 3-point happy, especially in transition. Though, this isn't an exclusive UTEP problem. We see uncontested 3-pointers in transition across college basketball nowadays.
We can judge this team on the player that attempts these 3-pointers during games. The Miners have several players that like to shoot outside jumpers, including Keonte Kennedy, Jamal Bieniemy and Jamari Sibley. The proven 3-point scorer is Souley Boum, who knocked down 3-of-7 from beyond the arc against NMSU in his first game back from an injury. Bieniemy went 0-for-5, Kennedy shot 1-of-4 and Sibley made a 3-pointer against NMSU.
Perimeter scoring might be hard to come by for this team, especially on the road. As UTEP makes a trip to Pacific on Friday, I will be keying on 3-point attempts throughout the contest to see what kind of attempts the Miners try. As the team's 3-point leader last year, I put most of my stock with Boum to make the most 3's for the squad. Some might argue that Boum is inefficient during stretches, but I would challenge those naysayers to find me another 3-point scorer on this team.
What kind of momentum will the Miners have going into the Golden Turkey Classic?
Pacific (1-2) enters this game as a very beatable opponent for the Miners. Conversely, Pacific is at home and could use that toward their advantage in trying to beat the Miners.We will learn more about the Miners as they travel to face this Pacific squad this week.
Their weekend trip to Pacific could impact their tough stretch next week in the Golden Turkey Classic. No, the Golden Turkey Classic isn't a typical invitational or tournament with seedings, neutral sites or pairings. Instead, the Classic will pin the Miners against UC Riverside and Florida A&M at home next Monday and Wednesday, respectively. UC Riverside (2-1) upset Arizona State on the road last week, while Florida A&M (1-1) will face Kansas State on Sunday before heading to El Paso next Wednesday.
UTEP basketball beats WNMU 85-57 in Season Opener
Ruben Ramirez | UTEP Athletics