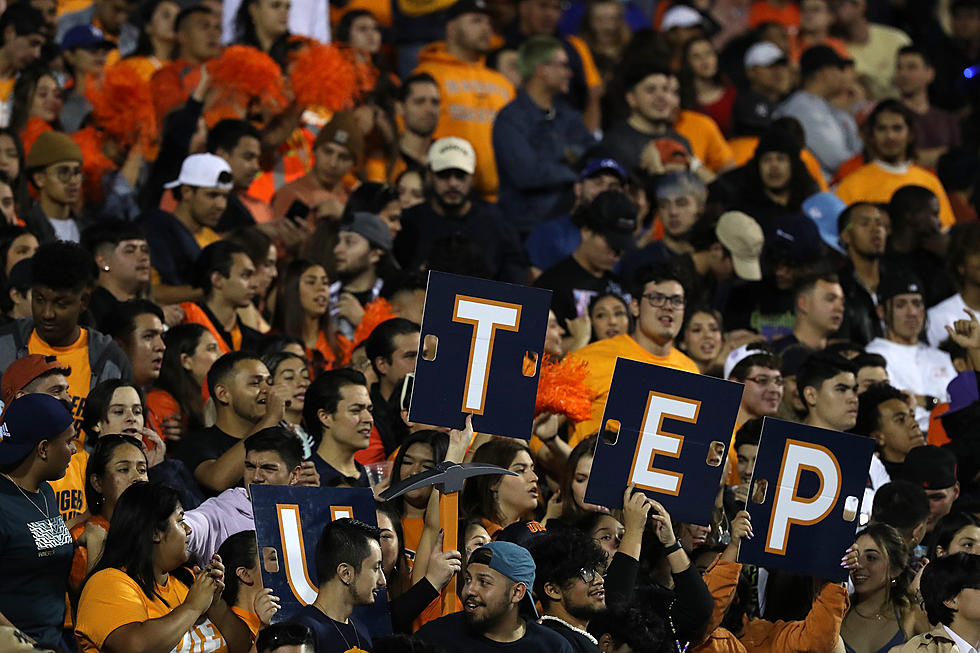 UTEP Football Early Signing Class Among the Best in Years
Ruben Ramirez/UTEP Athletics.
Head coach Dana Dimel announced that UTEP signed 17 newcomers on early signing day. Fifteen of them are JUCO players and 2 high school players. Dimel said that UTEP will sign three more in the coming days, but the paperwork isn't quite ready.
Recruiting has been in the heat of some of the criticism Dana Dimel and his staff has received, but this recruiting class has been among the higher rated in the Dimel era at UTEP. Per ON3 recruiting database, UTEP ranks fourth in the new Conference USA recruiting rankings and is one spot ahead of their rival NMSU.  There are still recruits that have yet to be evaluated, so that number could change, but it looks like UTEP has had its best recruiting class in years. Right now, it ranks 109th in the nation, which puts them up 8 spots from its 117th rank last year. 
Per ON3, UTEP's highest-rated recruit is Blinn College LB Nate Dyman, the 83rd-best JUCO player in the nation. Dyman is an Air Force bounceback that lit up the stat sheet at Binn College. He led the Buccaneers in total tackles, with 88, tackles for loss, with 8, forced fumbles, 3, and was second on the team in sacks, with 3. At 6'2, 230 LBs, Dyman is a linebacker that will be all over the field making plays for UTEP this season. 
Following him is Cisco College OL TangiTangi Pongia. He is the 9th-best IOL in JUCO. Dana Dimel and his staff like Pongia and think he can play right away at UTEP. 
Then, the best high school player from their class is none other than hometown product Parkland OL Tyrone McDuffie Ill. McDuffie was once a Colorado commit and had offers from UTSA, NMSU, Navy, Fresno State, New Mexico, and Army. NMSU, Cal, and BYU made late pushes for McDuffie, but he ultimately ended up staying local and committing to UTEP. He is rated as the 7th best commit in UTEP history, This was a huge win for the Miners on the recruiting trail, and most think he can play early for UTEP. His size gives him the flexibility to move both on the interior offensive line or move outside to play tackle. His smooth footwork is something that you don't see a lot for a freshman his size. This was a huge win for UTEP on the recruiting trail and gives them some momentum going into National Signing Day. 
Behind him are two TEs who are rated about the same. Kilgore TE Marcus Vinson brings P5 size to the Miners, as he stands at 6'5 250. Vinson was not involved in the passing game while at Kilgore, but he plays more of an H-Back role, which specializes in run blocking, kind of like what Trent Thompson does. He has the athleticism to run some nice routes and I wouldn't be surprised to see him be more of a pass catcher, but he will be an absolute mauling run blocker.  
Mt. S.A.C. TE Judah Ezinwa comes in as one of the more sought-after Miner commits. The 6'3 TE had offers from Buffalo, Charlotte, and NMSU. He even took an OV to UTEP's I-10 rival, but eventually committed to the Miners. Ezinwa comes in as an athletic TE that can block and catch. He has smooth hands but can also run block just as well. He will have an immediate impact and will slide into the Trent Thompson role very nicely, but can also provide more of a receiving aspect for the Miners. 
Dimitri Madden is another highly sought-after recruit UTEP landed. He had offers from Ohio, Western Kentucky, and Memphis, but the NMMI DT ended up committing to UTEP. Madden is a great run-stopper and had 5 TFLs this season. He is another twitchy JUCO defensive lineman that UTEP landed and I think he can play a lot this season with the departure of Kelton Moss.  
After Madden, UTEP's only other high school signee is 6'5 QB Seth Mouser. Mouser, who is from Bastrop High School. In Austin, he put up 2,607 passing yards, 22 total TD's, and only 7 INT's in his first and only year starting. Mouser is raw but has the size and arm strength of a big-time QB. If UTEP can develop him right, he can easily be a star. The coaching staff likes his athletic ability and his size. He moves extremely well for a guy at 6'5.  
The final recruit that is already evaluated by ON3 is NEMCC OL Jaquan Toney, who is rated as a 3-star recruit out of the JUCO ranks. Out of high school, Toney was a Middle Tennessee commit and stands at 6'4 285. Toney benches 345 (LB) and can squat 525 (LB). Toney has the potential to play early on because of his size and ability to play the interior offensive line and tackle. His tape shows him to be a mauler in the run-blocking game.  
UTEP still has several other signees who aren't evaluated by ON3 yet, so let's take a look at some. 
Santa Ana OLB Matt Wann: Wann fits the UTEP OLB/DE hybrid mold. He has the stature of a Maurice Westmoreland or a Jadrian Taylor, as he stands at 6'2, 240. Wann put up 19 tackles and 2.5 sacks this season for the Dons. Wann will be a nice depth piece for the Miners and a rotational pass rusher that can drop into coverage if needed. 
Contra Costa RB Mike Franklin: Franklin held offers from Liberty, Washington, and San Jose State, but a late push from UTEP ultimately landed them the 6'2, 220 pounds running back. Franklin rushed for 614 yards on 4.8 yards per carry for the Comets this year. He had 5 total touchdowns and reeled in a team-high 21 receptions. He and Deion Hankins can make a brutal 1-2 punch for the Miners and bruise defenders. 
Kilgore DB Oscar Moore: The Kilgore to UTEP pipeline gets stronger yearly. Stars such as Jadrian Taylor, Dy'vonne Inyang, Steven Hubbard, and Kelton Moss have come out of the Texas JUCO to UTEP. Moore stands at 6'1 208 and starred for the Rangers this year. He had 64 total tackles, an eye-popping 4 INTs, and 3 forced fumbles this year. He can move around anywhere on the defense and will be a key part of the UTEP defense this year. 
Foothill College DB Stefan Cameron: UTEP made defensive back a priority this offseason on the recruiting trail, and so far they have delivered on that. Cameron is a silky-smooth corner who excels in zone coverage. His press coverage is not bad, either. He is a willing run defender and is not afraid to get dirty. Cornerback was a struggle for the Miners last season, but the addition of Cameron will help the Miners' secondary this year. Miners flipped Cameron from Sac State.  
NEMCC LB Kenny Byrd: Linebacker was another position UTEP made a priority this offseason, and so far they have gone out and added 3 to the commitment list. Byrd, who stands at 6'0 230, put up 86 tackles, 3 sacks, 5 TFLs, and 3 sacks. He was named NJCAA defensive player of the week against Pearl River when he put up 17 total tackles and a sack. Byrd possesses some speed you don't see a lot at the LB position and will be very fun to watch for the Miners this year. 
Navarro JC DT Viontay "VJ" Robinson: VJ Robinson is another twitchy defensive lineman that can play a lot this season for UTEP. NMSU and UNM also offered the 6'0 versatile lineman. Dimel likes Robinson and they think he can play a lot off the edge. Robinson is a good run-stopper who can develop pass-rush skills while at UTEP. 
Kilgore JC Kadarion "KD" Johnson: The Kilgore to UTEP pipeline remains strong. As we mentioned earlier, Kilgore has produced numerous defensive stars at UTEP, and KD Johnson can be the next. Johnson had 32 total tackles this season and 5 sacks this season at Kilgore. Johnson is a very gifted pass rusher on the interior defensive line and stands at 6'1 300 LB's. With a run defender like Keenan Stewart and a pass rusher like Johnson on the inside, UTEP's defensive line can be scary this season. 
MGCCC LB Josh Phillips: Phillips had 43 tackles this season at MGCCC. Phillips has the footwork and athleticism to play defensive back. His coverage at the linebacker position is something like Tyrice Knight, and he can be someone who plays a good bit this season at UTEP. 
Contra Costa TE Elijah Boyd: Boyd is among the three TE's who UTEP signed this period. He didn't get involved much in the passing game, but his blocking ability is very good. UTEP loves to use their two TE sets, and Boyd's ability to get dirty in the run-blocking game can benefit UTEP this season. He'll compete with Enzinwa and Vinson this season.  
UTEP signed a very talented early signing day class, and we are still awaiting three more promised signees. Dimel and his staff won some pretty big recruiting battles this off-season and are still very active on the recruiting trail. UTEP has already offered 3 transfer portal guys, and I wouldn't be surprised to see a couple of commits before the dead period, which starts January 4th.  
11 Popular Coffee Shops in El Paso