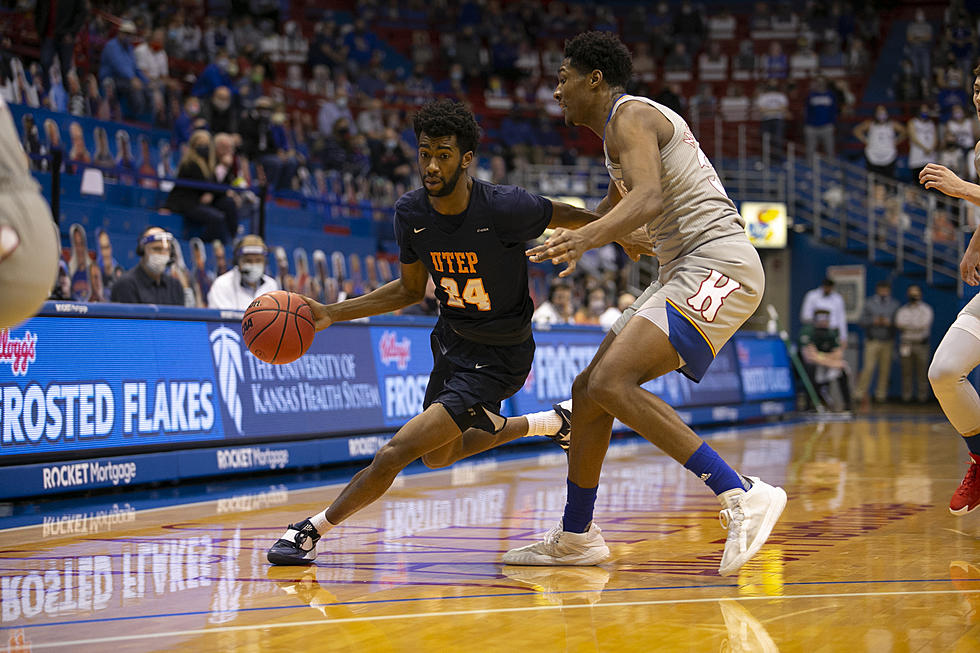 UTEP Basketball Needs Extra Magic to Knock Off #8 Kansas on Tuesday
Brent Beerends
It's another edition of David versus Goliath, as the Miners men's basketball team will have a chance to face No. 8 Kansas on Tuesday at T-Mobile Center (Kansas City, Mo.).
This game is part of a tough three-game non-conference stretch for UTEP that started on Friday with a home loss to NM State, 72-69. Following this contest, the Miners will travel to The Pit to face off against New Mexico on Sunday, December 12 (1 p.m.).
UTEP-Kansas can be heard on 600 ESPN El Paso with the Voice of the Miners Jon Teicher calling the action with the Countdown to Tip-off Show starting at 5:30. MinerTalk will follow the broadcast with me and Sal Montes. The matchup will also be streamed on ESPN+.
---
Scouting the Jayhawks 
Kansas (6-1) is coming off a double-digit win against St. John's (95-75) last week. In fact, all of their games have been wins of 10+ points, with the exception of their buzzer-beater loss to Dayton. They are led by Ochai Agbaji offensively, who averages 22.6 points (4th in NCAA), while big man David McCormack leads the interior defense with 1.6 blocks per game. Point guard Dajuan Harris (+3.4 turnover ratio) and Arizona State transfer Remy Martin (12.0 ppg) also play significant roles with the Jayhawks.
As a team, Kansas is 13th in the country for their scoring offense (85.4 ppg) and sixth in team field goal percentage (51.6).
UTEP actually leads the all-time series, 3-2, headlined by their illustrious 66-60 upset victory in the Sweet 16 of the 1992 NCAA Tournament. They also beat then-No. 4 Kansas, 81-80, on the way to capturing the 1966 National Championship. Just nine months ago, UTEP lost to Kansas in a rare March non-conference matchup (67-62).
In the recent March matchup, Bryson Williams led the Miners with 23 points and 13 rebounds in a valiant effort. Souley Boum poured in 16 points, while Tydus Verhoeven had six rebounds and five blocks.
Is Jamari Sibley emerging as a reliable scoring option? 
Besides Souley Boum (20.3 ppg) and Jamal Bieniemy (16.0 ppg), the Miners desperately need more scoring options for their squad. Guard Keonte Kennedy chips in with 9.4 points per game, but this squad needs a boost from its newcomers.
Jamari Sibley might be the answer.
The Georgetown transfer, who has four years of eligibility, is maturing right in front of us. Sibley had 18 points on 7-of-9 shooting against a tough NMSU squad in a heated environment. He buried back-to-back clutch 3's to tie the game, 69-69, late in the contest. He has now scored in double figures through back-to-back games.
On the season, he is 6-of-11 (54.5%) from 3-point range and he's made 9-of-13 2-pointers (69.2%). Shooting-wise, he's the Miners' most efficient scorer through seven games. The two areas that Sibley can really improve on is drawing contact offensively and his perimeter defense.
Keonte Kennedy's defensive skill set will get a great challenge
Sophomore guard Keonte Kennedy has quickly emerged into UTEP's best option defensively and he's proven his worth at the role over time. He is averaging 2.3 steals per game, which ranks fourth in C-USA and 33rd in NCAA. He's a big reason that UTEP forces 18.3 turnovers per game and averages 9.1 steals per contest.
The advanced stats love Kennedy's defensive prowess too. His steal percentage is 3.6 and he is only committing fouls at a rate of 1.3 per 40 possessions, which is in the top-100 of all players in college basketball per KenPom.
Between Agbaji, Martin and Christian Braun, Kennedy will have his work cut out for him against a tough guard-heavy Kansas offense. Let's see how his skills get tested against one of the best squads in the country
Bottom line for UTEP 
They'll need the best, and I mean an absolute monster performance from the likes of Boum, Bieniemy and Verhoeven in order to try and pull off the road upset. Boum and Bieniemy will be tasked with holding down the backcourt, while also scoring. Verhoeven needs to repeat what he did in March by guarding the paint. However, Verhoeven played in just 18 minutes against NM State because of foul trouble and back spasms.
Then, they'll need Kennedy, Sibley and other role players to play lights out. The rebounding margin will be interesting to watch, as the Miners surprisingly rebounded well against the Aggies last Friday. If UTEP can hit shots and hang in with the Jayhawks, maybe this is a close contest. If they fall in their shooting woes and if they can't lock down the high-scoring offense that Kansas presents, this one might resemble a lot of these double-digit wins that the Jayhawks have piled up thus far.
Bonus: UTEP lands San Diego State transfer 
Last night, CBB nation reported that sophomore forward Che Evans will be transferring to UTEP. The San Diego Union-Tribune reported of Evans' transfer intentions back on Nov. 18.
Evans is a 6-foot-6 wing from Baltimore and was known as a top national prospect in high school before he had a serious shin injury during his senior year. With the Aztecs, the former 3-star prospect never found his spot off the bench and only appeared off the bench in 10 games for just 42 minutes. However, Evans was known as a knock-down 3-point shooter in high school.
SDSU head coach Brian Dutcher told the Union-Tribune that Evans would "transfer either at the semester break or end of the school year."
Sources told 600 ESPN El Paso that Evans will be officially transferring on Dec. 14 and plans to be a mid-season transfer since he hasn't appeared all season for SDSU. He could be eligible to play for the Miners as early as January 4th. As a midseason transfer with three years of eligibility (not including the 2022 semester), Evans can add some significant scoring depth that the Miners can use off the bench.
Tony the Tiger Sun Bowl is Set: Miami vs. Washington State
Fans, members of the media and Sun Bowl representatives announced the Tony the Tiger Sun Bowl matchup between Miami and Washington State on Sunday.