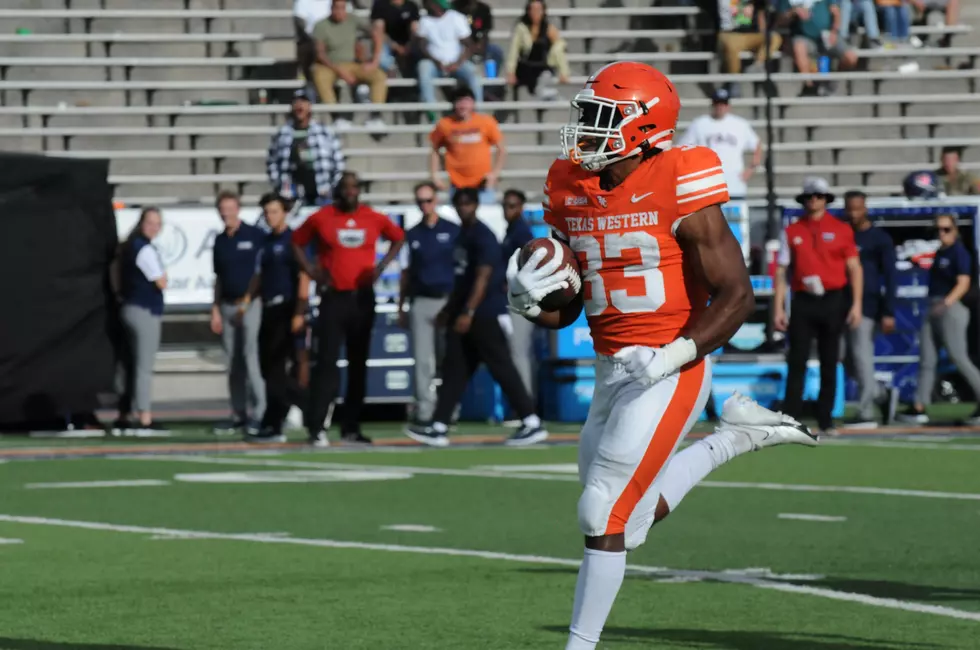 Stock Up, Stock Down Following UTEP's 24-21 Win Over FAU
Photo by Steve Kaplowitz
On a beautiful Saturday afternoon in the Sun Bowl, UTEP pulled out a close win over conference foe Florida Atlantic after a game-winning field goal by kicker Gavin Baechle. The Miners, who now stand out 4-4, only need to win 2 out of their last 4 to qualify for a bowl game in back-to-back seasons for the first time since 2004-05. In this week's edition of Stock Up, Stock Down, we will look at which players' stock went up after the dramatic win, and which plummeted.
Buckle up because this should be an incredibly fun one.
Kicker Gavin Baechle: Stock Up
Now I know what you are thinking, "He hits one game-winner and all of sudden his stock is up?". And the answer to that question is YES! Not only did the game-winner put him as the leader in all-time field goals at UTEP, but it also marked his 15th straight made field goal. The senior kicker is enjoying his best year at UTEP and has been almost automatic for the team. He has been a clutch piece for the Miners and will continue to be as the season rolls on. He ranks 22nd in FG percentage in FBS football and has a long of 54, which is the 5th highest in the country. It has been long overdue for his Stock Up, and it is more than deserved.
CB Latrez Shelton: Stock Down
Latrez Shelton earned a Pro Football Focus grade of 53.5, the lowest among all starters on the team. For those who don't know what PFF is, it's a website that grades each player on every aspect of their position. Shelton simply did not have a great showing. He allowed 4 receptions for 52 yards, which isn't all that bad, but he also missed 2 tackles, which was the most on the team. It has been a rough year for Shelton, but we have seen him flash his potential. Will he finally put it all together in the final stretch of the season? The Miners will need it.
Running Back Deion Hankins: Stock Up
Hankins has been an absolute game-changer for the Miners this season. His resurgence has played a huge part in the Miners' success. He made a specific play against FAU that changed everything for the Miners. With about 5 minutes left in the 3rd quarter, the Miners were driving down the field with an opportunity to take the lead. Gavin Hardison threw a deep pass intended for Rey Flores, but it was tipped and picked off by Teja Young. Young would then take the INT 72 yards for a touchdown. With all the momentum going for the Owls, UTEP handed the ball off to Hankins following the kickoff and he exploded for a huge 72-yard run that would set up a Hardison touchdown. That score tied the game up and changed the feel of the game. Hankins would end the day with a career-high 138 yards on only 17 carries. He continues to find ways to change the game for the Miners, and he is beginning to look like a top 5 back in C-USA. The Miners will need him to continue his dominance if they want to make a bowl. Can the hometown hero continue to come up big for the Miners? The way he's playing, it sure seems like it.
Linebacker Tyrice Knight: Stock Down
Knight didn't have a bad game on paper, but for the standards that we have held him to throughout the years, it was a uncharacteristic game. Knight has had a somewhat inconsistent season, especially in coverage. Against FAU, Knight allowed 3 receptions for 41 yards and a touchdown that tied it all up late in the 4th quarter. He also missed a tackle and ended up with a grade of 62.3 per PF. This is hopefully just a slip-up for Knight, who has got it going these past couple of games. He has returned to being that elite playmaker for the Miners and has a sack, interception, forced fumble and a fumble recovery. Hopefully we will see him get back on track against a sub-par MTSU offense.
Linebacker Cal Wallerstedt: Stock Up
Wallerstedt continues to be a huge piece in this UTEP defense. He has been a pleasant surprise for the Miners and is second on the team with 3.5 sacks and 7 TFLs. His playmaking ability is what makes him so good, and he is constantly around the ball. He missed 0 tackles and recorded his best PF grade of the 2022 season, with a 76.1, second on the team. He totaled 11 tackles, 0.5 sacks, 0.5 TFLs, and 5 stops. He led the team in tackles and stops, and was even solid in coverage, as in 19 total coverage snaps, he didn't allow a single reception. Wallerstedt has beaten the odds and climbed up the depth chart and cemented himself into the starting lineup for the Miners.
DE Jadrian Taylor: Stock Up
And finally, for our 6th and final stock-up, I have decided to give it to Jadrian Taylor. He has been an absolute monster for opposing offensive lines the past 3 games. He has totaled 6 sacks in the last 3 games and continues to look like a C-USA defensive player of the year candidate. He leads the conference in sacks (7) and also leads the league in tackles for loss with 9, and is tied for first in forced fumbles with 2. He continued his dominance against FAU with 2 sacks, 3.5 TFLs, and a forced fumble. With Amaewhule being shut down, Taylor has found immense success when he's 1-on-1 with a tackle. If Taylor keeps it up, teams will be in trouble with trying to gameplan against both him and Amaewhule. He earns the biggest stock-up following Saturday's victory.
The Bottom Line
UTEP edged out the FAU Owls with big performances from Jadrian Taylor, Deion Hankins, and Gavin Baechle. At 4-4, the Miners have a chance to make back-to-back bowl appearances for the first time in over 15 years. However, if the Miners want to do that, they will need to take down at least two out of their last 4 opponents. Players will need to play mistake-free and avoid mental errors down the stretch. Can the Miners do it?
TACKLE THESE: Check Out the Best Uniforms In Each NFL Team's History