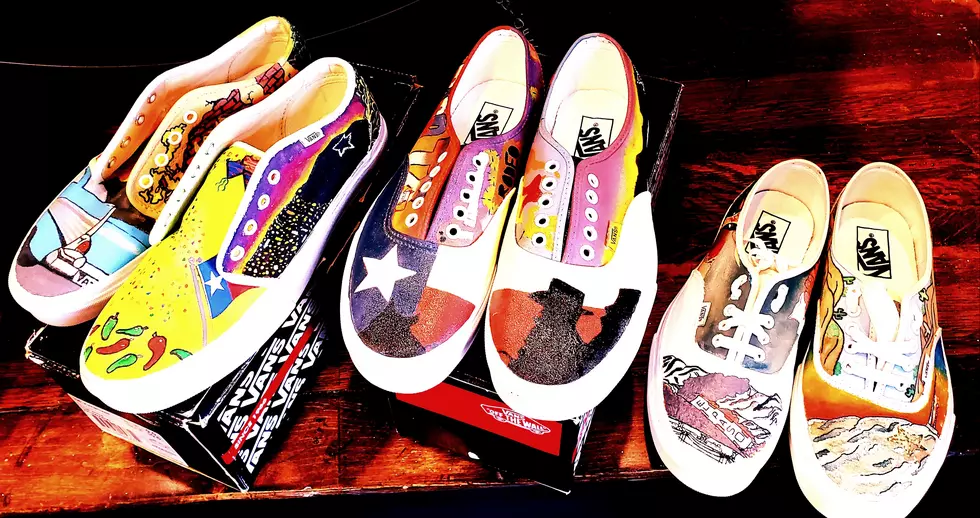 Rock a Pair of Artistic Vans Skate Shoes With an El Paso Theme
via Downtown El Paso Twitter
Almost every El Paso native knows of or owns a pair of Vans. If you're unfamiliar with Vans, they're mostly known for their checkered style slip on skateboarding shoes. The skateboarding shoe brand is quite popular here in the borderland.
At concerts, festivals, social outings, and such I have noticed a lot of locals who also love wearing those kind of shoes. You remember that one time when Deming High competed in a Vans Custom Culture Competition? If not, Deming High submitted quite the pair of shoes for that competition last year.
Enter your number to get our free mobile app
The borderland has many talented people that are able to turn their home and culture life into art. There is an artist that has transformed a pair of Vans shoes into El Paso themed shoes. Now you can own a specialty pair of Vans skate shoes with an El Paso theme.
Can you imagine sporting that particular skate brand but in a pair that SCREAM you're El Paso proud? Whether you're a collector of shoes or a fan of VANS and love repping the 915, these are definitely the shoes to own. Just think of all the compliments these Sun City themed shoes will score you while visiting other cities and states.
A lot of us love representing Chuco Town in any way we can. There are all sorts of ways to rep El Paso either wearing El Paso Chihuahuas gear, Chuco Relic's famous "Just the Tip" t-shirt, and now shoes. The El Paso-themed Vans are being sold at a shop located in the Cortez Building downtown on the bottom floor. We all have Downtown El Paso to thank for sharing these artistic Vans shoes with an El Paso theme.
50 Famous Brands That No Longer Exist