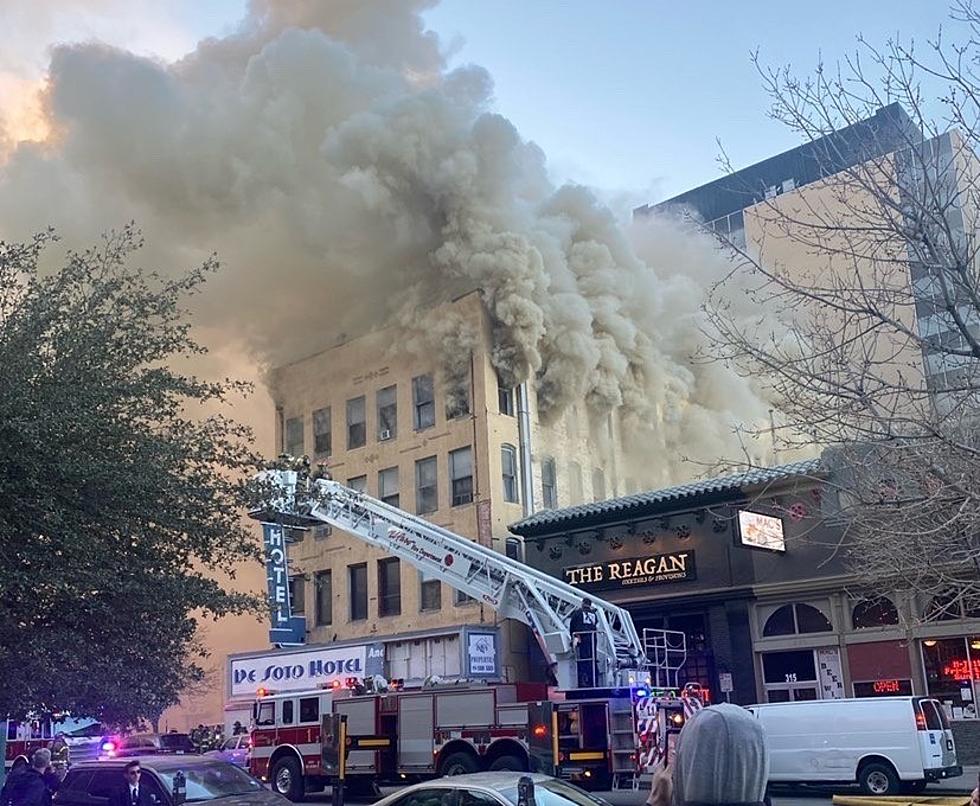 Locally-Owned Businesses Around De Soto Struggling After Devastating Hotel Fire
Chaz Wilson
Locally-owned businesses around the destroyed De Soto hotel are worried about when they can reopen their doors for customers. On Friday, El Pasoans were confused to see a large plume of thick, black smoke billowing into the sky and wondered what was on fire downtown. Sadly, it turned out to be a massive fire that engulfed the infamous De Soto Hotel on Mills Avenue.
The De Soto has been a staple of downtown El Paso since it opened in 1905 and has become famous worldwide because of reported hauntings on the premises. Joanna told us earlier last week about a Youtube paranormal research team that came and investigated the hotel just a few weeks ago.
While the community is heartbroken to see the hotel in shambles, it's the businesses around the hotel that are worried about when they will be able to reopen their doors to the public. Immediately after the fire began, businesses around the De Soto were evacuated and closed so that firefighters could work to extinguish the blaze. Now, those owners are wondering when they will be able to go back, clean up, and reopen their doors for customers.
Enter your number to get our free mobile app
Kristal Marentes of Elemi said the restaurant's gas is still shut off and they were hoping Texas Gas Service could turn the utility back on today so they can reopen tomorrow. Marentes commented saying the restaurant's closure has had a negative impact on the restaurant and her employees on what could have been a busy weekend for them:
"(We) personally lost a super busy weekend. We were fully booked for both Friday and Saturday night. Our servers/bartenders make well over $100-$200 on nights like that as well as our cooks, dishwashers, bussers, and bar back had a full schedule all weekend too. And that's just us! Macs is open 7 days a week. Both the Reagan and Berkeley had events and musicians/DJs set and they are still responsible for paying."
Kassi Foster-Nava of The Reagan said her business is closed indefinitely until the De Soto building is no longer a danger to nearby businesses:
"It's a terrible situation. We also have water damage and we can't get in to dry it out or take care of that."
Currently, there are five businesses that are still closed due to the burned-out De Soto still being deemed a hazard:
The Reagan
The Berkeley
Mac's Downtown
Luigi's
ELEMI
As for when the businesses will be able to reopen, the De Soto Hotel must be deemed no longer a danger to the public by engineers, or sadly it could be torn down. Marentes says she's hoping the City of El Paso can help these small businesses with some sort of relief, at the very least to help pay their employees who are unable to come into work. She also explained why demolishing the building could make the businesses unable to open even longer:
"Our meters are on the side of the building of the De Soto hotel so even if they plan to bring down the building, that would pose a HUGE issue for all the businesses on that block because our gas and even electricity would be in the way of the rubble. We're waiting to get some sort of news but not one single city representative or anyone other than the fire department and our health department has given us any news or even checked up on us."
Marentes finished off her statement by telling me "this is definitely something the city can't ignore."
This Shocking Missile Silo Turned Airbnb Only a Few Hours From El Paso
If you're looking for a unique weekend experience where you can learn a little history too check out this underground bunker turned Airbnb.
Check Out These Stunning Sunset Views From High Above El Paso