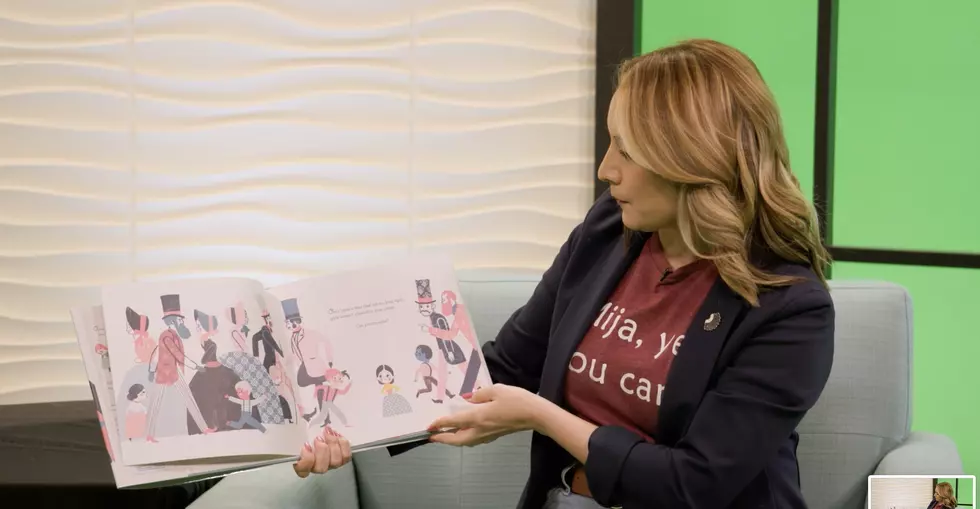 Let A Local Celebrity Read Your Kids To Sleep Thanks To EPISD's Reading Initiative "Buenas Noche, El Paso."
Courtesy: EPISD
Reading is undeniably a huge part of a child's success in school. Reading at a young age teaches kids to use their imagination and research has shown that early literacy helps children develop a rich vocabulary, self-expression and reading comprehension which are all tools they need to become successful readers and lifelong learners. 
The El Paso Independent School District realizes that reading plays a big role in their student's academic success but the district also knows that these days some kids just don't have the time or urge to pick up a book and read so the district is finding a unique way to encourage reading through their latest initiative, "Buenas Noches, El Paso."
"Buenas Noches, El Paso will feature an El Paso ISD leader or notable El Pasoan reading a children's book. We hope you'll invite us into your home while you cook dinner with your kids, while on a road trip, or as you tuck in your children at night," said EPISD officials.
This new literacy initiative will feature notable figures from the district and throughout the region reading a children's book and it will hopefully provide El Paso families with a forum to engage reading with their children whether it's throughout the day or right before bedtime.
The district tried to find a book that best matched the personality of the person who is reading them. Books are read in both English and Spanish.
"Through Buenas Noches, El Paso, students will have free and convenient access to books. These skills allow a young child to enter kindergarten with a love of books and a readiness to learn," said EPISD officials.
The first video features El Paso ISD Superintendent Diana Sayavedra reading "Change Sings," by Amanda Gorman. 
"We are pleased to offer this outlet for reading to families in our community as part of our commitment to inspire and empower our students to thrive," Sayavedra said. "We hope El Pasoans will invite us into their homes while they cook dinner with their kids, while on a road trip, or as they tuck their children in at night. Together, we can instill a lifelong love of literacy."
Other videos feature notable figures including Katya Echazaretta, the first Mexican-born woman to fly to space, who reads "The Astronaut with a Song for the Stars: The Story of Dr. Ellen Ochoa," by Julia Finley Mosca. 
I was lucky enough to join in on the fun and read a story for this amazing initiative. I read, "Mary wears what she wants," which is a book about a strong little girl who decides to be different and dress in pants instead of a dress like the other girls in her school.
More videos will be published on the district's website in the months ahead so keep an eye out and maybe your favorite local notable figure will pop up!
If you would like to watch these book reading videos you can access them by Clicking Here.