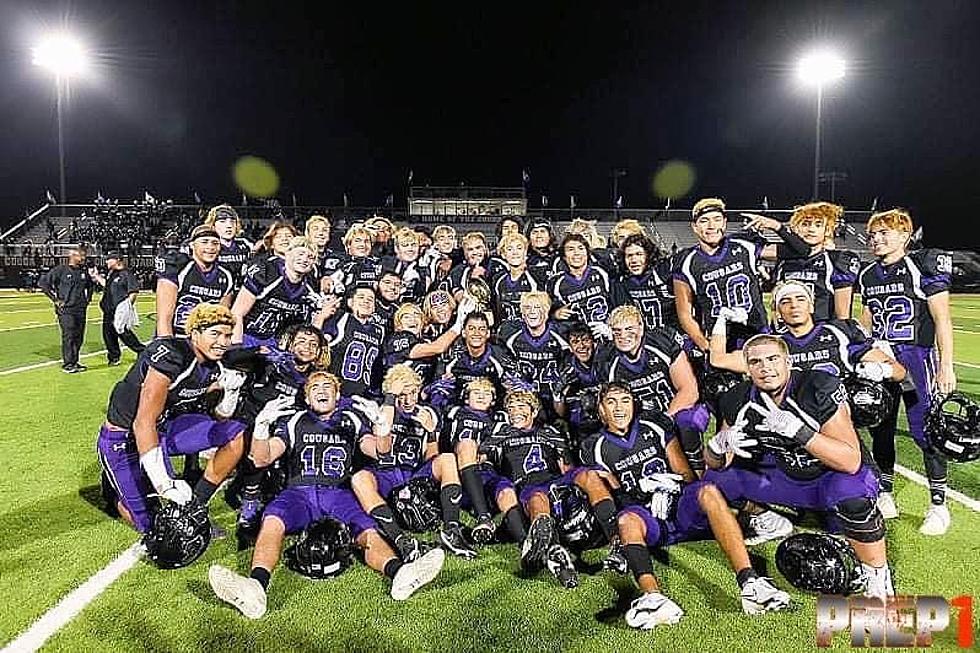 High School Playoffs Set After Week 11 Regular Season Finale
Prep 1 USA
After a busy regular-season finale in high school football for local teams, we now know the playoff schedule for most local teams. Read up on final scores and updates from featured games last night.
Playoff schedule (all times MT):
Thursday
Ysleta at Andress (6:30)
Parkland at Austin (7:00)
Bel Air at Lubbock Coronado (5:00)
Riverside vs. Big Spring (Ft. Stockton) (6:00)
Friday (El Paso games)
San Angelo Central at Eastlake (6:00)
Amarillo Caprock at Chapin (Austin) (6:00)
Amarillo at Del Valle (6:30)
Permian at Franklin (6:30)
Jefferson at Canutillo (7:00)
Horizon at Burges (7:00)
 El Dorado at Amarillo Tascosa (5:00)
Pebble Hills at Midland Legacy (6:00)
Eastwood at Abilene (6:00).
Anthony vs. Brady (Kermit) (6:00)
Mountain View vs. Ft. Stockton (Van Horn) (7:00)
 TBD
Clint vs. San Angelo Lakeview  TBD
Fabens vs. Andrews  TBD
Franklin 35 - Pebble Hills 13: Cougars take 1-6A title with win
By Brandon Cohn
The Cougars and Spartans squared off in far west El Paso on Friday with the District 1-6A title on the line.  Both teams came into the contest red-hot, but Franklin's stifling defense in the second half was the difference that led to the Cougars' 35-13 victory.
Pebble Hills came out blazing as they took an early 7-0 lead when QB Gael Ochoa completed a 12-play drive with a 1-Yard QB keeper at the 6:52 mark of the opening quarter. 
Franklin would answer on their first possession as QB Cameron Byrd found his bread and butter WR Beau Sparks for a 30-Yard TD to even up the contest with 5:33 remaining in the first quarter.
Franklin would add another touchdown, while Pebble Hills pulled within a point with two field goals as the Cougars took a narrow 14-13 lead at the half.  The Cougars came out with a vengeance in the scone half with back-to-back scores by WR Beau Sparks, taking a 28-13 lead into the final quarter.
Franklin's defense was incredible when it mattered most by stopping Pebble Hills on a 4th and 1 at the Cougars' 20 with 9:31 left, and forcing a fumble by RB Eric Marin at the 2-yard line, resulting in a touchback with 3:21 remaining.
Franklin put the cherry of top as RB Miles McWhorter put the game away with an 80-Yard TD run.  Cougars' star WR Beau Sparks finished the game with 9 receptions for 209 yards and 3 TD's.
Franklin will host Odessa Permian next Friday in the Bi-District round of the playoffs, while Pebble Hills will visit Midland Legacy next Friday at Grande Communications Stadium.
Chapin holds off Del Valle 14-10 to clinch 1-5A DI District Title
By Alex Nicolas 
The 1-5A DI district title game came down to the final seconds and an illegal procedure in those closing seconds lifted Chapin over Del Valle 14-10.
After Jesse Ramos completed a pass to Brandon Tellez with nine seconds left putting the ball inside the Chapin 30 yard line with no timeouts left, Del Valle was attempting to clock the ball to kill the clock, but Tellez was unable to get onside, and a pre-snap penalty forced a run off running the timeout on Del Valle.
Chapin's defense was the main story of this historic evening, holding Del Valle to just 77 total yards in the first half and recorded four sacks in the entire game and forced a fumble which led to the would-be go ahead score.
The game went into the half with Chapin leading 7-3, but on the first play from scrimmage in the second half Ramos hooked up with Eli Molina for a 54-yard touchdown pass and Del Valle led 10-7 just 42 seconds into the second half.
Del Valle would get the ball back, and on a 4th down and short, Ramos would fumble the designed quarterback run, and Chapin would recover at their own three-yard line late in the third quarter.
Chapin would then drive 97 yards in 17 plays, with Mason Standerfer finding Anthony Rivera for a 13-yard touchdown pass to give Chapin a 14-10 lead with 11:04 left in the fourth quarter.
From there the Chapin defense and a solid effort from running back Gio Aguilar sealed the deal.
Aguilar carried 32 times for 138 yards, Chapin dominated the time of possession finishing with 403 yards of total offense compared to just 262 for Del Valle.
Standerfer threw 232 yards and a pair of scores, both to Anthony Rivera who caught 6 passes for 62 yards. Zeke Pastran caught 9 passes for 102 yards for the Huskies.
Chapin will now host Amarillo Caprock in the bi-district round as they have now made the playoffs for 19 straight seasons and won their first district title since 2015.
Del Valle has made the playoff for 18 straight seasons and will host Amarillo High next Friday at 6 pm El Paso time.
Eastwood 72 - Americas 8: Playoff-bound Eastwood scores early and often in Americas rout
By Steve Escajeda
The battle for the fourth and final District 1-6A playoff spot wasn't much of a battle at all as the Eastwood Troopers hammered the Americas Trailblazers 72-8 Friday night at Trooper Stadium.
The victory improved Eastwood's record to 6-4 and a Friday playoff date at Abilene High (7-3) at 6 p.m. (El Paso time).
Coming into the game, both teams were tied with 3-3 district records, but the Troopers put this one away early, scoring touchdowns in each of their six first-half possessions, en route to a 42-0 halftime lead.
Eastwood quarterback Andrew Martinez led the way by connecting on 19 of his 28 passes for 323 yards and six touchdowns without an interception. The senior also ran for 95 yards and another two scores.
The six touchdown passes now gives Martinez 73 during his 3-year career at Eastwood.
Aaron Rodriguez and Curtis Murillo had huge games catching the football. Rodriguez finished with nine catches for 131 yards and three touchdowns while Murillo pulled down eight receptions for 172 yards and two touchdowns.
Also coming up big for the Troopers was running back Sam Lopez, who rushed for 217 yards and a touchdown.
Eastwood, which came into the contest averaging 541 total yards per game, overwhelmed the Americas defense for 699.
The Trailblazers finished their season with a 3-7 record.
Canutillo 42 - Horizon 34: Eagles fend off Scorpions for district title
By Jaime Chavez 
The Canutillo Eagles wrapped up the District 1-5A Division ll title by defeating the Horizon Scorpions 43-34 Friday night at Horizon's Scorpion Stadium. Canutillo running back TJ Martin rushed for 182 yards on 21 carries, putting him over the 2,000 yard rushing mark for the regular season. Martin scored on touchdown runs of 50, 38, and 16 yards and caught a 76 yard touchdown reception from quarterback Devin Granados. Martin added a fifth touchdown with a 95 yard kickoff return for a score. Horizon quarterback Jacob Quijas threw four touchdown passes and scored a 46 yard rushing touchdown. Quijas was 18-26 for 212 yards and rushed for 108 yards on 12 carries.
Canutillo (9-1, 4-0) hosts Jefferson in the bi-district playoffs next week while Horizon (5-5, 3-1) travels to Burges.