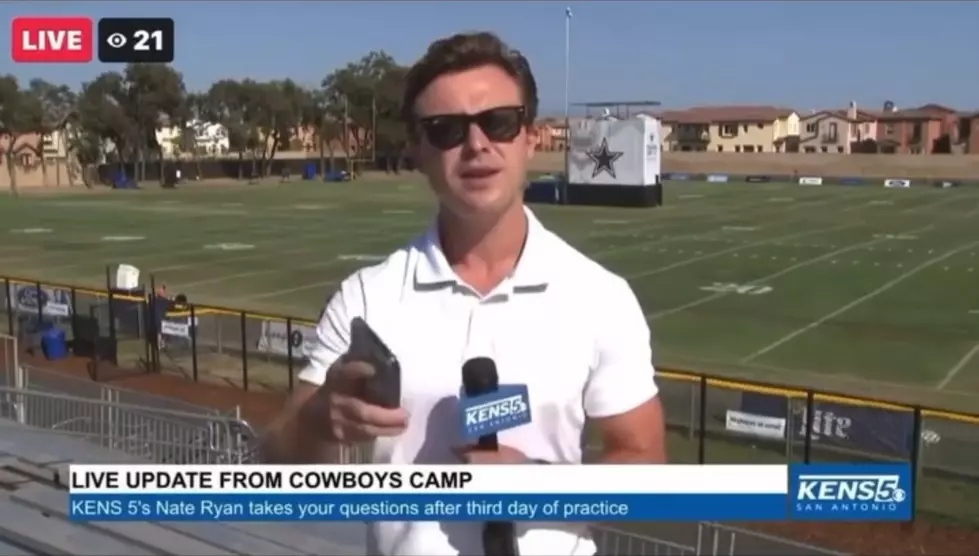 Former El Paso Television Sports Anchor Gets Hilariously Trolled by Cowboys Fan
KENS 5 via FitFam El Paso
Droopy what?!
Former KVIA ABC 7 sports anchor Nate Ryan has gone viral thanks to someone on the internet with a juvenile sense of humor like mine.
Enter your number to get our free mobile app
Pranked, Punked and Trolled
Ryan was doing a Facebook Live from the Dallas Cowboys training camp in California for the San Antonio news station he now works for and reading comments off his phone when an unnamed Cowboys fan took a page right out of the Bart Simpson prank call playbook and trolled the KENS 5 reporter with the somewhat vulgar fake name of "Drew P. Huevos" (Tee-hee!)
"Hello Nate," Ryan begins reading the comment out loud. "My grandpa is a big Cowboys fan. Can you wish him, Mr. Drew P. Huevos, a happy birthday?"
Nate then looked up from his phone and earnestly said to the camera, "Mr. Drew P. Huevos, happy birthday to you" before informing "Mr. Huevos" that he has a birth date in common with Cowboys quarterback Dak Prescott who turned 29 that day.
Ryan didn't appear to be in on the joke, but I can't imagine he doesn't know what huevos are or it's double meaning along the border after spending three years in El Paso.
That, and he graduated with a degree in Spanish, and even speaks Spanish as noted in the video below.
Well, Nate if indeed you did get punked, know that it could have been worse. It could have been Maya Buttreeks, or Marty Cone, or any number of Harry's, including Balls and Johnson.
Droopy What?!
UTEP Miners Who Have Won Super Bowl Rings