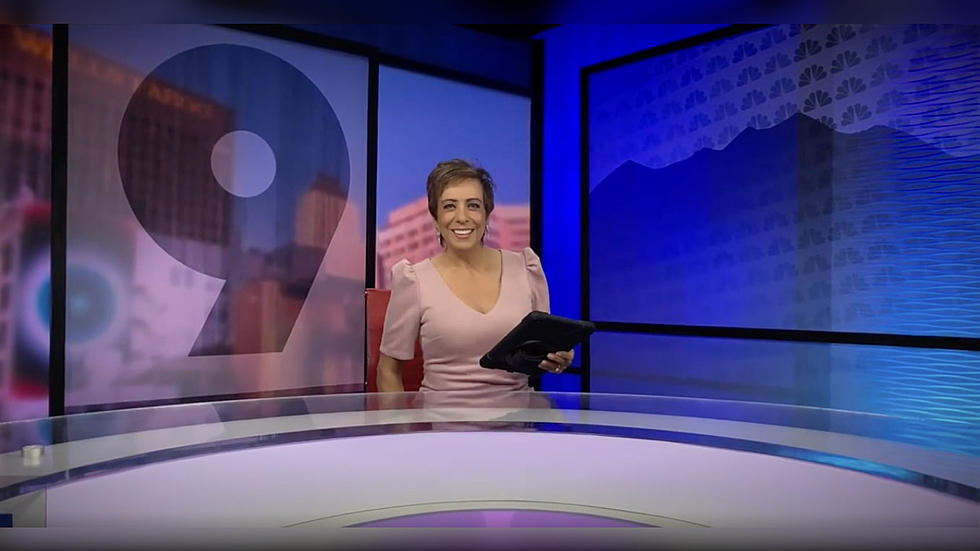 Legendary El Paso TV Anchor Estela Casas Returns to KTSM, the Place Where Her Career Began
Courtesy: KTSM
She's back! But this time around she will be delivering the evening news from a different studio.
"I'm home. Good evening everyone, I'm Estela Casas." 
That's right, legendary El Paso TV anchor Estela Casas is heading back to where it all began, KTSM! 
The second I heard the rumor I knew I had to call up Estelita to see if these rumors were true and when she answered the call she let out a giggle. Then like a true television reporter that always leaves the viewer wanting more she said, "I'm about to head into a Zumba class so I will call you back at 7."
THE SUSPENSE WAS KILLING ME!!!!! And exactly at 7 o'clock (on the dot) my phone rang and Estelita shared the great news that she was heading back to TV news and she was so excited to return to the station where her broadcasting career first started at, KTSM.
"I am so fortunate enough to be able to continue doing what I love doing," said Estela. "Telling the stories of our community and using my platform for a good cause."
You might remember that back in 2019 Estela said farewell to KVIA, the station she called home for nearly 27 years.
"KVIA was so good to me. I learned so much from there but at that time in my life it was the right moment for me to leave," said Estela. "I was able to travel, enjoy my family, and continue my work with the Stand With Estela Casas Foundation."
After leaving KVIA Estela pursued a career as the Executive Director of the UMC Foundation and the EPCH Foundation and then made her way to becoming the Creative Brand Manager for the Viva Auto Group.
"All the opportunities I got after leaving TV really helped me learn so much more," said Estela. "So I am coming back to TV news a different person, a more well rounded person and I am excited to use these new skills with this new position."
When Can We Watch Estela?
Estela Casas will be returning to your TV screens beginning Wednesday, April 26th.
Estela will still continue her full-time job at Viva Auto Groups, but once she clocks out there she will clock in as the evening anchor for KTSM's newscasts at 6:30 p.m.
"I am excited to join the team at KTSM and I'm looking forward to learning from everyone there," said Estela.
I asked Estela, "Dang girl, how are you going to do it?!" And in true Estela style she giggled and said, "I don't know, but I'm going to make it happen!"
Rumor Has It That-
KTSM shared a teaser video on their social media accounts and the internet went crazy trying to guess who it was that was coming back.
Some believed it was Gary Warner or Chuck Debroder and I seriously wondered if these people were joking or needed glasses because I mean…. The silhouette was obviously of a woman in heels! But hey, I'm not here to judge.
And then there were those internet trolls who apparently are still living in a world where pitting women against one another is still "cool" and they asked the question, "Is Natassia leaving?"
Ya'll, it's 2023. There is enough room on the stage for all women, and women can still have children AND come back to work! Stop trying to stir the pot!!
The answer to that rumor is, NO! Natassia Paloma, KTSM's evening anchor just announced that she would be leaving for maternity leave because her little Mija is ready to join the world.
However, Natassia plans on coming back after her maternity leave but in the meantime, Estela will get her feet wet and fill in for Natassia while her and Trevor welcome the newest addition to their beautiful family.
"Look, I'm not here to take anyone's job," said Estela. "What for? It takes a team to bring ratings up and I am excited to be a part of a team that is hungry and ready to create a new era in news."
After 3 years, Why Now?
The answer to that is simple, Why not?!
When I spoke with Estela I could hear the excitement in her voice. She would giggle but at times would remind herself that this will be a challenge, but it's who she is and what she knows so she was excited to take on the challenge.
"In a way I am reinventing myself," said Estela, "I am lucky that I am still able to come back to do what I love to do and It's just a reminder to other women, and even men, that there is no limit to what you can do in life."
Although this news may be shocking to a few, I was so happy to hear that Estela would be coming back because I grew up watching her on my TV and it was Estela who taught me the importance of community service and cheering each other on in this business that can sometimes be very cut throat, especially between women.
So, congratulations Estelita! I am excited to see what else is in store for you! Mija, yes you can and YES YOU DID! 
Estela Casas