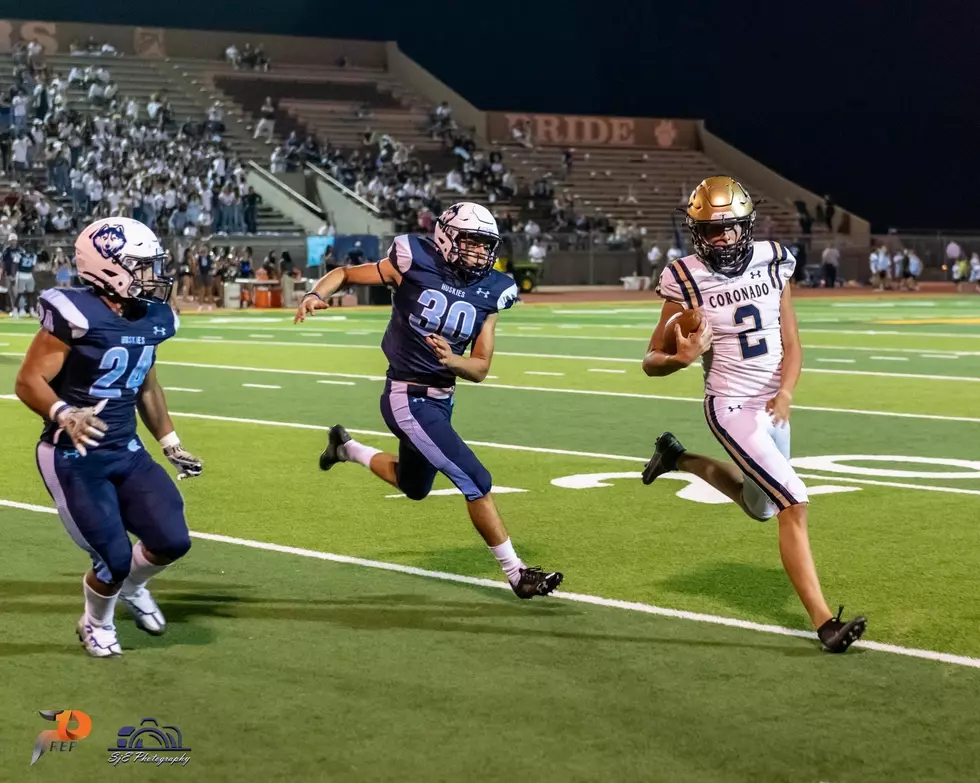 Football Friday Night Week Two Features Exciting Local Matchups
Photos courtesy of Prep 1
Football Friday Night week two is here, as non-district play continues in the second week of high school football action in El Paso.
Football Friday Night is back for another season with Beau Bagley and Paul Mackinnon calling the action every Friday night, with all of our reporters at each game in the city. This Friday, the pregame show will kick off at 5:30 during SportsTalk, and the guys will be back for the postgame recap after the Chihuahuas broadcast. See scores in real time by seeing our scoreboard powered by Scorestream, or by visiting our 600 ESPN El Paso Twitter page.
Week 2 Reporter Schedule
Canutillo (0-1) at Coronado (1-0) Brandon Cohn 
Andress (0-1) at Franklin (0-1) Adrian Broaddus
Las Cruces (0-1) at Eastwood (0-1) Steve Escajeda
Chapin (0-1) at El Dorado (1-0) Jaime Chavez
Hanks (1-0) at El Paso (1-0) Bill Coon 
Austin (0-1) at Parkland (0-1) Dave Gest
Burges (0-1) at Riverside (1-0)
Horizon (0-1) at Bowie (0-1) Bill Coon 
Jefferson (1-0) at Irvin (0-1) Russ Bannister 
Del Valle at Pebble Hills
Clint (0-1) at Ysleta (0-1)
Pecos at San Elizario (0-1) 6 pm
Mt View (1-0) at Cathedral (1-0)
Fabens (1-0) at Tornillo (0-1)
Eastlake (1-0) at Rio Rancho (2-0)
Montwood (0-1) at San Angelo Central (0-1)
Anthony (1-0) at Hot Springs (0-2)
Last night's games:
Bel Air 48 - Socorro 0
Odessa 49 - Americas 27
Five things before Football Friday Night:
915 Tours Game of the Week: Canutillo at Coronado 
What an opening game for the Thunderbirds under first-year head coach Mike Pry. The Thunderbirds surprised Chapin on the road in a 34-20 season-opening victory. ATH Blake Randag was the star for Coronado, catching two touchdowns, rushing for one and returning an interception 63 yards to the house.
They'll have the tough task of trying to fend off a mad Canutillo team, who was shut out 23-0 at home against Pebble Hills last week. In the game, Stanford commit LJ Martin was held to just 73 rushing yards on 17 carries by the stifling Spartans defense. Expect Scott Brooks' squad to come out hungry after their opening season loss. They struggled to pass the ball as quarterback Jeremiah Knox went 11-for-16 for 61 passing yards in his opening debut.
This could be a gritty game that goes to the bitter end. Still, it's hard to imagine a 0-2 start for Canutillo. If Coronado's the reason behind an 0-2 Eagles start, the T-Birds are for real this year.
Prediction: Canutillo 17 - Coronado 14 
Dark Horse Game of the Night: Andress at Franklin 
Andress football head coach Chris Taylor faces his old boss Darren Walker at Franklin on Friday night for another great high school showdown. Taylor, who previously coached at Franklin under Walker, has picked up nicely where longtime coach Jeff Woodruff left off at Andress. The Golden Eagles had much success last season and they look to repeat this year in a tough 1-5A Division II.
Last week, Andress went back and forth with Eastlake, but couldn't fend off the tough Falcons squad and lost 27-14. Quarterback Elias Duncan completed 13-of-24 passes for 134 yards, while rushing for 74 yards and totaling a pair of touchdowns in the game. Army commit Malcolm Anderson (ATH) was mostly quiet against the tough Eastlake defense, finishing with 15 rushing yards and 19 receiving.
Franklin is also coming off a tough loss last week to Las Cruces Centennial, falling 49-21. They are hoping to bounce back in their home opener. Led by quarterback Shay Smith and wide receiver Beau Sparks, expect the Franklin offense to be just as high-powered as they were last year in their quest to a 1-6A district title.
Prediction: Franklin 34 - Andress 24 
Land of Enchantment Teams Continue to Face El Paso Squads 
Las Cruces vs. Eastwood
Eastlake at Rio Rancho
Following a monstrous task in trying to compete with the state's finest at Southlake Carrol, Eastwood will be tested once again against Las Cruces in their home opener. Though the Troopers fell to the Dragons, 66-14, the matchup put them in front of a team that is contending for a state title, something an El Paso school is longing for. One has to appreciate the Troopers being up for a tough task in a season opener on the road.
In the loss, they were led by wide receiver Curtis Murrillo's 158 receiving yards and a touchdown. Murrillo, one of the top wideouts in El Paso, is someone that can play at the college level. Las Cruces fell last week 34-17 to Volcano Vista.
On the other hand, Eastlake has the tough task in trying to beat a top-3 New Mexico squad in Rio Rancho Cleveland (1-1). The Storm fell in week one to Centennial, which also beat Franklin. They are a very balanced group that can throw all over the place and run it down your throat.
But Eastlake is a tough group. Offensively, they will be a work in progress under sophomore quarterback Luke Lomeli and senior running back Jeremiah Escamilla. This team is scary on defense. Led by linebacker Hector Hinojos (20 tackles vs. Andress), the Falcons like to bring pressure and shut down the run.
Predictions: Eastwood 42 - Las Cruces  20; Eastlake 17 - Rio Rancho 13 
6A vs. 5A: Pebble Hills Hosts Del Valle 
What a statement victory by the Spartans last week to shut out Canutillo (23-0) at their own home. Over the offseason, the talk around this bunch was all around their offense, deservingly so. Junior quarterback Gael Ochoa threw for 113 yards, one touchdown and one interception. But the story of their win was the defense. In the shutout win, they held the top running back in the city in Martin to under 100 yards, had five quarterback pressures, forced a fumble and racked up three sacks.
Maybe this is the year for Pebble Hills and head coach Mark Torres.
Del Valle is coming off a dominant 56-0 win against Burges themselves. Head coach Rudy Contreras has built a strong unit that will contend for a 1-5A Division I district title. Senior quarterback Jesse Ramos was efficient last week, completing 13-of-14 passes for 243 yards and five passing touchdowns in their win against the Mustangs. Junior tailback Juan Archuleta dashed for 106 yards and a pair of scores as well.
Prediction: Pebble Hills 34 - Del Valle 31
Familiar foes: Chapin at El Dorado; Austin at Parkland 
A couple of other games that caught my eye this week are Chapin-El Dorado and Austin-Parkland.
For the Matadors, they want to redeem themselves from an opening season loss to El Dorado (35-27), in which they held onto a lead for a good portion of the game. Junior quarterback Erik Ortiz is leading the offense, with a compliment of Texas Tech commit wide receiver DJ Crest, Colorado commit offensive lineman Tyrone McDuffie III, running backs Isaiah Beasley and Anthony Carrillo, plus a solid group of younger wideouts on the roster. They have the firepower and once they're clicking, they're tough to beat.
Austin fell short in a tight 18-15 loss to Fort Stockton. The Panthers, who were previously in 5A like Parkland and now are down to 4A, were led by the dynamic rushing duo of seniors Jayden Wilson (New Mexico commit) and Marc Saenz. The pair rushed for 114 yards each and combined for a pair of touchdowns last week.
Chapin will try to avenge their opening week loss to Coronado by facing another 6A foe that they know pretty well in El Dorado. Huskies quarterback Evan Rivera is leading the offense, as he's coming off a 221-passing-yard performance against the Thunderbirds. While standout wide receiver Anthony Rivera was shut down last week, sophomore Sav'ion Jordan stepped up and caught 11 passes for 123 yards and a touchdown in the loss.
El Dorado might be too tough for this young Chapin team. They were able to overcome a second-half deficit to Parkland, emerging with a 35-27 win. It's the Estrada brothers who stole the show at Parkland last week. Senior quarterback Quincy Estrada threw for 122 passing yards, rushed for 50 and scored two touchdowns in the win. But it was the freshman running back Ryan Estrada who was the star—11 carries, 219 yards and three touchdowns. Talk about a high school debut!
Predictions: Parkland 28 - Austin 14; El Dorado 28 - Chapin 20
All The Big Moments From UTEP Football's Win Over Bethune-Cookman
The UTEP Football team defeated Bethune-Cookman 38-28 last Saturday night to start the 2021 college football season with a 2-0 record for the first time in 16 years.