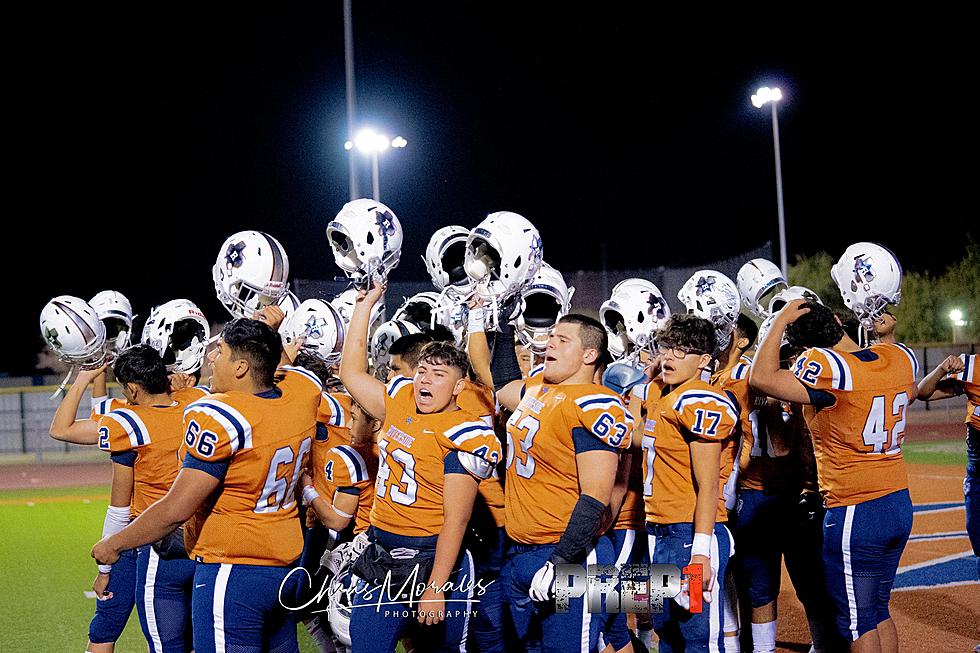 Football Friday Night: Five Things Ahead of Football Season Opener
Chris Morales | Prep 1
Welcome to week one of the high school football season in El Paso!
Non-district play continues Friday, featuring some quality matchups across the city and out of town.
Football Friday Night is back for another season with Beau Bagley and Paul Mackinnon calling the action every Friday night, with all of our reporters at each game in the city. This Friday, the pregame show will kick off at 5 during SportsTalk, and the guys will be back for the postgame recap after the Chihuahuas broadcast. See scores in real time by seeing our scoreboard powered by Scorestream, or by visiting our 600 ESPN El Paso Twitter page.
Here are the games for this weekend:
Friday coverage:
Pebble Hills at Canutillo (Steve Escajeda)
Andress at Eastlake (Brandon Cohn)
El Dorado at Parkland (Jaime Chavez)
Franklin at Centennial (Bill Coon)
Ysleta at Riverside (Joe Rodriguez)
Coronado at Chapin at Irvin Memorial (Jeremy Carranco)
Burges at Del Valle (JD Sursely)
Alpine at Mt View (Joey Pennisi)
Irvin at Bel Air (Russ Bannister)
Hanks at Bowie (David Gest)
Last Night's Games
Midland Christian 24 - Americas 16 (2 OT)
El Paso 27 - Gadsden 20
Hirschi 48 - Clint 7
What an opening night out at the SAC on Thursday. The Americas Trailblazers trailed 16-0 to Midland Christian and lost their quarterback Mark Moore. But late in the game, running back Brian Promesee scored a pair of rushing touchdowns to tie the game and send it to overtime. Despite a valiant effort in overtime, the Trailblazers failed to score in the second overtime and Midland Christian took the win with a touchdown.
In another back-and-forth game, El Paso High was able to squeeze a victory against Gadsden at home. The Tigers led 7-6 at half and the game was tied 20-20 in the fourth quarter before El Paso High scored the game-winning touchdown to secure their first win of the season under coach Ray Aguilar Jr.
Game of the Week: Pebble Hills vs. Canutillo
Two of the top teams in the city will do battle in week one, as the Eagles welcome the Spartans to their house for a huge Friday night showdown.
Let's start with Canutillo. Head coach Scott Brooks and the squad are coming off a special 11-2 season in 2021, and this season could be even better. They return 13 starters from last year, most notably Stanford commit in senior LJ Martin, who totaled 2,737 rushing yards and 29 touchdowns last year. Defensively, they have standout playmakers like linebacker Jesus Carrillo and defensive lineman Juan Delgado.
Next up is Pebble Hills. Coach Mark Torres has grown his program year after year, and this group has a heap of talent. It starts offensively with junior Gael Ochoa, the dual-threat quarterback that threw for 1,607 yards and rushed for 1,173 with 31 touchdowns in 2021. He has a solid set of weapons, such as ATH Jacob Ledesma, wideouts Jalile Bost, Marcus Torres and Brandon Cardenas. Defensively, they are led by linebacker Bobby Deal, who racked up 70 tackles, three tackles for loss and two interceptions last year.
Prediction: Canutillo 24 - Pebble Hills 23 
El Paso talent faces out-of-town competition
First off, the Eastwood Troopers and head coach Julio Lopez get a shot at one of the best teams in all of Texas in Southlake Carroll. Coach Riley Dodge and the Dragons will contend for a state title as quarterback Kaden Anderson and running back Owen Allen will be their go-to players on offense. Eastwood appears to have a nice group of targets in the wide receiver group with Curtis Murrillo, Michael Caldera and Evan Macias. The question for them is who will fill the void of graduated quarterback Andrew Martinez? The Troopers will have two options in Evan Minjarez and Jase Molden.
Franklin heads to Las Cruces to face one of the best teams in New Mexico in Centennial. The Cougars, under head coach Darren Walker, have been consistent winners in El Paso year after year. They will be led by quarterback Shay Smith and wide receiver Beau Sparks, who put up 1,251 receiving yards and 16 touchdowns last year. Though they are a bit small up front, the Cougars have an admirable group of weapons in their skill position group areas.
Lastly, Austin will travel to face 4A Division II foe Ft. Stockton on Friday. Coach Eric Pichardo and his squad are hungry for another district title, and in 4A Division I, there is a path to getting another one for the program. Led by running back Jayden Wilson, the New Mexico commit, Austin will stick to their wing-t offense in 2022.
5 New Head Coaches Make Their Debut
There will be five new head coaches making their debut this weekend.
First off, Mike Pry leads the Coronado Thunderbirds as their newest head coach. Pry, a long-time assistant in El Paso, is coming off a successful assistant coaching stint at Pebble Hills. This won't be an easy rebuild, but Pry is a great coach and can help turn the Thunderbirds program around. They open up the season against former Super 5A district champs Chapin.
Also from the Pebble Hills coaching ranks comes Eddie Cano, the newest head coach at Socorro. The Bulldogs are vying to get back to the playoffs for the first time since 2002. They are also looking to win more than four games for the first time since 2008. Maybe Cano is the coach to get the program on the right track to compete in a tough 1-6A district. Socorro will have a tough task in week one on the road against Lubbock High.
Horizon will debut their new head coach in Dwan Smith, who was a strong assistant coach at Americas. He replaces Paulo Melendez, who stepped down to take an assistant coaching job at Eastlake. Melendez led the scorpions to back-to-back bi-district playoff finishes. The Scorpions will face Jefferson on Friday night.
At Parkland, Leigh McWhorter replaced Eric Frontz, who led the team and won 10 games or more in five seasons as their head coach. Matadors have made the playoffs in six straight seasons and have won three district titles in that span. McWhorter is a reputable coach that was instrumental in Franklin's recent success. The Matadors will face 1-6A foe in El Dorado to open the season.
George Levario is the replacement for Jacob Belshe at Fabens. He has spent his coaching career making multiple stops at different schools such as Horizon, Riverside, Parkland and Bel Air. The Wildcats open up their season against Chapparal on Friday.
Solid Nucleus of Division I Talent in El Paso
There are currently five players already committed to playing at the Division I level next year. Canutillo's LJ Martin (Stanford), Parkland's Tyrone McDuffie III (Colorado) and DJ Crest (Texas Tech), Austin's Jayden Wilson (New Mexico) and Andress' Malcolm Anderson (Army) have all committed prior to the season's start.
In addition, Riverside standout ATH Angel Munoz has received offers from the likes of Army and Navy. Franklin junior Shay Smith holds offers from Texas Tech and UTEP.
There are other talents across town that could be garnering interest at the next level, including Pebble Hills QB Gael Ochoa, Pebble Hills LB Bobby Deal, Eastlake LB Hector Hinojos, Eastwood WR Curtis Murillo, Del Valle QB Jesse Ramos, Horizon DB Aaron Sigala, Chapin LB Nick Purnell, among others.
All The Big Moments From UTEP Football's Win Over Bethune-Cookman
The UTEP Football team defeated Bethune-Cookman 38-28 last Saturday night to start the 2021 college football season with a 2-0 record for the first time in 16 years.