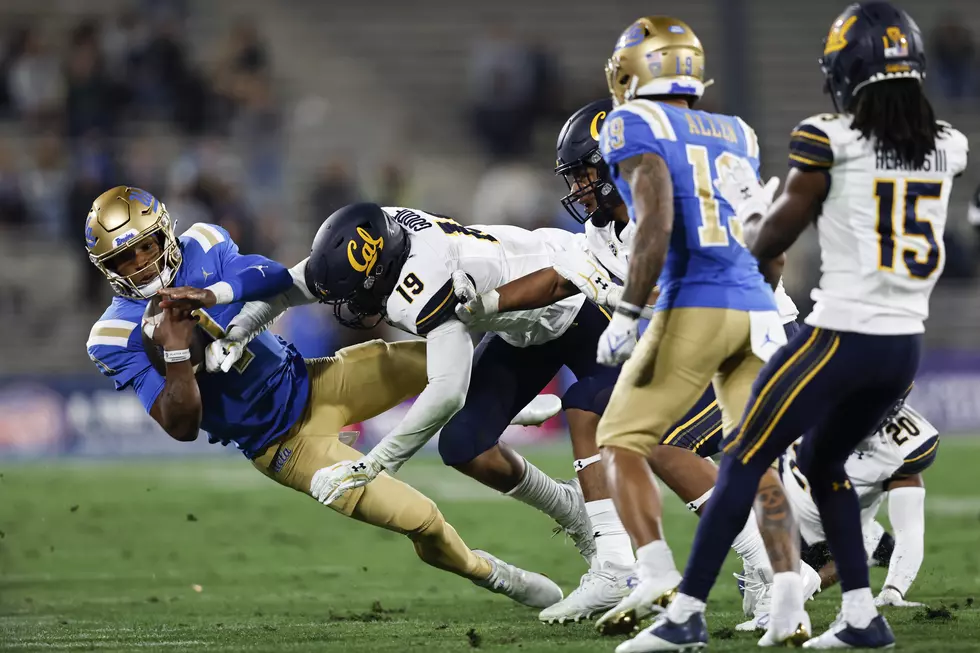 Five Early Sun Bowl Storylines Ahead of UCLA vs. Pitt
Getty Images
Get ready for the 89th edition of the Tony the Tiger Sun Bowl, kicking off on Friday, Dec. 30, as Pitt (8-4) will face off against No. 18 UCLA (9-3).
This will mark the 15th all-time meeting between Pitt (ACC) and UCLA (Pac-12), and the first since 1972.
Let's go over the five early storylines ahead of the big game: You can purchase tickets to the game by clicking here. 
Pitt QB Kedon Solvis hits portal; BC QB Jurkovec transfers in 
On the first day of the transfer portal officially opening, Pittsburgh starting quarterback Kedon Slovis hit the portal. On the other hand, former Boston College quarterback Phil Jurkovec told ESPN that he's committed to transferring to play for the Panthers.
Slovis threw for 2,397 passing yards, 10 touchdowns and nine interceptions this year after transferring to Pitt from USC. Sources told ESPN that he's not playing in the Sun Bowl because of choice to hit the portal.
Jurkovec is headed to his hometown where he will reunite with offensive coordinator Frank Cignetti, who was the OC at Boston College. A dual threat quarterback, Jurkovec has thrown for 5,405 yards with 37 touchdown passes in his career. He also has rushed for 568 yards and nine touchdowns.
UCLA is a massive get for the Sun Bowl 
The fact that the Sun Bowl got a ranked team to be a part of the Tony the Tiger Sun Bowl is huge. Knowing that it's 18th-ranked UCLA feels even better for the bowl game. When previously-ranked No. 4 USC dropped the Pac-12 title game to Utah, effectively bumping them out of College Football Playoff contention, top-tier teams in the Pac-12 slid down.
Coached by Chip Kelly, this is UCLA's fifth time at the Sun Bowl, with the Bruins winning three of the last four. They finished the 2022 season with FBS's No. 3 ranked offense (507.8 yards per game). UCLA was also fourth in rushing offense (246.3 yards per game) and rushed for at least 200 yards in nine games this season.
UCLA's History in the Sun Bowl
2013 --- UCLA defeated Virginia Tech 42-12 (QB Brett Hundley, ran for 161 and threw for 226 yards, and LB Joran Zumwalt, who had 10 tackles, were Co-MVPs)
2005 --- UCLA defeated Northwestern 50-38 (UCLA rallied from an early 22-point deficit which was then the biggest comeback in school history – RBs Chris Markey and Kahlil Bell were Co-MVP)
2000 --- Wisconsin defeated UCLA 21-20 (Freddie Mitchell set a Sun Bowl game record with 180 receiving yards)
1991 --- UCLA defeated Illinois 6-3 (UCLA won its eighth straight bowl game – LB Arnold Ale MVP)
Sun Bowl gets familiarity with Pitt 
Making its third appearance in 14 years, Pitt is back after another successful season with head coach Pat Narduzzi leading the way. The Panthers are 2-2 in four trips to the bowl game, having dropped their two most recent Sun Bowl appearances: Oregon State (3-0 in 2008) and Stanford (14-13 in 2018).
For Narduzzi, this is Pitt's sixth bowl trip in eight seasons. They have won four straight games going into this game. They also outscored four ACC opponents by a 126-58 margin during November and finished in second place in the ACC's Coastal Division in 2022, a year after winning an outright conference championship.
If Pitt is able to break its losing streak in the Sun Bowl and beat UCLA, they will have hit 20 wins during two seasons for the first time in 40 years.
With Slovis out, will UCLA QB Dorian Thompson-Robinson play? 
When asked early on about his stars playing in the Sun Bowl, coach Kelly was hush about the subject with reporters following the bowl announcement Sunday. While Slovis is out for Pitt, eyes turn to UCLA star quarterback Dorian Thompson-Robinson.
Though Kelly confirmed all players practiced in back-to-back days, he would not comment on specific players opting out. Thompson-Robinson, a senior standout, could elect to forgo the bowl game to prepare for the NFL Draft.
Other standout players for UCLA that might decide to opt out of the game could include running back Zach Charbonnet and wide receiver Jake Bobo, both who also expect to be an NFL draft pick.
Thompson-Robinson finished second in the Pac-12 in passing percentage (69.8%), third in efficiency (156.6), fourth in touchdowns (25), and fifth in total offense (3,514). He became UCLA's all-time leader in completions (844) and most career touchdowns accounted for (113).
UCLA enters as -4.5 point favorites 
UCLA and Pitt have faced each other 14 times in football, which is the most for the Bruins facing another ACC team. UCLA leads the all-time series 9-5, with the last meeting coming in 1972.
According to the oddsmakers, UCLA is currently checking in as a -4.5 favorite (over/under set at 60.5 points).
The Bruins rank seventh in FBS for yards per play (6.8) against FBS opponents and they scored 30 points in all but one game during the season. The Panthers are 17th in FBS in yards per pass attempt (6.4) despite riding Israel Abanikanda, who had a huge season with 1,431 yards with 20 touchdowns on the ground.
Expect this line to change as we continue to get closer to the game, especially if players continue to opt-out of the Sun Bowl.
South Central Graff Fest