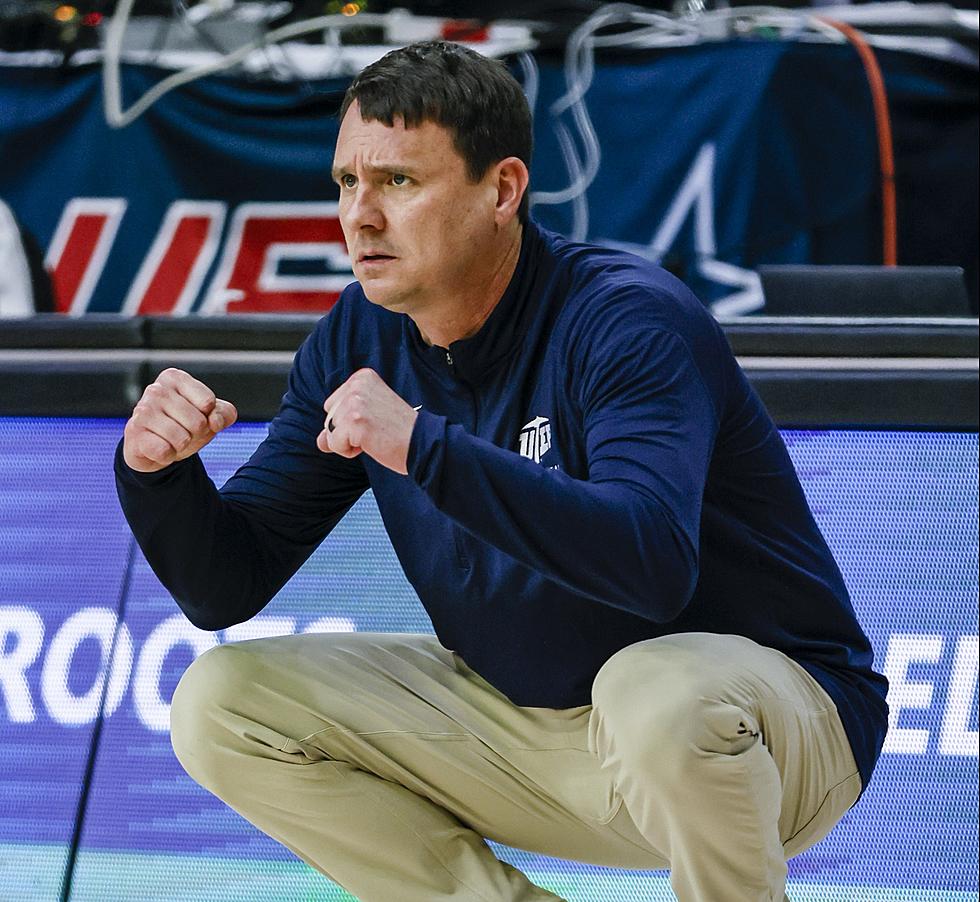 Exploring the Best and Worst Scenarios for UTEP Men's Basketball
Matthew Pearce/Rick Yeatts
The UTEP men's basketball NCAA Tournament dreams came to an end last night in Frisco. The Miners battled hard with Middle Tennessee in the C-USA Quarterfinals but the Blue Raiders got the best of them in overtime. Despite the loss, the team won 19 games in Joe Golding's first season as head coach of the program. In the process, he re-energized the UTEP fan base and has many supporters excited about the future of the program.
Coach Golding hinted last night during his post game interview with Jon Teicher that he is leaning towards ending his team's season and not playing in a lesser postseason tournament like the CBI or Basketball Classic. It is time to start thinking about this fall when the Miners will take the floor again and get ready for the 2022-23 season. As we start to dream about how UTEP can take the next step, let us first examine the best case and worst case scenarios for the men's basketball program.
BEST CASE SCENARIO
As most UTEP fans would attest to, the nucleus of this team is strong heading into the summer. Souley Boum led C-USA in scoring and grew leaps and bounds as an all-around ballplayer. Tydus Verhoeven rediscovered his offensive game as the season went on, Keonte Kennedy did not miss a beat when he returned from injury, and Jamal Bieniemy took the next step as a reliable scorer and team leader. That core four combined with players like Christian Agnew, Jamari Sibley, Jorell Saterfield, and Ze'Rik Onyema gives Coach Golding a lot to work with for next season.
Boum is already the ninth best scorer in the history of the program and he would have a chance to finish his career in the top 3 all time. Kennedy gives the Miners a scorer who can do everything and he will continue to grow as one of the best players in the league. Verhoeven is a steady presence on defense and his recent offensive surge gives the team some much needed production in the low post. Agnew's defense and hustle off the bench is a valuable piece to the puzzle, while Sibley, Satterfield, and Onyema are all young pieces with high ceilings as they continue their development.
If Coach Golding can get all of his key players minus grad transfer Alfred Hollins back for next season, he only needs a few good pieces to contend for a C-USA title. As Adrian mentioned in his final report card, rebounding help and additional shooters could help the team. A true scoring center and back-up point guard are priorities, but this team won 19 games without a dominant low post threat like Bryson Williams. The Miners are close now and if the team's vets decide to run it back for one more season, UTEP would be one of the top teams in the league with a legitimate shot to cut the nets down.
WORST CASE SCENARIO
As great as it would be if every important member of the Miners decide to run it back for the 2022-23 season, what if they all instead leave the program? It is no secret that high majors can now use NIL (Name Image Likeness) dollars to legally entice players from any school to jump ship. If Boum and Kennedy both leave El Paso for a high major program or turn pro, Bieniemy would become the last man standing in the team's backcourt. We spoke with Jamal a few months back and he reiterated to us how much he loves El Paso and playing for UTEP and Joe Golding. Let's assume that he decides to come back next season but Boum and Kennedy do not.
The exodus does not end there. Verhoeven also decides to leave and either go pro or transfer for his graduate season. Agnew also wants a change of scenery since he feels like he can contribute more offensively than he has done with the Miners over the last two seasons. On top of these departures, other newcomers like Bonke Maring, Kevin Kalu, and Emmanuel White all transfer to develop at another school. Suddenly UTEP is without six players that could all have been back for next season.
In this worst case scenario, the returning nucleus would be Bieniemy, Onyema, Saterfield, and Sibley. Che Evans transferred to UTEP from San Diego State a few months back, and he would be getting a scholarship for next season. The Miners also signed 6-8 forward and juco standout Jon Dos Anjos from Florida SouthWestern College last November.
What is interesting for UTEP is that last year, the program lost six players to the transfer portal (Verhoeven elect to return to the team following the hiring of Joe Golding) and in 2020 they also lost six to the portal. This is becoming the new norm for the Miners and other mid major and high major programs.
It also means that the coaching staff will need to recruit multiple difference makers to give the returnees a shot at contending for a conference title. Most likely, two to three guards, a pair of forwards, and a true center would be on the wish list. Although the Miners could elect to go with high school seniors, the more realistic answer is finding players in the portal or junior college so they have enough experience to mesh faster with Coach Golding's system. In his postgame radio interview, Coach Golding told Jon Teicher that he will be in Kansas next week for the Junior College Basketball Tournament.
Billy Gillispie once landed Omar Thomas and Fili Rivera, the two best juco players in the nation, and they helped turn around the UTEP Miners overnight. Maybe lightning can strike twice for Joe Golding, who has already proven to be one of the best young coaches that the program has had in a long time.
UTEP Defeats Old Dominion in 2022 C-USA Tournament
UTEP dominated Old Dominion and led wire to wire in their 74-64 win in the C-USA Men's Basketball Tournament.