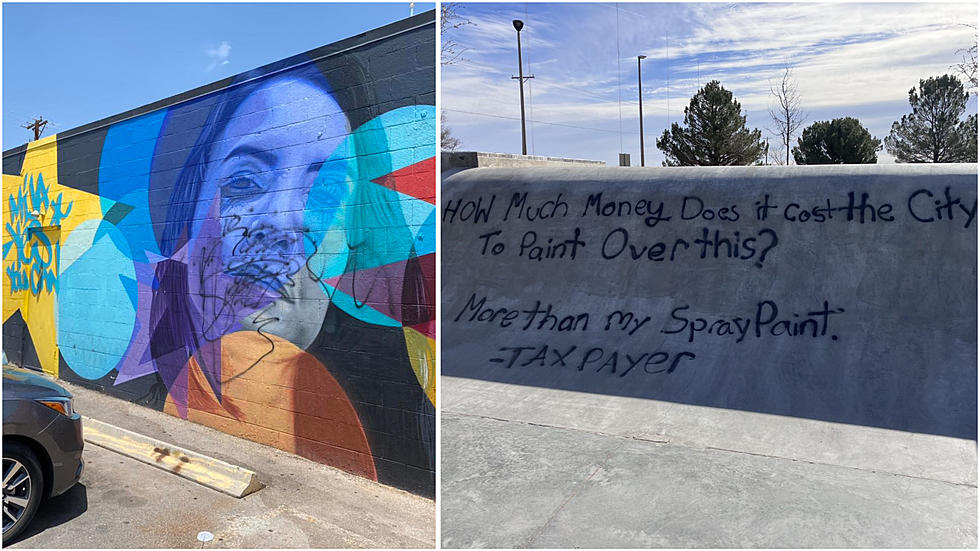 Vandalizing Public Property in Texas is a Despicable Crime
Courtesy: Iris Lopez/Emily
Alright kids, so it was just a few weeks ago when I was excited to write about the upgrade that the Dick Shinaut Skatepark got.
The City of El Paso held a grand opening celebration for the east El Paso skatepark, kids were able to skate around the new park, photos were taken and everyone was happy- or so we thought.
Fast forward a few days later and photos began circulating across social media showing black graffiti on the brand new skatepark which read, "How much money does it cost the city to paint over this? More than my spray paint - taxpayer."
Well taxpayer, whoever you are, all I have to say is, not cool. Not cool at all.
I instantly got flashbacks to the one time my friend sent me a text letting me know that my face had been vandalized! *gasps in Spanish*
He was talking about the Mija, Yes you can mural that was painted by local graffiti artist, Blaster, for Estrella Jalisco and to recognize my non-profit organization.
Thankfully it was just my face that got tagged and not the Mija message, and honestly… those few squiggle lines on my face weren't too bad... I mean, it could have been worse.
However, that was just a mural on a wall that could easily be fixed, but this skatepark is city property and it's a place where young kids go to have fun with friends! So, politics aside, seeing these photos made me sad.
Living in that area, I would drive by that skatepark daily and always wondered when the renovations would be completed. On some occasions, I would see graffiti in parts of the skatepark and think to myself, well this is going to delay things even more!
Then finally! The east El Paso skatepark was ready to go… until it wasn't.
Former District 6 City representative Claudia Rodriguez was saddened to see this graffiti in the District she once represented and she shared her disappointment on Instagram saying:
"This breaks my heart. First of all for those that don't know my biggest pet peeve is when people "tag." I find it incredibly disrespectful and offensive. Seriously, why can't we have anything nice in El Paso?!"

 
Claudia went on to say that the newly revealed skate park had been repeatedly vandalized before. She also decided to address the question that this "taxpayer" was so passionate about they felt the need to "tag" it on the renovated skatepark:
"And to address the message. The city of El Paso does not have money. It's all taxpayer funding. You are costing your neighbors a lot of money."
The installments of a new 6-inch concrete skate plaza with ramps, grinding rails, ledges, and concrete steps were estimated at $551,000.
According to El Paso Police, they are investigating the vandalism. And hey, while we're at it, if anyone can find the person who tagged my mural, can you let me know?
I'm not gonna do anything to them, I just wanna make sure they're doing okay……
Dick Shinaut Skatepark