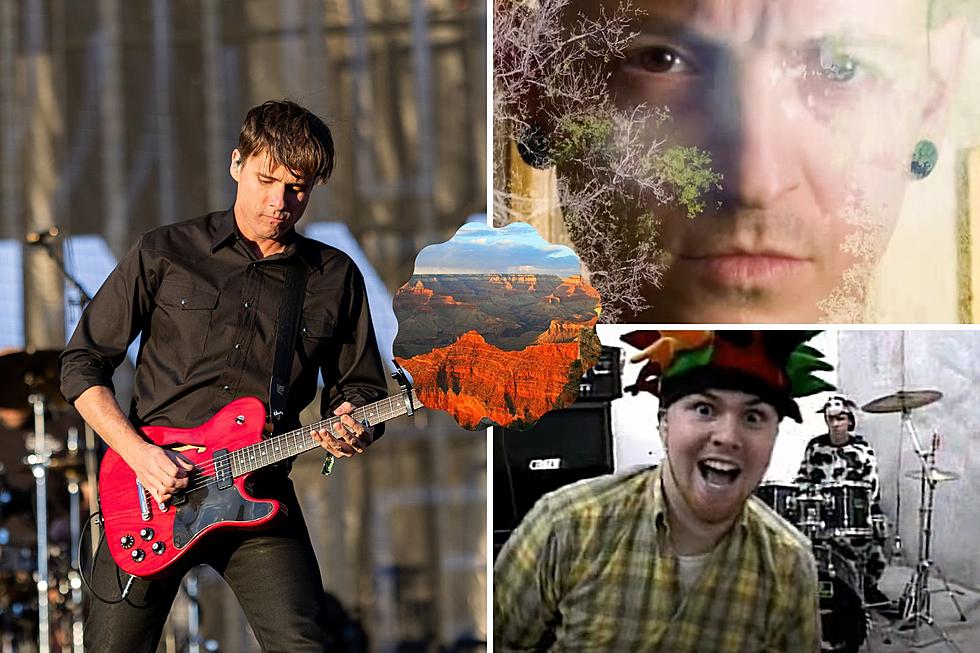 Ten of The Greatest Rock & Metal Bands From Arizona
Getty Images/ Grey Daze via YouTube/Psychostick via YouTube/Canva
When most people think of the greatest things from Arizona, people usually think of The Grand Canyon. And while it is a truly beautiful sight, if you're a music fan, that's not what YOU care about. You care about the MUSIC. There's many great artists to come out The Copper State & here are ten amazing rock & metal bands that are GOLD in the eyes of the fans.
NOTE: This is NOT a top 10, just a list of amazing Arizona rock & metal bands. Also no country artists (that can be its own separate list)
Gin Blossoms:
Since 1987, fans of the alternative rock scene know of Tempe's The Gin Blossoms. They scored a big hit in 1989 with "Hey Jealousy" but it was the 90s that the Blossoms would...blossom. "Follow You Down", "As Long As It Matters", "Found Out About You" & "Until I Fall Away" are still staples in the 90s rock world.
Meat Puppets:
The band that would be a huge influence for Nirvana, Soundgarden & Dinosaur Jr, the Meat Puppets have been a huge part of the Arizona music scene since 1980. They would receive mainstream success, mainly from Nirvana covering some of their songs for their MTV Unplugged performance: "Lake of Fire", "Plateau" & "Oh Me". and can't forget their most successful single, "Backwater"
Authority Zero:
They sound like they could've come straight from California, but Authority Zero was formed back in 1994 in Mesa, AZ. They became a big part of the start of the Vans Warped Tour & still have a huge dedicated fan base around the world.
Some songs to note: "Revolution", "Over Seasons", "No Regrets" & "One More Minute"
Job For A Cowboy:
Copper ain't the only metal in Arizona: the state has a HUGE heavy metal scene. One of the loudest is Glendale's Job For A Cowboy. Whether you call them "hardcore punk", "technical death metal", or "deathcore", they've represented Arizona for the last 20 years.
Blessthefall:
Craig Mabbitt might be with Escape the Fate now, but let's not forget his first band: Phoenix's Blessthefall. They called it quits in 2022 but that doesn't mean we can't appreciate the band for giving us great memories.
Flotsam & Jetsam:
We can't talk about Arizona's metal scene without mentioning one of the oldest bands from Phoenix's metal scene: Flotsam & Jetsam. El Paso is certainly aware of these guys; they've given our part of Texas many great shows (all the way since 1990). F&S continue to give fans one hell of a show to this day. You know they're good when they have Jason Newsted play for them BEFORE he joined Metallica.
Eyes Set To Kill:
Rock ain't just a boys game: just ask Alexia & Anissa Rodriguez, the sister duo who founded Eyes Set to Kill. For 20 years they've proven to not only look amazing, but they SOUND amazing. They've went through many different lineup changes but Alexis & Anissa are proving that they still rock & will prove that they're more than just eye candy.
The Maine:
Don't let the name fool you. Just because Maine is in their name, The Maine ARE from Arizona; Tempe to be precise. While they may not be as popular as some of the other names on this list, The Maine have still proven that they are not only very talented, but very popular. And that they are also hear to stay. And their fanbase has proven to be EXTREMELY loyal since 2007.
Psychostick:
The comedy metal band, Psychostick comes hailing from Tempe Arizona. Since 2000, they have become a viral sensation with their comedy videos and songs. Some of their most stand out songs include "Pluh", "So.Heavy". and of course... their song about their love of beer called... "BEER!"
Grey Daze:
The band Chester Bennington started BEFORE Linkin Park, started in Chester's hometown of Phoenix, Arizona. After Chester's passing, the band decided to release many of their recordings (and live performances) on YouTube & online for the world to remember the legacy of Chester.
Jimmy Eat World:
Yes the band you've been waiting for; arguably THE most popular band to come from Arizona: Mesa's Jimmy Eat World. Even though they became HUGE in the 2000s, thanks to songs like "Bleed American", "Pain", & "The Middle", the band has been around since 1993. Regardless, they've been a staple in Arizona's music scene for decades & will continue to be for a long time.
If you want to see more bands that rock, you can some great bands from Texas here.
Amazing Rock Art Pieces by El Paso Artist Karmann "Sketchy Goat" Sloane
Karman Sloane, aka Sketchy Goat, has made some amazing art used by big names in the rock world. Here's a look at some of her favorite art designs that you might have seen.