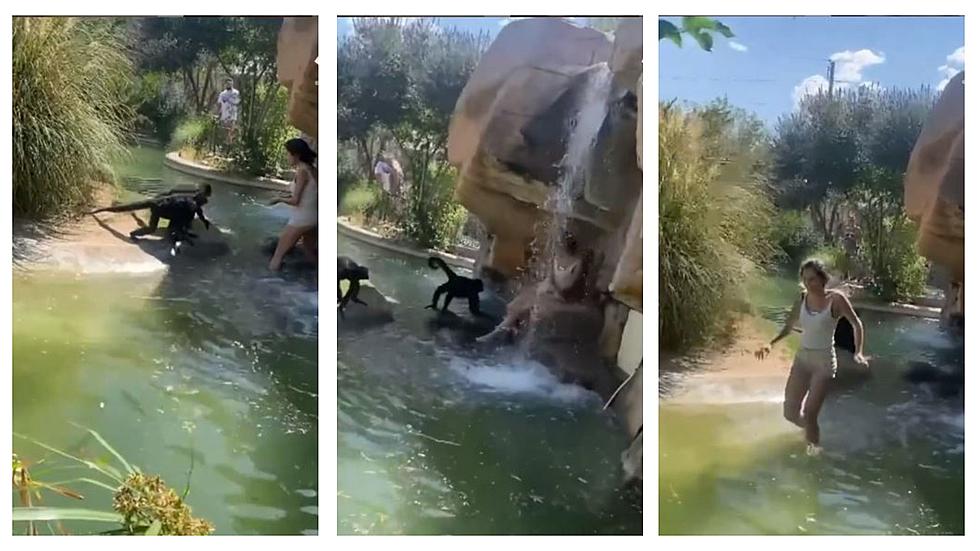 Woman Filmed at the El Paso Zoo Hopping Into Enclosure to Feed Monkeys A Spicy Snack
Instagram User FitFam
In a move that's being called "stupid," a woman is seen on video jumping a fence into the monkey habitat at the El Paso Zoo and then feeds them Hot Cheetos.
A video has gone viral in El Paso after a woman was seen jumping into an animal's habitat at the El Paso Zoo. In the video posted this past weekend to FitFam's Instagram, you see the woman wading through the water in the spider monkey enclosure at the zoo. She then proceeds to sit on a rock and feed the animals. According to FitFam's post, she fed the monkeys Hot Cheetos from her hands before she makes her way back to the side of the enclosure and her friend helps her out.
The El Paso Zoo Director Joe Montisano told KVIA News the woman was "stupid and lucky" she was able to get out of the enclosure unharmed. Mason Kleist is a zookeeper at the El Paso Zoo and said the woman could have been seriously harmed by the animal:
"These are primates we're talking about, they could do some substantial damage to you. They may be small monkey's but they can take you to the ground if they wanted to."
Kleist also explained the spider monkeys at the zoo are on special diets they need to abide by. Not to mention Hot Cheetos can sometimes hurt my stomach so I can only imagine what they would do to a monkey's stomach.
Spider monkeys can also catch COVID-18 from humans so being inside the enclosure with the Libby and Sunday, the zoo's monkeys, put their lives at risk.
The El Paso Zoo says the incident is still under investigation and they are pursuing charges against the woman. Thankfully, the monkeys didn't attack the woman so they weren't punished for her stupidity. This could have been El Paso's Harambe incident. You can watch the video below.
Enter your number to get our free mobile app
8 Of The Biggest Driving Pet Peeves In El Paso