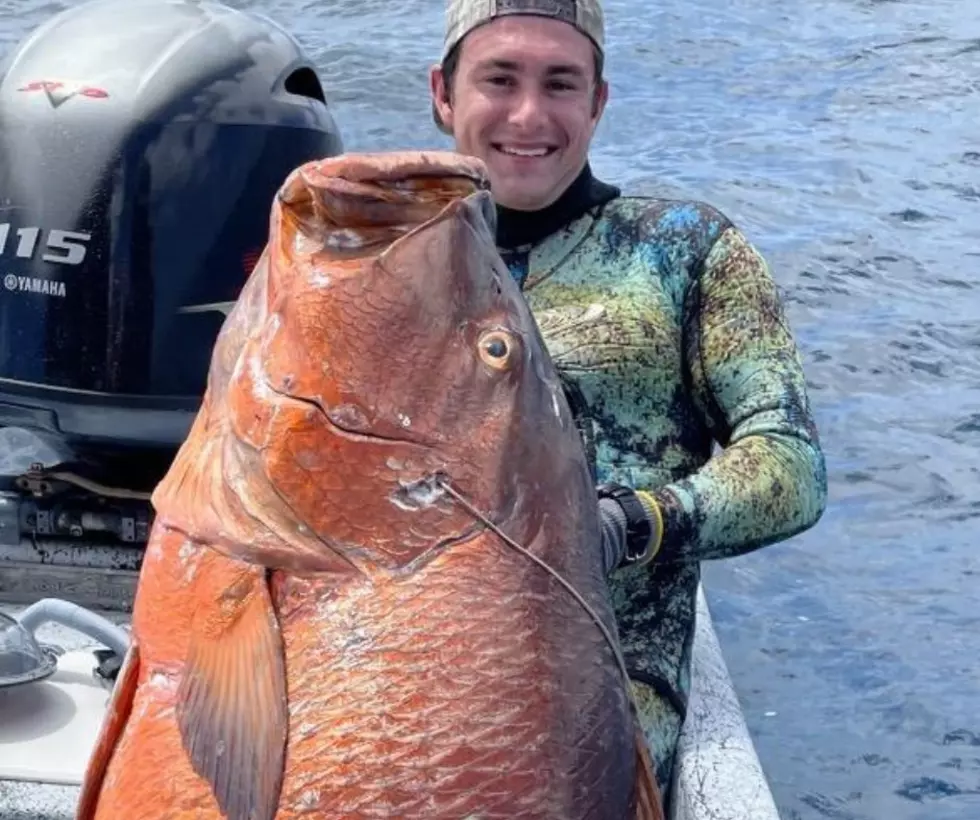 Whoa – You Won't Believe This Record Breaking 137 Pound Fish Caught in Texas
Photo: Port Aransas Fishermans Wharf/Facebook
I'll be upfront, I'm not an angler by any means. It's not that I don't enjoy a lazy afternoon with a line in the water and a cold beverage. I'll sure take that. Delicious fresh fish straight from the water, cleaned, and right to the frying pan. You better believe it.
However, as far as knowing the kinds of fish just by a glance or knowing which bait attracts what fish, I'm not the guy. Angler or not, I do recognize an amazing feat when I see one. In fact, this may have broken a Guinness World Record.
Texas angler Braden Sherron had no idea he'd be breaking records when he woke up the morning of June 3rd. Sherron was underwater spearfishing in the Gulf of Mexico when it happened. He spotted it. A giant cubera snapper. Now, when I say giant, I'm not fooling. The final weight? 137 pounds.
In a recent article from KSAT TV, the all-time record weight for cubera snappers was set in June of 2007 in Louisanna by Marion Rose. The one she caught weighed in at 124 pounds. Sherron's catch breaks that record.
Although Sherron's Guinness World Record is still pending, many are calling his massive catch the world's biggest fish. Hands down.
According to the Texas Park and Wildlife Department, the record in the state of Texas for the biggest fish ever caught was set back on August 8th, 1983 by a man named Ricky Preddy also caught his in the Gulf of Mexico. His catch topped the scales at 131 pounds. That is one huge fish.
Bradon Sherron's accomplishment is truly an amazing feat. If you love a good fishing adventure then you must love the lake, but beware. Lakes are not always a safe place to be. Keep scrolling to check out some of the most dangerous lakes in Texas.
Be Careful, Y'all, These are the 7 Most Dangerous Lakes in Texas
According to AZ Animals
there are a few lakes you should probably take off your list to visit, or at the very least be visited with extreme caution. State records reveal that more than 300 people drown in Texas each year.