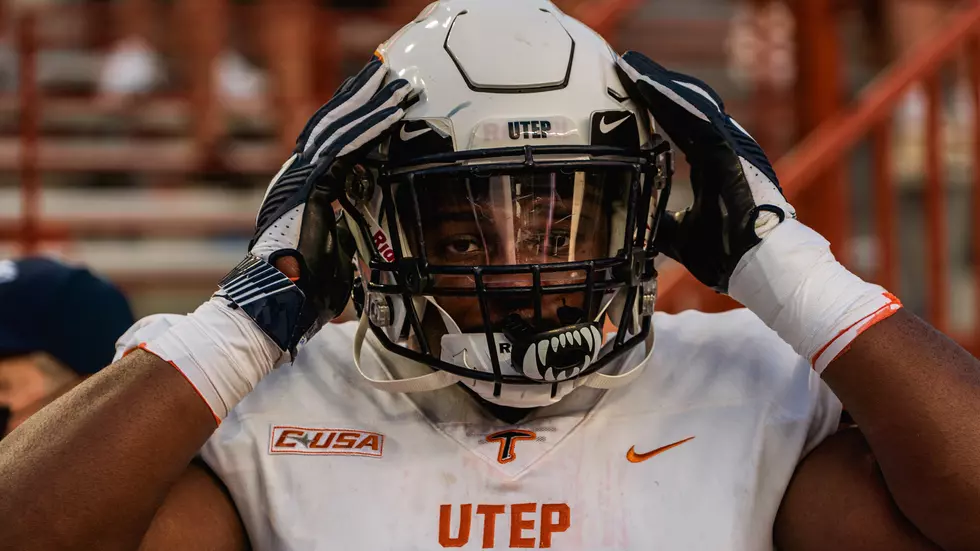 UTEP vs. ACU: Five Things to Know About Abilene Christian
Connor Putman / UTEP Athletics
The Miners (1-1) will head back to the Sun Bowl following their 59-3 blowout loss to No. 14 Texas and face Abilene Christian (FCS) in their third non-conference game on Saturday, Sept. 19.
Here are five things to know about the Wildcats going into Saturday's matchup:
1. Davis is a talented dual-threat quarterback
When you look at the Wildcats, it starts on offense with their junior quarterback Sema'J Davis, a dual-threat passer, who played in all 12 games last season as a change-of-pace quarterback. He completed 35 passes for 388 passing yards and rushed for 621 yards on 102 attempts.
They have a good insurance policy at quarterback too. Iowa transfer Peyton Mansell, a Texas product, put up some serious numbers at Belton High School to earn numerous offers from Conference USA and Sun Belt schools. As a redshirt freshman, Mansell completed 5-of-8 pass attempts for 83 yards against Northern Illinois at Iowa.
The Miners' defense will have their hands full with the mobile quarterback system. They keep having trouble getting after the quarterback as well. The team ranked in the bottom five of FBS last year with only 12 sacks and have just a single sack on the year through two games so far.
2. Kobe Clark will make his presence in the passing game known
The experienced slot back Kobe Clark leads the Wildcats' receiving game. He set a school single-season record with 87 receptions, along with a total of 777 yards and three touchdowns last year.
The Miners have shown so far that they struggle against good passing teams and tough receivers. Last week, Texas' Sam Ehlinger threw for over 400 passing yards and threw five touchdown passes against a subpar performance of the UTEP secondary. Even though they were able to get a turnover in the first game (Duron Lowe, INT), they allowed Stephen F. Austin to throw on them too.
Other ACU targets include tight end Branden Hohenstein (330 receiving yards, 2 TDs) and sophomore Javorian Miller (133 receiving yards). They will also bring in Texas Tech transfer Dax Neece and Boise State transfer DK Blaylock to the receiving corp.
3. The defense will patch together returning players
ACU has six players who have started two games or more on defense. They are led by their stud linebacker Qua'Shawn Washington, who is returning after being out last season following the fourth game. He had 24 tackles in four starts. His fellow linebacker Jack Gibbens, an Academic All American, recorded a team-high 104 total tackles last year. Missouri transfer Jairan Parker rounds out their returning members in the linebacker group.
They have one member of their defensive line returning in defensive end Kameron Hill. In the secondary, safety Gabe Ortega and corner Ryan Stapp played frequently last season.
UTEP has shown through two games that they have a consistent passing attack while their run game needs a bit of work. If they can establish an air attack and use a balanced ground game, they should be able to move the ball against ACU.
4. Experienced offensive line faces struggling pass rush
The strongpoint of ACU is their offensive line. They bring athleticism, size and experience upfront. They return three starters up front in Jon Crisp, Kade Parmelly and Nico Russolillo. Guys like D'Wayne Anthony and Tanner Parker also have playing experience.
As previously mentioned, the Miners' defensive line has been inconsistent thus far. They caused havoc in the second half of the SFA game and closed out the game with a sack, but struggled mightily against a solid Texas team. If this experienced ACU offensive line unit holds strong, it could be a tough outing again for the Miners.
5. Coach Dorrel expects big things in an eight-game schedule
Fourth-year head coach Adam Dorrell wants to achieve greatness with ACU. In his first season, it was a rocky 2-9 outing. He followed it up with a 6-5 finish in 2018 though. After a bit of a dip in production in 2019 while finishing with a loss in the last three games, the Wildcats ended 5-7, 4-5 Southland. But four of their five losses were by seven or fewer points.
Dorrel is a proven commodity too. He won three NCAA Division II championships with Northwest Missouri State before coming to ACU. Even though they will have a limited schedule, Dorrel wants this fall to count in a big way for the Wildcats. Starting with a win against the Miners would be a significant step in the right direction.