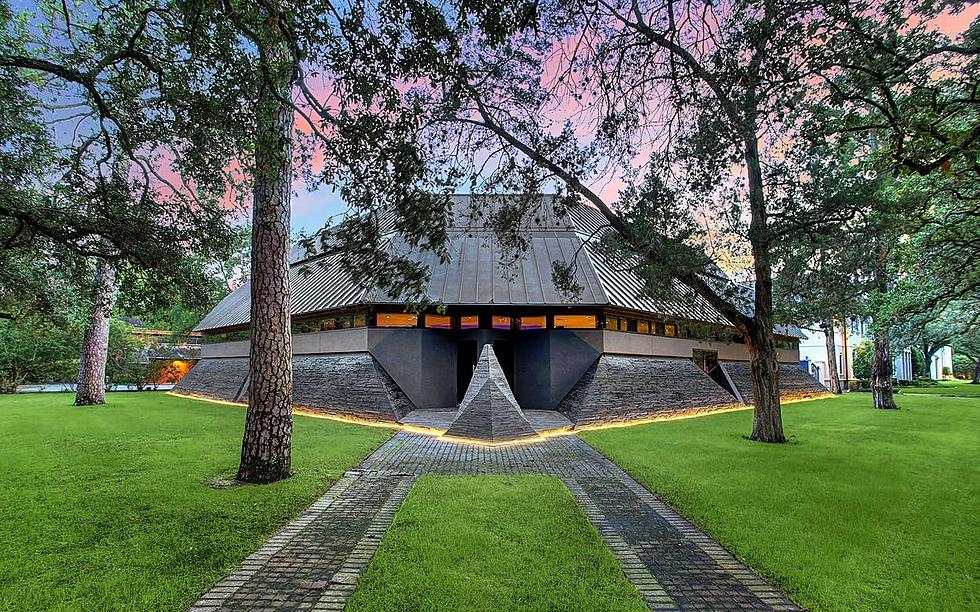 Texas "Home" Resembles 'Darth Vader,' SOLD for Millions Imperial Credits
(TK Images for Martha Turner Sotheby's International Realty)
When I heard Texas had a "Darth Vader" house for sale I assumed it was a castle in the middle of a volcano. I was wrong, though.  It isn't called the Darth Vader House because it looks like a place Darth Vader would live. The house itself actually LOOKS LIKE DARTH VADER…
 "Eh. Maybe more Cylon than Vader, actually."
This house was built in 1992, but the guy who hadn't built wasn't a Star Wars uber fan.  A Houston plastic surgeon named Jean Cukier and wanted a house that looked like the Stealth Bomber.
So, an architect drew up something that looked kind of F-111 – ish and Cukier liked it. The resemblance to Anakin Skywalker's helmet was just a happy, nerdy accident.
Enter your number to get our free mobile app
This was in a well-established, well-off neighborhood in Houston called West University Place. The neighbors were not exactly delighted to have an Evil Sith Lord's head among their 100-year old Tudors and Cape Cod's. Despite these reservations, Cukier's dream house was built and the result was…one of the ugliest architectural monstrosities in the Lone Star State.
BACKYARD LOOKS AS HOMEY AS AN OFFICE PARK
THE LIVING ROOM IS AN 80'S MALL
 …complete with giant, gaudy statues of heads.
 ALL GLASS, NO PRIVACY
 And, most of the rooms look like they don't offer a single shred of privacy…
 BREAKFAST NOOK
Look, say what you will about Darth Vader but even HE wouldn't have a breakfast nook that looks like the Centurion Lounge at DFW…
The 7,000 square foot home was first listed in March 2021 for $4.3M. It sold for 3.09M last week. The identity of the new owner, like Vader, is "shrouded in mystery."
Gallery — Every Movie Theater Candy, Ranked: