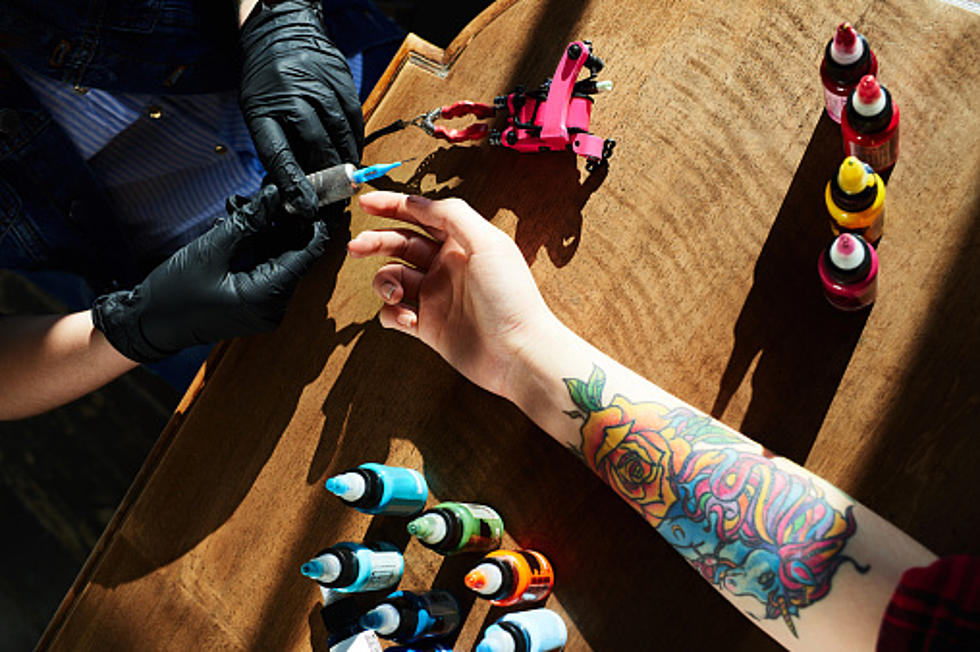 Star City Tattoo & Arts Expo Is Prepared to Poke Your Body Soon
Getty Images/iStockphoto
When you're young and also rushed to get a tattoo sometimes your choices of ink are not the best. It is okay because A LOT of us have been there and are rocking those tattoos still to this day.
As for the people who rushed into getting their first tattoo (like I did) are either happy with it or are considering getting it covered.
Enter your number to get our free mobile app
Here is my first tattoo story, in a nutshell, my older sister wanted to get tattoos together on her birthday. Her being spontaneous left me with not much time to brainstorm so I went with a particular symbol of a brand I always shopped from, Roxy Quicksilver.
Look, I was 19. Roxy Quicksilver's logo which is somewhat like a heart symbol with a hibiscus flower beside it was just a quick decision and the chick who did my first tattoo at Fleshtones Tattoo shop did a horrific job.
Sadly, not everyone knows about the tattoo rules and how you should never rush into getting a tattoo. You may be one of those people who also rushed just like me back then.
So if you're still rocking a tattoo you either still love or regret and considering making a change you better start thinking of ideas now. This weekend you can either get new ink, add on, touch up, or cover up the tattoo you regret now by an acclaimed tattoo artist.
Star City Tattoo & Arts Expo presented by Roto-Rooter is finally here this coming weekend which means time to get those bodies ready. It will be going down at the El Paso Convention Center for 3 days.
So get your wallet and body ready for Friday, April 8th through April 10th for a little needle-to-skin therapy. This Friday, April 8th KLAQ will be broadcasting live, and hoping you can join us out there.
View this post on Instagram
There will be 150 artists from around the country who will be around to help you fix, add, or cover up what you want to be done. Plus there will be plenty for you to check out such as on-site tattooing, piercings, food, drinks, and a live burlesque performance with body suspension by Marlo Marquee.
Plus there will also be a Sullen Art Collective clothing line and even a barber corner. But the coolest of it all is that international tattoo collector Yall Quinones aka Yallzee will host a tattoo contest.
Make sure to head out to Star City Tattoo & Arts Expo this weekend either for more ink or for fun.
KEEP READING: 10 classic board games that will take you way back