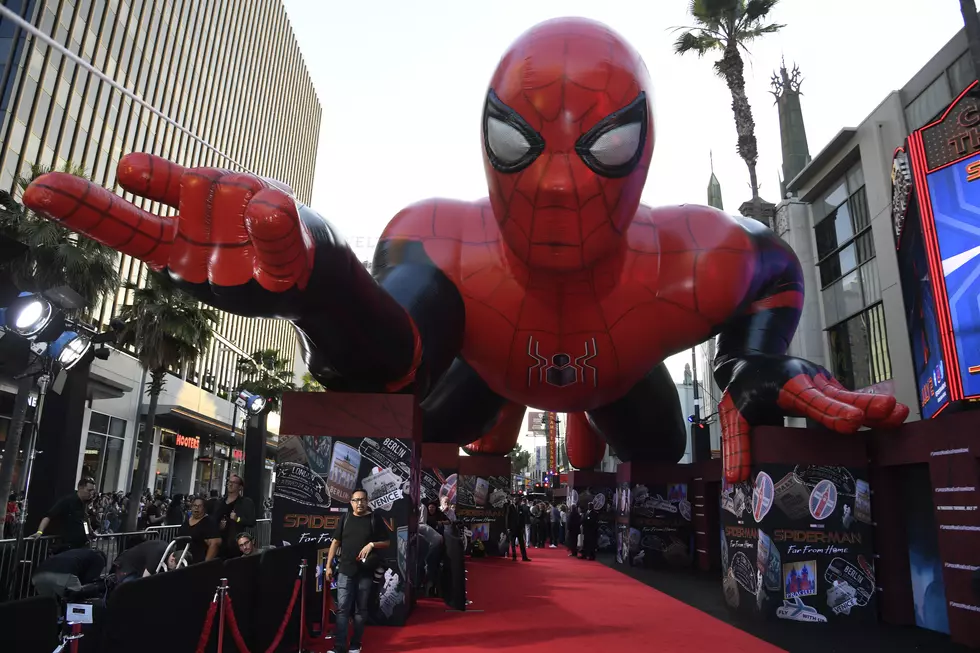 Spider-Man and the Future of the MCU Theories
Getty Images
If you haven't seen Spider-Man: Far From Home, then pay close attention to this...
***SPOILERS AHEAD!! SPOILERS AHEAD!!!***
*
*
*
*
*
*
*
*
*
*
*
Okay, now that we have that out of the way, time to talk nerd.
If you haven't seen the two end scenes from the movie, check these out .Hopefully by the time you are reading this they are still up.
That scene was in the middle of the credits, and clearly has massive implications for the future of Spider-Man. Can they possibly continue on with everyone knowing Peter Parker is Spider-Man? Yes, they can. CLICK HERE to find a list of times Spider-Man's identity has been revealed in the comics courtesy of Comic Book Resources.
The END credit scene was this...
It wasn't even Nick Fury! It was a damn Skrull the whole time in the movie! Boom! Mind explosion.
Now you're probably wondering just where Nick Fury actually is. He's most likely out on The Peak, which is the base for S.W.O.R.D.
In the first Iron Man we are introduced to S.H.I.E.L.D. by Agent Coulson and eventually the 'Avengers Intiiative'. S.H.I.E.L.D., or Strategic Homeland Intervention, Enforcement and Logistics Division was designed to protect against threats like Hydra. But after the Chitauri invasion of New York and of course, Thanos, Nick Fury knew that he needed something to monitor space in case of an outside threat. That is where S.W.O.R.D., or Sentient World Observation and Response Department, comes in. It's whole purpose is to take care of alien threats.
So what does this mean for the MCU?
The first 22 movies (23 if you want to include Spider-Man: Far From Home), were all a part of the Infinity Saga, which was capped with the victory over Thanos in Endgame. So now what is there?
Even though Spider-Man: Far From Home is technically a part of phase 3 of the MCU, it can really be looked at as the first part of phase 4, leading to the next big event. But what is that event going to be? Here are a few options.
It could lead towards Civil War II. This time it's Captain Marvel against Iron Man, but Tony Stark is dead in the MCU. This could be a spot where Peter Parker takes his place. I don't think this would be the major event, but more of a side plot the way the first Civil War was.
The Infinity War comic book arc (not to be confused with the movie) continued on with the Infinity Stones. The MCU has teased Adam Warlock, and in the comics he splits into a good and bad Adam Warlock. Bad Adam Warlock, named Magus, tries to get all the stones again, just like Thanos did. I don't think they'd choose this for the MCU because it's just rehashing the same story.
Okay, so that's a couple options I don't think they'll do. Here are a couple I'm leaning towards becoming reality.
Avengers vs X-Men saw the mutant race decimated by the Scarlet Witch. A new Phoenix Force is coming towards Earth, only this time it's going for Hope Summers, the daughter of Cable. With Marvel now owning the rights to X-Men, this could be a path they choose, but would need to start their own X-Men franchise. And, on the downside, we'd getting yet another version of the Phoenix on the big screen,
Another option they could go with has to do with a storyline that hasn't even been told in the comics yet. Or at least, not all of it. Absolute Carnage will see Carnage on the warpath against all other Symbiotes. Donny Cates, one of the minds behind Abslute Carnage said the following:
Cletus Kasady is back, and he is deadlier than he's ever been. ABSOLUTE CARNAGE encompasses every single character who has ever worn a Symbiote and every Symbiote that has ever been, going all the way back to when Peter found the black suit. Going from there to MAXIMUM CARNAGE to VENOMIZED to everything… everyone is a target.
There has been talk of introducing Venom into the MCU, which means this could very possible. The lead up to Absolute Carnage was Venomized in the Venomiverse, which saw damn near everyone in Marvel dawning a Symbiote suit.
Why are these towards the top of my list of where the MCU could be going? The teasing of S.W.O.R.D. at the end of Spider-Man: Far From Home. Both storylines deal with threats from space.