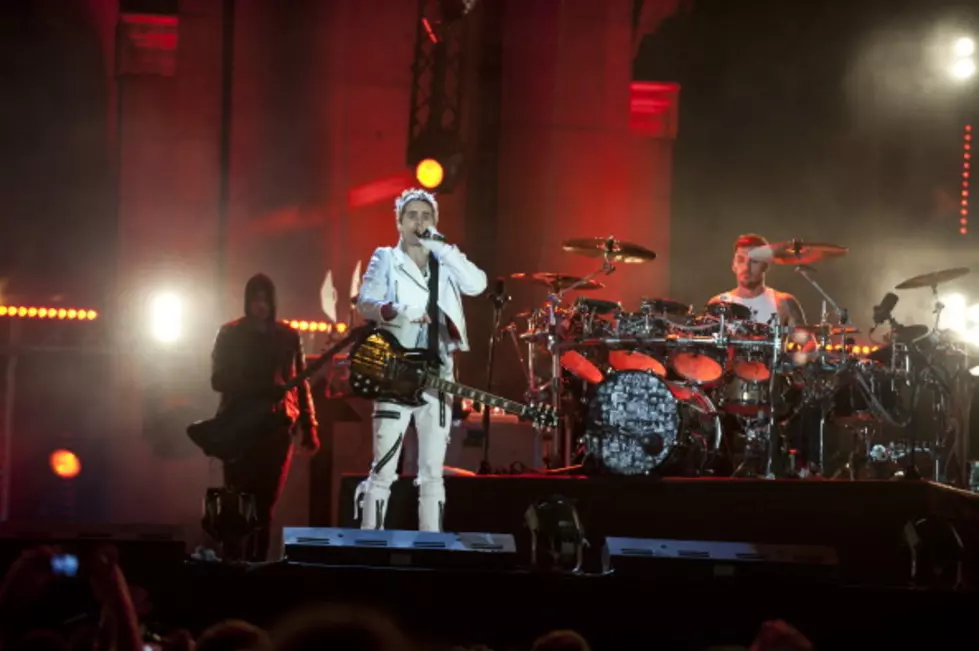 Rock News: 30 Seconds To Mars Blasting Off? Velvet Revolver Will Not Release The Corey Taylor CD and (Hopefully) The Last Of Gene And Shannon! [VIDEO]
Photo by Jordi Vidal/Getty Images
Kind of a busy day today as far as rock news huh??
First up, 30 Seconds To Mars seem to have joined Disturbed in the "What do we do now" category.  Jared Leto says once the current tour is done, he's not sure about 30's future. Read more from alternativeaddiction.com!
In the Velvet Revolver camp, more uncertainty!  After Scott Weiland left, they worked with a bunch of singers, including Corey Taylor of Slipknot/Stonesour.  THAT lineup actually produced a CD. Not just a few tracks, but a full blown, fully completed cd that's ready to be released.  But Slash said no.  (Who's going to break it to KLAQ's Mardi Gras??) No real reason why given, but Matt Sorum says if they're not all 100% in agreement on things, then they don't do it. So they're not doing it. Crap.  Matt also speaks up about VR's future .. according to him, they DO have one!  Read more here from rockaaa.com
Gene, Gene, Gene ....... The man who has publicly loathed marriage. Who has said time and time again that he and Shannon are so happily un-married.  The guy who went so far as to wimp out with Sharon Osbourne to try and make points with Shannon, has finally gone to his last bullet to save things.  Yep, the last bastion of eternal batchelorism that we guys all looked up to, surrendered.  The last episode of this seasons "Gene Simmons: Family Jewels" closes with him popping the question and Shannon .. of course .. crying.  Watch the Demon go down in, rather than spit, flames at hennemusic.com
I swear, if she said no I will laugh for WEEKS!!  We'll all find out her answer soon enough I guess.  The only reason I bring it up at all is because now ... I HOOOOOPE ... that's the last we'll hear of " The Rocker and The Centerfold." 
(Why do I smell a movie coming out of this??  Knowing Gene and his uncanny ability to make a dollar at everything ....... hmmmmmm.)
That's it for now .. enjoy your hump day!!