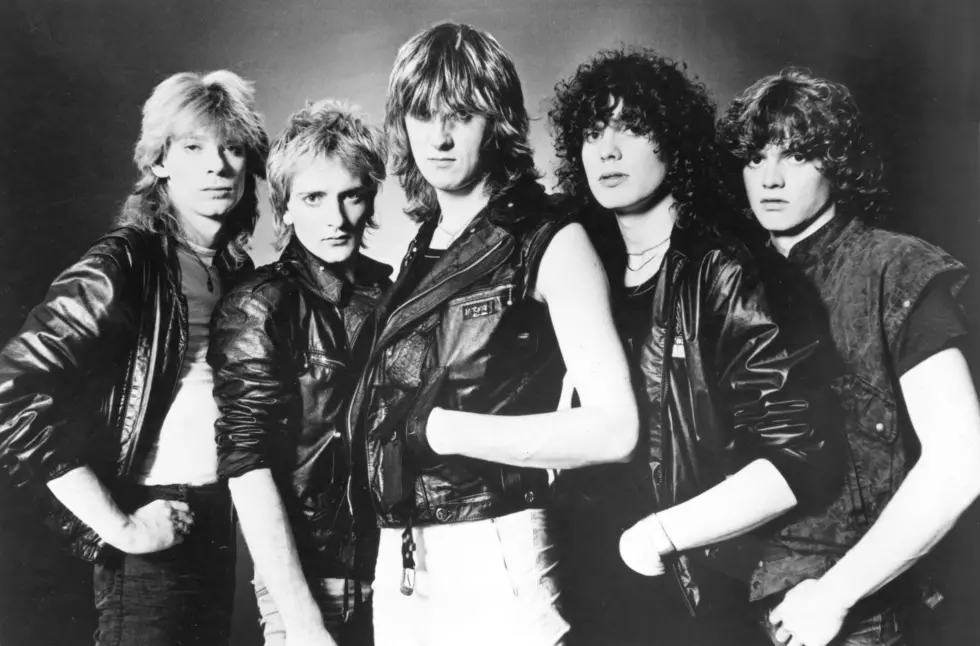 Remembering Def Leppard Apology to El Paso for Anti-Mexican Slur
Getty Images
It has been more than 35 years since El Paso boycotted Def Leppard. The English rock band, recently inducted into the Rock & Roll Hall of Fame, made headlines in September 1983 for a controversial remark about El Pasoans. Before we discuss the details surrounding the incident, El Paso had already been a big supporter of the band from their early days. Def Leppard first played the County Coliseum on June 7th, 1980 and again on November 17th, 1981. In late January of 1983, they released their third studio album Pyromania, and it quickly rocketed up the charts, including #2 on the Billboard 200. Pyromania sold a total of 10 million copies, with such hits as "Photograph", "Rock of Ages", "Foolin'", and "Rock! Rock! (Till You Drop)".
Def Leppard began their Pyromania World Tour in February, 1983 and they stopped in El Paso on September 6th and played a sold-out Coliseum. The next night, they were in Tucson, Arizona when lead singer Joe Elliott spoke to the crowd during the song "Rock of Ages." The live version featured a sing-a-long, and it was the ninth song of the setlist. During the sing-a-long, Elliott reportedly was trying to get the Tucson crowd to make as much noise as El Paso the night before. The Arizona Star reported that Elliott said he just returned from an engagement in El Paso, "that place with all the greasy Mexicans."
Remember, this is seven years before the invention of the World Wide Web and long before social media. However, word of mouth can still travel in the early 80s, and Elliott's remark reached El Paso and local radio stations like KLAQ soon after. As a result, the city of El Paso boycotted Def Leppard and all local rock stations refused to play any of their songs. The El Paso Herald Post reported that, Joe Loya, district director of the League of United Latin American Citizens (LULAC) demanded an apology from the band. Mayor Jonathan Rogers proposed a permanent boycott of Def Leppard and banning them from ever playing live in El Paso.
Former KLAQ Music Director Pepe Lopez remembers the incident like it was yesterday. "Somebody called the station and asked what we thought about what Joe Elliot had called El Paso," Lopez recalled. "We got tons of crank calls so we all just laughed it off. A few days later a recording of the racial slur surfaced and Arin Michaels (KLAQ PD) ordered all Def Leppard music pulled and destroyed. Arin announced on air why the Q would no longer play any Def Leppard tracks. LULAC got wind of the incident and advocated a boycott of the band."
On Friday, September 30th, Elliott called into KLAQ from Tokyo, Japan where he had been publicizing Pyromania. Arin Michaels, the Program Director and disc jockey on KLAQ took the call and spent nearly ten minutes on the phone with him. Elliott publicly apologized for his remarks and offered to pay for two people from El Paso to fly to Europe and attend a Def Leppard show. "It's a pay-off,"Loya told the Herald Post. "He's trying to buy off El Paso and we won't have it." Despite the fact that no El Pasoan traveled to Europe on Elliott's dime, the band did donate $10,000 to a Hispanic charity in Los Angeles.
The boycott lasted until the end of the year, but the damage was done. In fact, Def Leppard cancelled their February 1988 show in El Paso because Elliott had received multiple death threats. The band did not play El Paso again until January 18th, 2000 on the Euphoria Tour, more than 16 years after the incident. "Thirty-six years later it seems like a tempest in a teapot, but at the time Hispanics in the pass took great offense," Lopez said.
Last year after iconic KLAQ DJ Magic Mike passed away, his wife Jackie uncovered hundreds of hours of old interviews and airchecks. Included was the famous Elliott KLAQ interview with Michaels, and the conversation she later had with Magic. Also, a big thank you to Claudia Rodriguez for researching the original Herald Post articles from 1983. For the first time since 1983, here is the entire unedited interview. It is a true piece of KLAQ history.