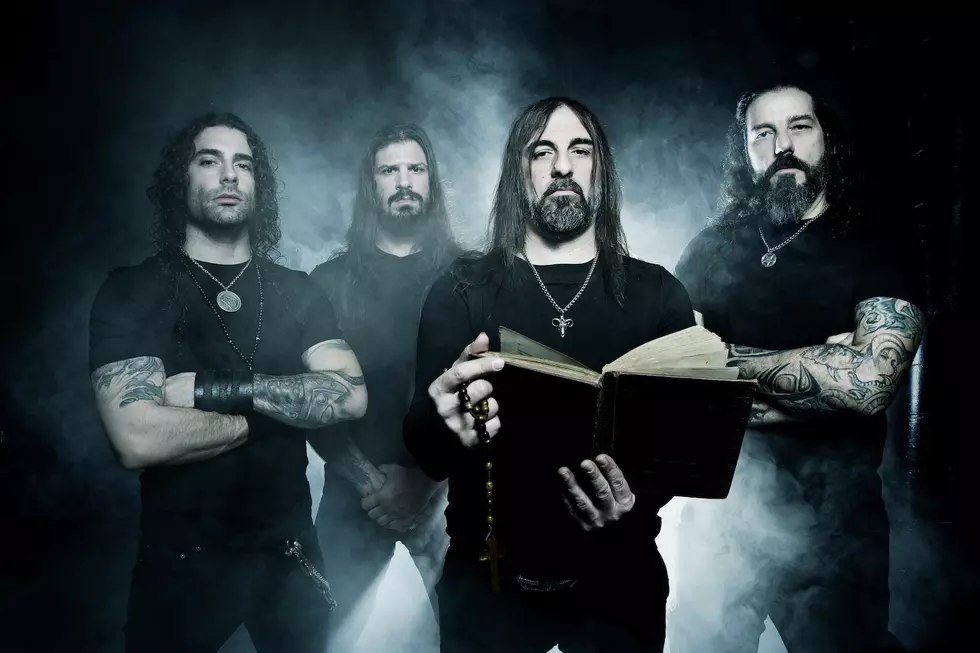 Psycho Las Vegas Call Out Rotting Label Over Visa-Related Cancellation
Ester Segarra
Psycho Las Vegas is almost upon us, but when the music weekend takes place, Rotting Christ won't be there. The band offered a statement revealing that visa issues led to them bowing out of the event, but festival organizers have shed more light on what they call a "completely avoidable" situation.
The festival revealed the news first via their socials, seemingly aware of what would be included in the band's eventual statement and calling out the group's label for the scheduling failure. Their statement on the matter reads as follows:
Psychos, we regret to inform you that Rotting Christ has decided to cancel their appearance at Psycho Las Vegas and their subsequent shows in Los Angeles and San Diego. Although there will inevitably be a statement on behalf of the band at some point soon, it's important that you know that this was not a case of Immigration stalling or denying their visas, which is far too often used as an excuse––instead, this cancellation is due to procrastination and poor planning by the band's label and petitioner.
Rotting Christ was confirmed for Psycho Las Vegas at the beginning of 2019 and announced on the festival in February, with the two additional shows announced in May. Since the visa process has only proven to be more difficult in recent years, we offer the option for all bands playing the festival to let Psycho handle their visas––in fact, this year alone we've secured visas for Lucifer, Mork, Arthur Brown, Truckfighters and many of the international acts on the festival with our own in-house team. Rotting Christ declined our offer and ignored our emails in May and July which requested an update on their application process (if the application was in transit, there would be several options for speeding up the process with a 6-week buffer). Instead, their record label and petitioner chose to wait until July 18th to submit their visa application, and didn't inform Psycho of this until July 30th. For those of you who are unfamiliar with the visa process, it is close to impossible to secure a working visa in four weeks, and without expedition, visas can take anywhere from 90-days to 7-months to obtain. Applying one-month out was a completely pointless gesture.
Over the past week, we have urged the band and their label to file for expedited processing, which would be the only way to get the visas granted within this short time frame (only the petitioner can file this, otherwise we would have done it ourselves). When the label refused, we offered to pay the processing fee out of our own pocket, and they have since ignored our phone calls and emails––as of today, it is simply too late to proceed. We fought as hard as we could to make this happen, but their label made a business decision to skip Psycho and that fucking sucks for all of us.
This entire situation was completely avoidable, and we're sorry that those involved with the band in this matter didn't care enough about the festival and its fans to try to make this work.
The band's statement on the matter chalked up their inability to make it to the U.S. to "an unexpected delay in the visas process." Their statement on the matter reads as follows:
It's with great disappointment that we announce our cancellation of our upcoming performance at Psycho Las Vegas. The unexpected delay in the visas process forces us to make a decision for first time in our 30 year history! We apologize to all our fans, this is out of our control indeed, and one way or another we will be back to perform in front of our American Metal brothers and sisters. Until then...NON SERVIAM. Enjoy Psycho Las Vegas and the rest of summer!
Psycho Las Vegas will start later this week, with a pre-party on Thursday (Aug. 15) and Electric Wizard, Misfits and Opeth headlining the three weekend days (Aug. 16-18). See the full schedule here.
2019 Rock + Metal Festival Guide