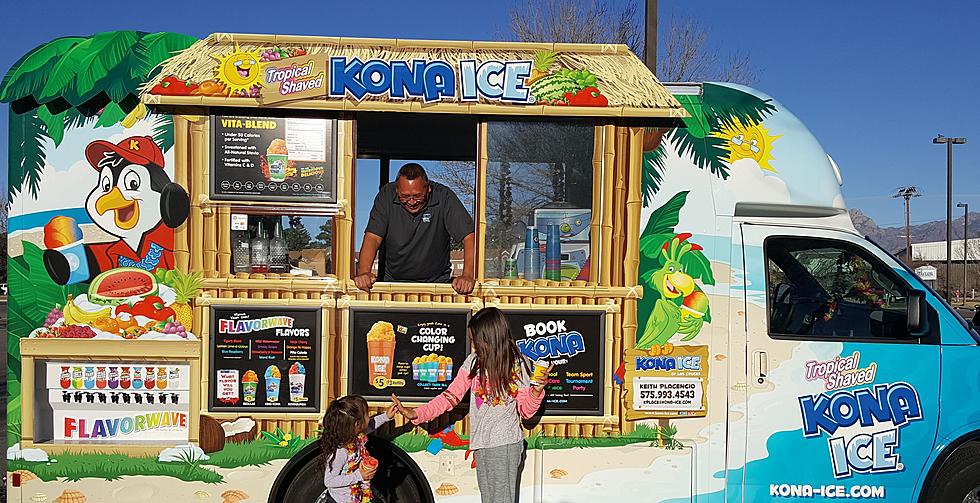 Shaved Ice Delivery Trucks Offering Curbside Service in the 915
Keith Placencio/Kona Ice
Lately, these hot days have not been easy to deal with during the coronavirus pandemic. Normally, what has always helped me stay cool and put a smile on my face is a cold sweet treat. If you're not feeling 100% leaving your house to grab some cold dessert is no longer a problem. Thanks to Kona Ice of Las Cruces and West El Paso they have their community in mind. The welcoming staff of Kona Ice knows just how hot it can get in El Paso and Las Cruces.
Yesterday Kona Ice of Las Cruces and El Paso posted their new schedule for the Westside area. If you're in the El Paso, Las Cruces, Canutillo, and Santa Teresa areas you can have shaved ice brought to you. Plus, Kona doesn't play around since they've started their new specialty flavors. They've added Blackberry Mojito, Cosmo, Aprium Rose Sangria, Lavender Lemonade, Pomegranate Acai, and many more. They even have Sugar Free flavors, made with all-natural Stevia for the crowd who can't do sugar.
Shaved ice is the perfect treat for you and the family to cool off with during these high temps. Kona isn't the only place offering curbside delivery but other local places are as well. Below is a list of two other shaved ice companies that also deliver. There are a few places for you to choose from that can help keep you cool during these hot summer days.
1

There's another local spot you can get a brain freeze from in El Paso. If you're looking for something closer to the Eastside Social Ice is located at 10978 Montwood Dr. Suite D. Their website and social media pages like Facebook and Instagram let you know where they will be out and about. Social Ice offers all sorts of snacks and treats but it all depends on their menu for the day.

2

If you like sweet and salty then Blue Collar Shaved Ice is your tastebuds calling. They have quite an extraordinary menu that offers you a variety of snacks. Their snacks come in sweet or salty that will either be hot or cold. Their chicken and waffles look amazing on their Instagram. Blue Collar Shaved Ice also makes the drive to set up shop in certain areas of El Paso. You can scope out their website for more information and see what Blue Collar Shaved Ice is all about.