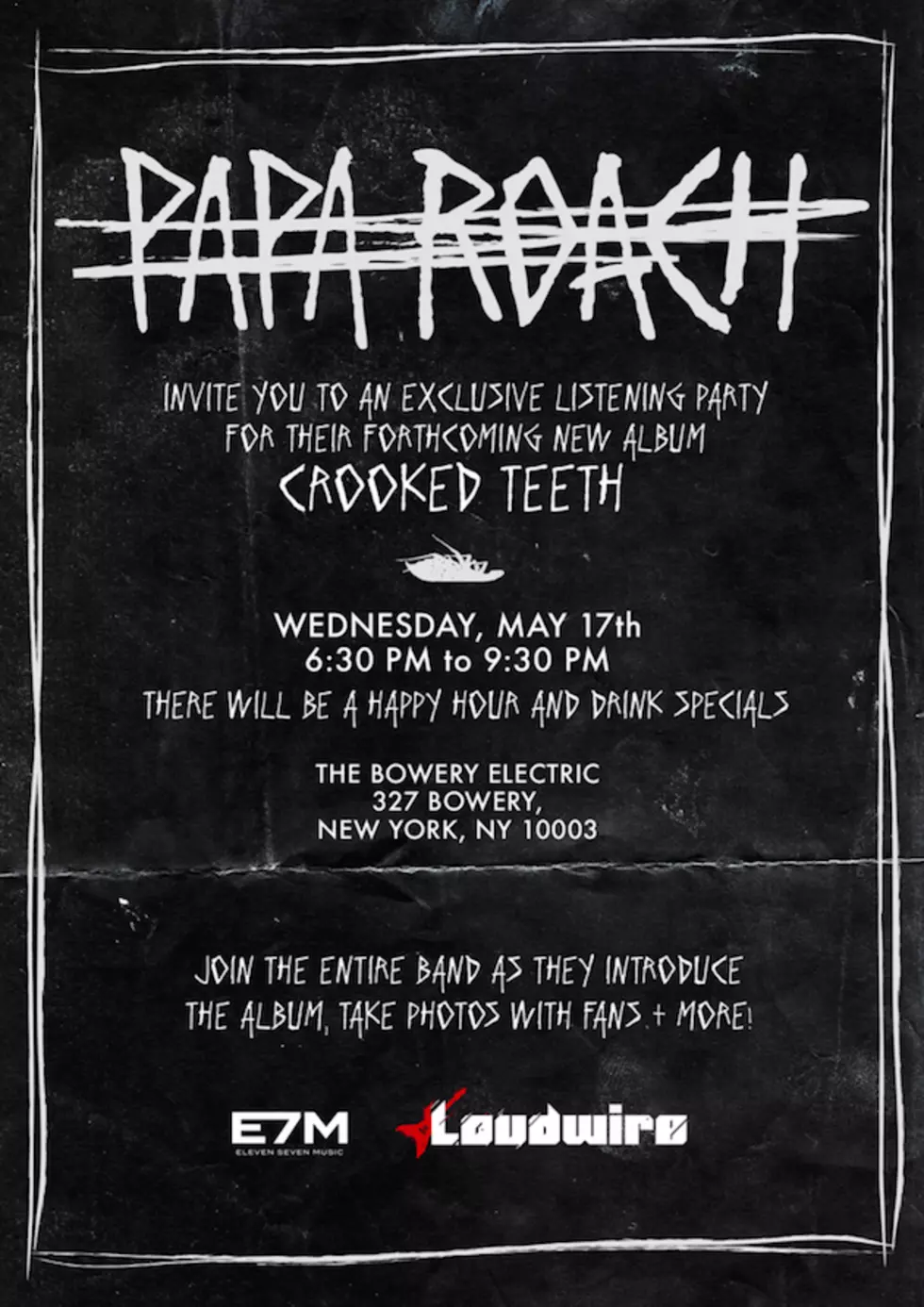 Papa Roach Listening Party in New York City: Hear the New Album 'Crooked Teeth' + Meet the Band
Loudwire / Eleven Seven Music
Papa Roach are closing in on the release of their brand new album Crooked Teeth and they want you to get an early listen to their music. The band and Eleven Seven Music are teaming up with Loudwire to proudly provide you with an exclusive Crooked Teeth listening party taking place Wednesday, May 17 at the Bowery Electric (327 Bowery) in New York City.
Join Papa Roach as they introduce the new album for those in attendance, then hang around to meet and take photos with fans and more. The event starts at 6:30PM ET at the Bowery Electric and there will be a happy hour and drink specials. Entrance is based on a first-come, first-served basis, so make sure to plan accordingly to come listen to the new album and meet the group. And for those not in the New York area, Papa Roach will take part in a live Q&A, hosted by Loudwire Nights' own Toni Gonzalez, that will stream on our Facebook page.
Papa Roach are already off to a solid start with the disc as the title track made its debut last fall and became a fan favorite on tour. Now, their current single "Help" has topped the rock charts. Papa Roach worked on the Crooked Teeth album with the assistance of the production team of Nicholas "Ras" Furlong and Colin Brittain. Meanwhile, Jason Evigan also lent his production talents to the song "Born for Greatness."
"The first time we met up with RAS and Colin, they said that Infest was on constant rotation when they were growing up and they wanted to bring back some of that fire," says Jacoby Shaddix. Adds Furlong, "The whole idea was to take the classic elements of Papa Roach that everyone loved and revamp them into a modern version of the sound through the creative process, and we ended up with a bold, courageous and more adventurous version of Papa Roach." The album also features such tracks as "Periscope," "American Dreams" and "None of the Above."
Papa Roach's Crooked Teeth album will arrive May 19 via Eleven Seven Music, two days after the listening party. If you want to pre-order the album, you can do so here. And be sure to catch Papa Roach on the road supporting Crooked Teeth at these locations.
Papa Roach, Crooked Teeth Album Artwork
Papa Roach Play 'Wikipedia: Fact or Fiction?'