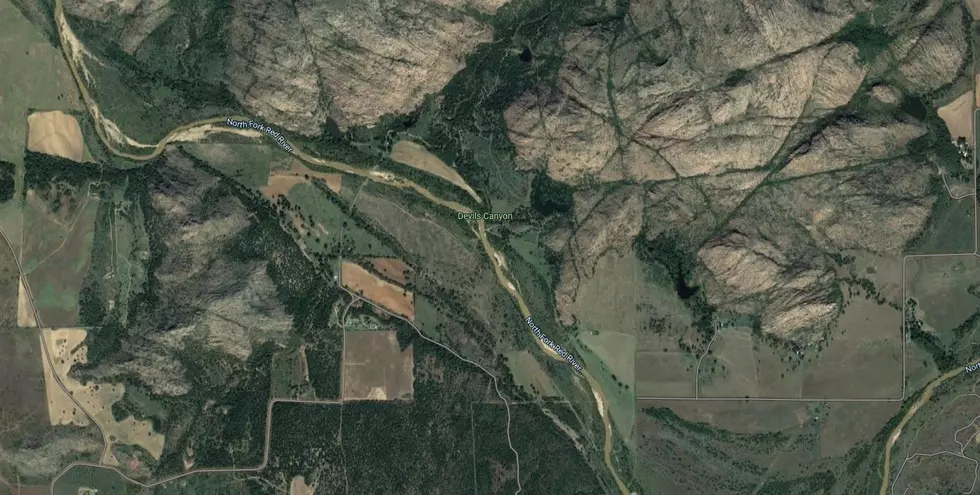 Outlaws, Murder, Buried Treasure: The Secrets Of Devil's Canyon
Google
Not far from the lake covering a ghost town in southwestern Oklahoma, is a place that sounds like something straight from a Steven Spielberg movie. It's part Goonies, part Indiana Jones, and part frontier legend.
Have you ever heard of all the treasure buried in Devil's Canyon?
What's In A Name? Apparently Everything.
A few hours east from Amarillo, TX is a place that is loaded with hidden treasure. That is, according to legends. It's just southeast of Lake Lugert/Altus, off of the north fork of the Red River.
Supposedly, this is the final resting place of lost Spanish gold, treasure, and bandit's loot. Devil's Canyon isn't home to just legendary riches. Supposedly it's haunted as well.
It more than lives up to the name, when it comes to the stories.
The Lost Spanish Gold Of Devil's Canyon
There are several versions of the story, but most end with a band of Kiowa Indians slaughtering a camp of Spanish miners. Before meeting their demise, these miners were able to hide their gold in Devil's Canyon.
Some say it was buried. Others say that it was placed in the hidden caves along Devil's Canyon.
The two pieces supposedly hidden in the canyon are a cannon filled with gold, and a silver casket filled with treasures. Legend has it that these lost treasures are guarded by ghostly apparitions.
The Buried Bandit's Loot
According to legend, a group of outlaws crossed paths with some ranchers who had just got done with a sale. As you might expect, the chance meeting ended poorly for the ranchers.
The outlaws made camp near Devil's Canyon. Three of the four decided it would be better to split the money three ways. The fourth thought a one-way split would be even better and made off into the night with the loot.
Supposedly he hid the gold in the vicinity of Flat Top Mountain, on the northern side of Devil's Canyon.
There's A Lot You Might Never Get A Chance To See
While the idea of exploring Devil's Canyon and searching for the lost treasures and gold is enough to make anyone want to go see it, there's also the stories of the abandoned village there that make it an interesting destination. There's a lot of history that has taken place there.
Unfortunately, it gets a little tricky when it comes to who owns the rights to the land. Some maintain that it is a part of the Quartz Mountain Park, and it belongs to the state. The families who own land surrounding the canyon all lay their own claim to it.
The interesting thing you notice when looking at the Google Map of the area, is that Devil's Canyon itself is marked as part of the Quartz Mountain Park. The land to the north and south of it is not.
Some have suggested that the easiest way to get there would be going along the north fork of the Red River until you reach it. Even then, you'll have to cross private property to get to Devil's Canyon.
It's a shame. Treasure aside, there's potentially a lot there to see. Maybe if you ask nicely the land owners would give you access.
Can You Guess These Towns From Their Satellite Photos?
I'm always down for a good brain challenge. This one however got the best of me.
It's always a fun time looking up address or cities and seeing them from a satellite point of view. You start pointing out landmarks and things you recognize.
One thing you don't account for however is something looking bigger or smaller than you seemed to think it was. So we started grabbing a bunch of these satellite pictures of cities and towns around Amarillo.
As we looked at them, we thought to ourselves, "how fun would this be to actually have to GUESS what these places are?". So away we went.
Go ahead and try to see how many you can guess correctly!
The Legendary Stories Behind These Six Weird Texas Town Names
It's no secret that Texas is home to some pretty strange town names. While the names of these places are strange enough on their own, sometimes the story behind the name is even stranger.
Teeny Tiny Towns of the Texas Panhandle
Don't blink! You just might miss these TINY towns that are dotted around the Texas Panhandle.
Some of these are unincorporated communities and some of these are just plain ol' small!
Either way, these teensy weensy tiny towns and their populations will make you say "wow" (and maybe even squint and say "that's all!?"). Check them out: