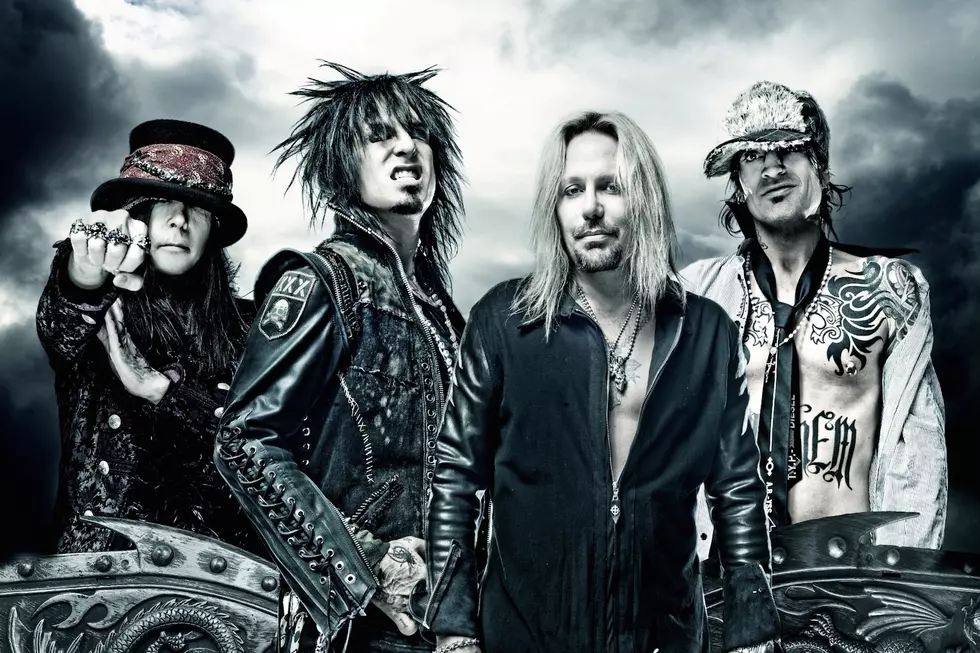 Motley Crue Release Statement Officially Confirming Reunion
Tenth Street Entertainment
Motley Crue have officially confirmed that they are reuniting after playing what was intended to be their final show on New Year's Eve in 2015.
In a statement posted on the group's website, they cited an overwhelming boon in popularity, largely thanks to the success of the band biopic, The Dirt. Despite having signed a "cessation of touring agreement" after announcing their farewell tour in 2014, the infamous hair metal outfit will be back onstage.
Earlier today (Nov. 18), Rolling Stone confirmed from their sources that a Motley Crue, Def Leppard and Poison 2020 stadium tour was happening, which meant that Crue were indeed coming back.
Read the band's full statement below and watch a video welcoming the band back further toward the bottom of the page.
Almost 6 years after signing a Cessation of Touring agreement, the contract is off the table because a whole new generation of Crüeheads are relentlessly demanding for the band to come back together. Following the huge success of their Netflix biopic 'The Dirt', Mötley Crüe has seen a massive surge in new audience. And the band best known for breaking the rules has destroyed their cessation of touring contract in true Mötley Crüe-fashion, by literally blowing it up.
After 35 years together on stage, and 30 years since the release of 'Dr. Feelgood,' the members of Mötley Crüe parted ways without speaking to each other after their Final Show on December 31, 2015.
Vince, Nikki, Mick and Tommy didn't come together again until 2018 to participate in the making of 'The Dirt' movie, which unexpectedly brought them closer together again including seeing them head back into the recording studio after having gone in their own directions for several years. The fuse was lit.
"Since playing Tommy Lee in 'The Dirt', so many of my fans have said how they wish they could've seen the real Mötley Crüe play live," said Colson Baker (aka Machine Gun Kelly) "I never thought I would see the day when this would become a reality. But the fans spoke and Mötley Crüe listened!"
'The Dirt' currently enjoys an audience score of 95% on Rotten Tomatoes. And its massive global success earlier this year saw Mötley Crüe's popularity rush to new highs, catapulting the band's music back to the top of the worldwide charts with the younger 18-44 demographic now representing 64% of the band's fanbase. Moreover, in the six months following the release of 'The Dirt', Mötley Crüe has celebrated a meteoric rise of almost 350% increase in streams of their music across all streaming platforms. However, most of the new fans have never seen any of the legendary live shows that Crüeheads have relished for close to 4 decades.
Sign up for text updates (U.S. only) by texting MotleyCrueIsBack to 855 580 CRÜE (2783) or sign up for email updates at www.Motley.com to follow further developments and get breaking Mötley Crüe news first.
In the video declaring the return of Motley Crue, Machine Gun Kelly, who played Tommy Lee in The Dirt, states, "In 2014 Motley Crue announced their final tour, putting an end to almost 35 years on the road. To make it official, they signed an unprecedented contract. In the years since, Motley Crue became more popular than ever, gaining an entirely new legion of fans, who, along with diehard Crueheads, demanded the band tear up that stupid contract and come out of retirement. They knew that if they were ever to stand onstage together again, that contract would have to be destroyed. Well, destruction has never been an issue for Motley Crue."
Watch the clip, which shows the contract exploding on a glass table, below.
Motley Crue Announce Their Return
See Motley Crue in the Top 30 Hair Metal Albums of All Time