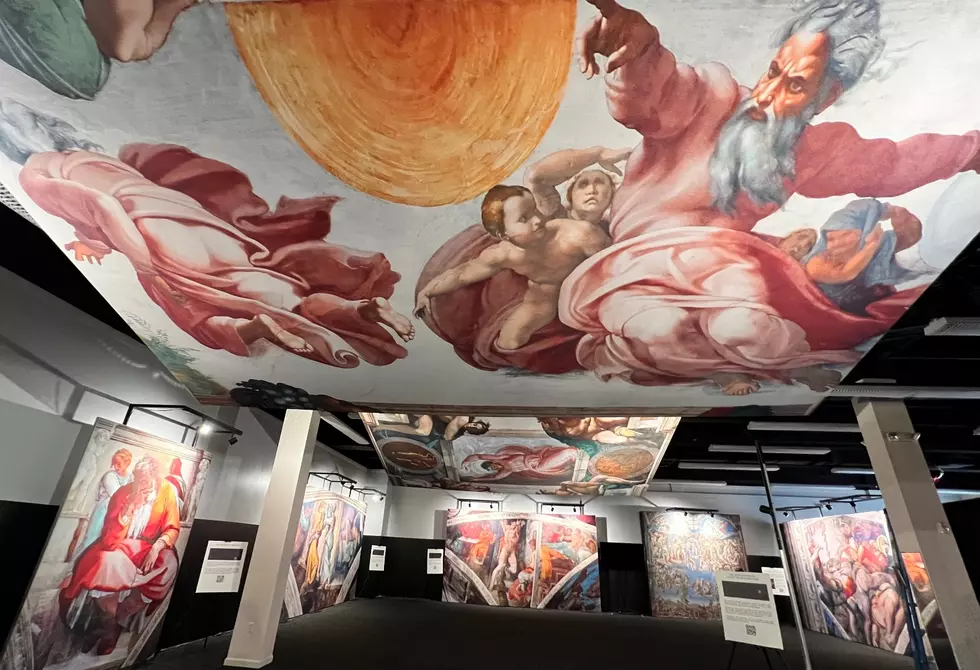 Michelangelo's Awesome Sistine Chapel Exhibit Now Open In El Paso
ma
Michelangelo's stunning Sistine Chapel Exhibit has finally arrived in El Paso, and it's as awesome as you might imagine.
Michelangelo's magnificent Sistine Chapel frescoes have arrived in the Sun City and are on full display at Sunland Park Mall.  
Michelangelo's Sistine Chapel is one of the world's oldest and most iconic painted interior spaces. This exhibit will allow El Pasoans to immerse themselves in over 30 reproductions of the Italian painter's mind-blowing artwork.   
Since 2008, Michelangelo's Sistine Chapel exhibition has been touring the world from Spain, Canada, Australia, France, Mexico, and of course, the United States; and it's finally made it to El Paso.  
The exhibit depicts the story of Creation painted across nine panels, including one of the most famous frescoes (The Creation of Adam) that depict God and Adam reaching out with two outstretched index fingers.  
Other depictions include the Creation of the earth, the fall of man, banishment from paradise, biblical scenes, the life of Noah, prophets, and so much more, all intricately done. 
With special expertise and care, the Sistine Chapel frescoes have been reproduced using licensed high-definition photos and brought to life using a unique printing technique that emulates the look and the aesthetic of the original paintings.  
Explore the artist's masterpiece from a never-before-seen vantage point, revealing every detail, brushstroke, and color accompanied by informative signage, with audio guides available for rent for an even more in-depth experience. 
Another notable feature of the exhibit are the ceiling frescoes hanging from the ceiling, giving the effect and feel of the Sistine Chapel.

And while there is nothing like marveling at the actual Sistine Chapel in person, "Michelangelo's Sistine Chapel: The Exhibition" is the perfect opportunity for those who can't travel to Rome to observe these spectacular frescoes in real life. 
El Pasoans will have plenty of time to check out this never-before-seen perspective of Michelangelo's Sistine Chapel because the exhibit will stick around through January 2023.
Plus, don't pass up the gift shop selling everything from t-shirts, mugs, umbrellas, and much more.
Michelangelo's Sistine Chapel Exhibition At Sunland Park Mall In El Paso
Take a sneak peek inside Michelangelo's Sistine Chapel Exhibition, now open at Sunland Park Mall now through January 1, 2023.
Uvalde Healing Mural Art Project
Texas artists including El Paso muralist Tino Ortega joined the Healing Mural Art Project in Uvalde's Downtown District to honor the memory of the 21 victims of the Robb Elementary School shooting.
Here's Where To Find All Of El Paso's 3D Balloon Mural Series:
Discover El Paso's most famous murals created to unite our community by local artist Tino Ortega.